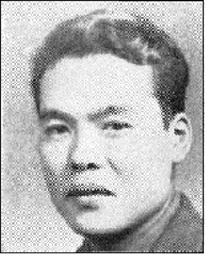 Goro Matsumoto
Sergeant
442nd Regimental Combat Team
3rd Battalion, I Company
Goro Matsumoto was born in Honolulu, Oahu, Territory of Hawaii, on December 6, 1918. He was one of the eight sons and two daughters of Kichisuke and Kuni (Muranaka) Matsumoto. His siblings were: brothers Shigeru, Minoru, Kaoru, Kiyoshi, Wataru (died in infancy), Yoshinobu, and Tadashi; sisters Iseiyo and Yoshiko.
Kichisuke was from Yamaguchi Prefecture, Japan, where he was a fisherman, and he emigrated in 1896. He married Kuni Muranaka in March 1900 and she arrived in Honolulu on July 24, 1902, on the S.S. Coptic. In 1920, Kichisuke was working as a fisherman. He later became a night watchman for the Hawaiian Suisan Kaisha.
Goro was educated at Washington Intermediate School in Honolulu. He was living at 402 Ohe Lane when he registered for the draft on October 26, 1940, Local Board No. 5, 212 Tax Office Building. He listed his brother Shigeru of 801 Laniwai Street as his point of contact. He and brother Kiyoshi were co-owners of the Matsumoto Boat Shop at 642 Ala Moana Boulevard. Goro also was a foreman at Hawaiian Tuna Packers, Ltd. He was 5'6½" tall, weighed 125 pounds, and was missing the index finger on his left hand.
Goro Matsumoto enlisted in the Army on March 25, 1943. His civilian occupation was listed as "carpenter." He was sent to the "tent city" known as Boomtown at Schofield Barracks with other recruits. They were given a farewell aloha ceremony by the community on March 28 at Iolani Palace. On April 4, the new soldiers left on the S.S. Lurline for San Francisco enroute to Camp Shelby, Mississippi.
After months of training, the 442nd left Camp Shelby for Camp Patrick Henry, Virginia, on April 22, 1944. They shipped out to the Mediterranean Theater of Operations in a large convoy of troop ships on May 2 and arrived in Naples, Italy, on May 28. He entered battle with the 442nd near Suvereto north of Rome on June 26.
Goro participated in the Rome-Arno Campaign, during which time he was wounded in battle and later returned to duty. The 442nd was then sent to France on September 27, 1944, to join in the Rhineland-Vosges Campaign.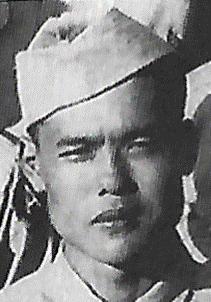 Sergeant Goro Matsumoto was killed in combat in the Vosges Mountains on October 29, 1944, in the famous rescue of the "Lost Battalion" – the 1st Battalion, 141st (Texas) Infantry Regiment – that had advanced too far and found itself surrounded on three sides by the enemy.  The action came after nearly nonstop combat for the 442nd that had started on October 15 with the fighting to take nearby Bruyères.  He was one of five I Company men who died that day.
Sergeant Goro Matsumoto was interred in the U.S. Military Cemetery in Epinal, France. His family held a memorial service for him on Sunday, December 3, 1944, at 2:30 p.m. at the Nishi Hongwanji Temple on upper Fort Street. On December 6, his family published a Card of Thanks in the newspaper to their friends and relatives, especially the Hawaiian Tuna Packers employees, for their kindness and floral offerings.
For his military service, Sergeant Goro Matsumoto was awarded the Bronze Star Medal, Purple Heart Medal with one oak leaf cluster, Good Conduct Medal, American Campaign Medal, European-African-Middle Eastern Campaign Medal with two bronze stars, World War II Victory Medal, Combat Infantryman Badge, and Distinguished Unit Badge. He was awarded the Congressional Gold Medal on October 5, 2010, along with the other veterans of the 100th/442nd Regimental Combat Team. This is the highest Congressional Civilian Medal.
In 1948, many war dead were returned home from military cemeteries in Europe. On September 1, Matsumoto was among 78 soldiers whose remains arrived in Honolulu from San Francisco on the USAT Dalton Victory at Pier 40 at 1:00 p.m. This was the first of the ships bearing Hawaii's fallen sons to return home.
Earlier that morning in waters off Diamond Head the Coast Guard cutter Iroquois and the Navy destroyer escort George circled the choppy seas to meet the Dalton Victory. Four 442nd veterans were aboard the Iroquois and each dropped a giant orchid, rose, and anthurium wreath into the ocean next to the Dalton. As the ship entered the harbor, a 21-gun salute was fired from Fort Armstrong, and Army, Navy, and Marine planes flew overhead. As the ship docked at Pier 40, church bells tolled throughout Honolulu.
Hundreds and family and friends were there to greet the ship. George Miki, President of the 442nd Veterans Club, and Earl Finch of Hattiesburg, Mississippi, were on the dock to welcome the soldiers home and talk to the parents who were awaiting the arrival of the ship. The flag-draped caskets were held at the Army mausoleum at Schofield Barracks pending burial arrangements.
The following day there was a memorial processional with the caskets of two anonymous soldiers carried on caissons through downtown to a service at Iolani Palace, where they later lay in state in the Throne Room.
Sergeant Goro Matsumoto was interred at 1:30 p.m. on August 9, 1949, at the National Memorial Cemetery of the Pacific at Punchbowl in Honolulu, Section D, Site 483. His flat granite marker with a Latin cross was ordered on January 13, 1950, from West Chelmsford, Massachusetts.
Matsumoto's nephew, Kazuo Paul Matsumoto, served in the 442nd in 3rd Battalion, L Company.
Researched and written by the Sons & Daughters of the 442nd Regimental Combat Team in July 2021.