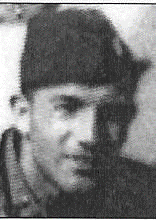 Harry Eugene Oliver
Second Lieutenant
442nd Regimental Combat Team
3rd Battalion, I Company
Harry Eugene Oliver was born on December 29, 1919, in Kansas City, Kansas, the son of Richard H. and Anna M. (Herod) Oliver. He had a brother, William Harley, who was 12 years older. In the 1920 Federal Census, his father was a "burner foreman" for a tank manufacturing company. In the 1930 Federal Census, his father was employed as a foreman at the Proctor & Gamble soap factory. In the 1940 Federal Census, Harry was living with his parents at 813 Dolan Street in Downey, California (part of Greater Los Angeles) and employed in the Collections Department of a bank. His father was a ranch hand at a hatchery. The family of four had moved from Kansas City between 1938 and1940.
On August 17, 1940, Harry, age 23, married 18-year-old Margie Beatrice Blessing of Dallas, Texas, who was at the time residing in Downey. They married in Yuma, Arizona. He was employed as a bank clerk.
Harry registered for the draft on July 1, 1941, at Selective Service Board No. 268 in the Post Office Building in Downey. He was living with his parents at 813 Dolan Street. He was 6'1" tall, weighed 160 lbs, and had hazel eyes and brown hair. He was employed as a bank clerk by Farmers & Merchants Bank at 401 S. Main Street in Los Angeles. He listed his wife, Margie (Blessing) Oliver, as his point of contact.
Harry Eugene Oliver entered active service as a Private on October 2, 1942, in Los Angeles, California. His civilian occupation was listed as "Financial institution clerk."
He was assigned to Fort Benning, Georgia, for basic training, and then selected for Officer Training School based upon his 4-year college degree. After completing the course, he was commissioned a Second Lieutenant on May 26, 1943, and sent to Camp Shelby, Mississippi, where he was assigned to the 442nd Regimental Combat Team, 2nd Battalion, G Company.
After nearly a year of training, Lt. Oliver left Camp Shelby on April 22, 1944, with the 442nd for Camp Patrick Henry, Virginia. The Combat Team left in a large convoy of ships on May 2 from Hampton Roads and arrived in Naples, Italy, on May 28 to join in the Rome-Arno Campaign.
On June 26, 1944, the 442nd entered combat near Suvereto, north of Rome. After months of pushing the Germans north on the Italian Peninsula, on September 27, the 442nd was pulled off the front line and sent to Marseilles, France. They joined in the Rhineland-Vosges Campaign – the liberation of Bruyères and Biffontaine, and the Rescue of the "Lost Battalion" (1st Battalion, 141st (Texas) Infantry Regiment). The casualty rate during this campaign was exceedingly high among both officers and enlisted men, especially in 3rd Battalion, I Company, At some point during this time, Lt. Oliver was re-assigned to I Company.
In an effort to rebuild their strength and absorb the large number of replacements needed to be combat-ready again, the 442nd was sent to southern France as part of the Rhineland-Maritimes Alps Campaign. This became known among the soldiers as the "Champagne Campaign." The mission was to protect the right flank of the 6th Army Group and protect against enemy breakthrough down the southern border of France with Italy.
The 3rd Battalion was assigned to the mountainous area north of Sospel and Peira Cava. Combat and reconnaissance patrols roamed back and forth between the lines, sometimes making enemy contact and sometimes not.
Pfc. George Teruo Funai recalled the incident of December 5, 1944. He had a pass that day, but was asked to go on a reconnaissance patrol with I Company's Captain and Lt. Oliver. They were to go up the mountain about two miles away to the adjacent ridge and report back their findings to the Command Post. They arrived at their goal about 11:00 a.m. – a beautiful day with a magnificent view. The rest of the patrol was to follow in about 30 minutes. They were to check out the German pillboxes across the valley. Funai borrowed a pair of field glasses and checked out the pillboxes. He noticed some movement and then the disappearance of a couple of men. He told the Captain that he thought the Command Post had been mistaken in saying there were no Germans there. Nonetheless, he and Lt. Oliver were ordered to go ahead and, that the rest of the patrol would follow in about 30 minutes. He thought this was ridiculous as visibility was excellent and there was no cover, but knew they had to follow orders.
As they neared the pillboxes, a machine gun opened fire on them. Funai was around a bend on the other side of the pillbox bulkhead, but Lt. Oliver did not have a chance and was hit directly and fell. Funai was unable to get to him and soon found himself surrounded by Germans and taken prisoner.
Lt. Oliver's last order to Platoon Sgt. Tak Senzaki, who was part of the patrol that was following them, had been that in the event he and Funai "got into trouble," Senzaki was to get the men back to safety and then report to the Command Post. As T/Sgt. Senzaki later recalled:
From our secured position, we observed through the field glasses the two men, Lt. Oliver and George Funai, approach the pill boxes. As they neared the pill boxes, one was felled by machine gun fire and the other ducked behind the bulkhead. In the engagement we saw one of our soldiers get hit and fall down, while the other one was surrounded by the German soldiers. From our distance we could not identify the individual who went down.
Senzaki followed Lt. Oliver's last order and led the remaining group back to safety.
On the 442nd casualty list for December 1944, 2nd Lt. Harry E. Oliver and Pfc. George Funai were both listed as Missing in Action. Oliver had been killed and Funai taken prisoner. The date was December 5, 1944. Oliver's wife and parents in Downey, California, were informed of his status.
Pvt. George Funai was a prisoner of the Germans until the war's end, when he was able to report the incident.
For his military service, Second Lieutenant Harry Eugene Oliver was awarded the Bronze Star Medal, Purple Heart Medal, American Campaign Medal, European-African-Middle Eastern Campaign Medal with three bronze stars, World War II Victory Medal, Distinguished Unit Badge, and Combat Infantryman Badge.  He was awarded the Congressional Gold Medal on October 5, 2010, along with the other veterans of the 100th/442nd Regimental Combat Team.  This is the highest Congressional Civilian Medal.
At some point, his body had been returned by the Germans to the U.S. Army and it was buried in France. In 1948, as many wartime cemeteries in Europe were closed, families were given the choice to have their loved one's remains returned home. Lt. Oliver's parents had him brought home. He was one of 73 Southern Californians among the 4,183 war dead who arrived on the USAT Lawrence Victory to the Brooklyn Army Base in New York Harbor on May 7, 1948. A memorial service was held at the dockside on Pier 3, 58th Street and First Avenue in Brooklyn at 11:00 a.m. Flags were flown at half-staff per order of the Mayor. Oliver's body was due to arrive in Los Angeles in about 2-3 weeks.
Second Lieutenant Harry Eugene Oliver was survived by his wife, Margie Blessing Oliver, their daughter, Gail Lyn Oliver, of Los Angeles, his parents, Richard H. and Anna M. Oliver of Downey, brother, William Harley Oliver and wife Minnie E. and nephew William Harley Oliver Jr. of Downey, California. Margie Oliver remarried on January 18, 1946, to Walter Irving Lovejoy.
Lieutenant Oliver was buried at Fairhaven Memorial Park, on Lawn P-149-3, in Santa Ana, Orange County, California. His parents were later buried next to him.
Original Biography prepared by Americans of Japanese Ancestry World War II Memorial Alliance, and provided courtesy of Japanese American Living Legacy (http://www.jalivinglegacy.org/).
Researched and updated by the 442nd S&D 6/18/2021.