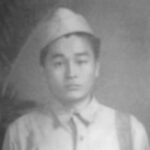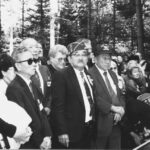 Here is an article from the Hawai`i Herald's special edition honoring the 70th Anniversary of the 442nd RCT.
Stories and images are courtesy of the Hawai`i Herald.
Minoru "Chappy" Kishaba as an 18-year-old 442nd RCT volunteer — Photo Courtesy Kishaba family (left).  Chappy Kishaba at a ceremony in the forest outside of Biffontaine — Photo by Karleen C. Chinen (right).
FOUR SPECIAL STONES
Minoru Kishaba's Story Reveals the Essence of the Nisei Soldier
Karleen Chinen
The Hawai'i Herald (March 15, 2013)
From the outset of our journey, one of the veterans in our group, Lahaina-born Minoru Kishaba, had struck me as an especially warm and gentle man. As we traveled through Italy, "Chappy" — a nickname that was given to him by his buddies in Anti-Tank Company because he sometimes read passages from the Bible to them — often talked about how lonely and homesick he felt during the war. "It was a very lonely feeling, especially evening, after you dig your [fox]hole and sit down and rest."
Chappy and I finally had a chance to talk at length in Biffontaine. We had stepped outside the tent that had been set up for the luncheon banquet. None of the buildings in the town could accommodate the nearly one thousand people who had converged on this small French town to commemorate its liberation 50 years earlier. Chappy and I went outside to take a break from the festivities and get some fresh air.
He was in a reflective mood. The morning's memorial ceremonies in the forests outside of Biffontaine had rekindled memories. Chappy had not been involved in the actual liberation of Biffontaine and Bruyeres because Anti-Tank Company had been detached from the 442nd and sent to Southern France to work with the 517th Parachute Infantry Regiment for three months. They left Southern France to rejoin the 442nd in the Vosges mountains, arriving in the closing days of the campaign. Their job was to chase out the last remaining Germans from Bruyeres, which they had occupied for the last four years.
Tears filled his eyes as a lone bugler played a haunting rendition of "Taps." It reminded him of the loneliness, the freezing cold, the snow and the mud. The forests were so dark. It was hard to tell where the enemy was hiding. "But you could hear them sometimes," Chappy recalled. He said his hearing became his sharpest sense. As they approached the enemy, Chappy said he could hear them cock their weapons.
"It was cold — today, it's nice and beautiful," he said as his eyes looked out over the town. The leaves were showing off their autumn colors. This day was vastly different from October 1944.
After arriving in the Vosges, Chappy came down with trench feet, a circulation problem suffered by many of the soldiers because their feet were constantly in cold and wet surroundings. His condition was so bad that he was sent to a field hospital near Epinal. "I stayed there for, I think, four days," he said. But the warm hospital ward only made his feet hurt more, so he and another soldier requested a release from the hospital.
During the course of our travels, there were sites that Chappy did not recognize. But he wasn't disappointed. "There's a lot of satisfaction because I've seen the place [before]; I know I was here," said the La Mirada resident, who made the aerospace industry his career, retiring as a test engineer with Northrop Corporation.
Chappy grew up in Mähinahina, a sugar plantation community in Lahaina, Maui. In his senior year at Lahainaluna High, a National Guard recruiter visited the campus to recruit young men for the Guard. After listening to the recruiter's pitch, Chappy decided to volunteer.
Then came the words that tore his heart. The recruiter said anyone who met the age requirement could volunteer — except for those with Japanese surnames. Chappy was crushed. "I went back to my classroom, so depressed, so disappointed."
Several months after he graduated, the call went out for volunteers for an all-Japanese American unit, the 442nd Regimental Combat Team. Eighteen-year-old Minoru Kishaba — the youngest of Choyei and Uto Kishaba's five boys and the seventh of their nine children — was the first AJA son from Lahaina to step forward. His brother just above him, Susumu, volunteered as well.
"When I volunteered, you know what came to my mind? Going to see the Mainland. Going to America was just a dream."
For weeks after he volunteered, Chappy was on cloud nine: He was going to be an American GI. He was going to see America. The reality of his action finally sunk in the night before he left Lahaina.
Four of the Kishaba men — Chappy, his father, eldest brother and Susumu — had gathered in their living room. "My dad, he won't talk; he's not the talker type. But my brother, the older one, he's very good." He told his younger brothers that they had to train hard, extra hard, because the Germans were good soldiers.
"Oooh, that hit me." He remembered that his father sat in silence with his sons. Knowing they might never see each other again, the four men cried together.
The 442nd volunteers from Lahaina were scheduled to report for induction the next day. That morning, Chappy's mother prepared miso soup for her sons. Uto Kishaba sat with them at the table as they ate. Barely a word was spoken.
"You want some more?" she asked Chappy as he gulped down the last of his bowl. Chappy said he had enough.
"That's when I really broke down and cried. My mom, too, she cried."
Lahaina's 77 volunteers had been instructed to meet the Army trucks in town. Their father wasn't feeling well that morning, so he stayed at home. Things were fine until they boarded the truck, said Chappy. And then . . . "My mom, she grabbed my arm; she didn't want to let go. I just cried, cried, cried." Susumu, older and tougher than Chappy, told his brother not to cry because he was making their mother cry.
"Ohh, my mom. I can picture her crying. When you get emotional, it's hard to say anything." As the truck pulled away, Chappy could see his mother running after the truck, crying, as she watched two of her sons go off to war. "That stayed with me long time," he said.
While in basic training at Camp Shelby, Miss., Chappy said he often dreamt of being back home in Lahaina. "So clear, I was home, in my backyard, cutting the lawn or lying around." Both he and Susumu wrote home to their parents regularly, trying to ease their fears.
When Chappy and Susumu returned home from the war, their parents greeted them at the airport. When they were back in their home, Uto Kishaba showed her sons four shiny stones that she had picked out after they had left Lahaina. She carried those stones with her wherever she went.
The four stones, she explained, represented Minoru's and Susumu's feet. Every evening, when she went to the furo to bathe, she carried the stones with her and washed them, as if washing her sons' feet. At night when she went to bed, she placed the stones close to her body to keep Minoru's and Susumu's feet warm and safe.
When the family gathered around the table for dinner, she placed pictures of Minoru and Susumu — and Susumu's I Company buddy, Sadaichi Kubota of Hilo — at the table, so they would never go hungry.
Choyei Kishaba, who was a camp groundskeeper for Pioneer Mill, shared his wife's worry about their sons' safety. Sometimes he would see a jeep headed his way, a cloud of dust trailing it all the way up the road. His heart began racing as he wondered why the jeep was headed in his direction. He wondered: Was it bad news? Had something happened to his sons?
Much to his relief, the jeep always drove past him. But he would always wait a minute or two before letting out a sigh of relief, wondering whether the driver had mistakenly passed him and would be turning back.
Many decades later, after Chappy and his wife Molly had moved to Southern California, their eldest son John came to his father one day. It was the Vietnam War era. "Dad, I have to go register," said John.
"It never dawned on me that he might be going," recalled Chappy. Although John was never drafted, Chappy said his fear for his son's life was very real — and, suddenly, one generation later, Chappy knew, firsthand, the fear his own parents had felt.
As we talked, several bright-eyed little French girls came running over to us. They wanted this American soldier who had been part of the team that liberated their town long before they were born to autograph their book. These youngsters knew that their parents had grown up free, and that they would, too, because of the sacrifices these American soldiers of Japanese ancestry had made five decades earlier.
Seeing the children of Biffontaine running about, enjoying the festivities, gave Chappy a good feeling about what the Nisei soldiers had done in 1944.
But he was a beneficiary as well, he told me.
"In my generation, we grew up on the plantation. The haole was always the boss; the haole was the teacher. The haole was everything. So haole, to us, was upper class, and we were really lower class." Training at Camp Shelby introduced him to a class of haoles who were not necessarily the bosses, or the teachers, or the upper crust of society. For the first time in his life, he saw haoles who were poor and uneducated. He saw the class structure of society, and it changed his views.
World War II had been a costly war in terms of human life. But from it emerged a new world for Japanese American soldiers from Hawai'i, Chappy conceded. "Before, only small; we think only about Hawai'i, Maui, Lahaina. It broadened our thinking . . ."
Postscript: Minoru "Chappy" Kishaba remained devoted to his family and church throughout his life. He died in 2001 at the age of 78. His wife Molly still lives in La Mirada.