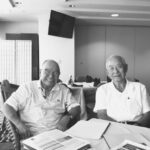 Here is an article from the Hawaii Herald on the efforts to preserve the building where Japanese-American U.S. Army MIS members were trained.
Hawai'i fundraising chair Andrew Sato (left) with Herbert Yanamura, both MIS veterans.
Stories and images are courtesy of the Hawai`i Herald.

PRESERVING HISTORY AT BUILDING 640
San Francisco Building Will Honor Wartime Work of the Military Intelligence Service
Joe Udell
The Hawai'i Herald (November 4, 2011)
In 1991, on the 50th anniversary of the formation of the Military Intelligence Service, the National Japanese American Historical Society advocated for preserving an old warehouse structure known as Building 640 in the Presidio of San Francisco. It was in that now-historic building that the first Japanese American U.S. Army members were trained as linguists to serve in the Pacific theater.
Twenty years later, NJAHS' vision is very close to becoming a reality. If all goes according to plan, the organization will open the MIS Historic Learning Center next November, culminating years of "arduous" work in honor of the MIS, whose service as interpreters, translators and interrogators in the Asia Pacific theater in World War II was credited by Gen. Charles Willoughby, G-2 chief in the Pacific, with saving a million lives and shortening the war with Japan by two years.
"The idea was to make sure this building (Building 640) doesn't fall down," said NJAHS executive director Rosalyn Tonai in a telephone interview from San Francisco. "It's not much to look at, but it's worth preserving because it has so much value in terms of historic interest and connections to not only the Japanese American community but also U.S. history."
In order to get approval and funding for the project, NJAHS worked closely with the National Park Service and the Presidio Trust to raise public awareness and, ultimately, congressional support. Their efforts paid off in the form of $3.3 million dollars in federal funding, which the organization received in increments.
In August of this year, the organization held a groundbreaking ceremony at Building 640, which is located across West Crissy Field. San Francisco's iconic Golden Gate Bridge stands in the distance. Although the 10,000-square foot structure will not be torn down, it will go through a lengthy "rehabilitation" procedure designed to prepare it for public use.
"Whenever you do rehabilitation of a building, you never know what you're going to find and it takes a lot of expertise because you can't tear down the old and simply replace it," Tonai said, adding that the process could take up to nine months. "Sometimes it's just taking pieces of it, cleaning them up, putting them back together like pieces of a puzzle. It's a historic building — the entire place is a historic site — it has very strict modes of how you're going to preserve it."
Once the rehabilitation of Building 640 is complete, NJAHS will begin installing a permanent exhibition on-site. The learning center will detail the unique role that the Military Intelligence Service played in World War II as interpreters, translators and counter-intelligence agents in the Pacific theater. MIS soldiers were sent to every combat theater and participated in every major battle and invasion against Japanese forces. They served with U.S. Army, Navy, Marines and Air Force personnel and were even "loaned" to combat units from Britain, Australia, Canada, New Zealand, China and India in every phase of the Pacific War until Japan was defeated.
Tonai pointed out that Hawai'i MIS veterans will be featured heavily throughout the exhibition, primarily because "their story is a little bit different" than their Mainland counterparts.
"There's some folks that emigrated from Hawai'i, or their parents emigrated from Hawai'i, and ended up in the Mainland and then were enlisted soldiers in the Mainland," she said. "There were others that came directly from Hawai'i that went into training. Some of them came, secondarily, into Camp Savage, Fort Snelling (the second and third MIS language schools, respectively, both located in Minnesota), and did a short stint there in language development.
"Some of them became instructors," she continued. "Some of the top linguists were also from Hawai'i and others who came later, like Governor (George) Ariyoshi, assumed roles in the postwar occupation of Japan."
In generating the exhibition's themes — conflict and reconciliation, irony, human impact and language/culture — NJAHS worked closely with MIS veterans groups throughout the country, asking them how they want to be remembered by future generations.
While military experts have credited the Military Intelligence Service for shortening the war by two years, Tonai said the veterans themselves want to be remembered primarily for "how they preserved the peace in postwar Japan and how that peace remains pretty stable in the relation between the U.S. and Japan today."
In their work as linguists, the Nisei translated a variety of enemy documents, including battle plans, maps, letters and diaries, even military orders. They also interrogated Japanese prisoners of war, deciphered enemy communications, and composed and broadcast appeals to surrender. In Okinawa, where the only land invasion of Japan took place, MIS soldiers, speaking Japanese or, in some cases, Okinawan language, appealed to the civilians to come out of the caves so that their lives could be spared. The intelligence material gathered and analyzed resulted in successful Allied strategies and operations against the Japanese.
"They're not boastful; they just feel they've done their part," Tonai said of the MIS veterans. "So the boastful part has to come from the next generation to understand what they've really achieved."
To supplement the interactive exhibition, Tonai plans to include memories from the thousands of MIS veterans who served in World War II. Over the next few months, the organization is planning to interview surviving veterans and to "tap into" existing oral histories recorded by regional MIS veterans groups.
In cases where a veteran is deceased and has no oral history, family members will be relied upon to provide a picture of the veteran's service career.
"There's a lot of work to be done. The stories have to come out," Tonai said. "We're relying heavily now on the sons and daughters, the family members, to really help us gather these stories because they're fleeting now.
"As long as we have the name, we know that there's a story behind each name. You're talking about 6,000, 7,000 participants [in the war]. That's a lot of stories to be told, so we need to engage the next generation and their kids to make sure that this [effort] continues."
One of the reasons NJAHS is so focused on the memories of the MIS veterans is because their war history differed greatly from that of the 442nd Regimental Combat Team and the 100th Infantry Battalion.
"They (the MIS) were going to be fighting in the land of their ancestors — cousin to cousin, possibly brother to brother, family to family," Tonai explained.
"They were not a unit," she added. "They were isolated into groups of maybe two or three. If they were lucky, four. So, individually, it was a trying time and some just had to go by their wits."
Additionally, the wartime work of the MIS remained classified until about the 1980s. Thus, very little was known about the invaluable service of the MIS soldiers, who, if still alive, are now in their late 80s and 90s. In 2000, more than half a century after the war with Japan ended, Japanese American members of the Military Intelligence Service were finally awarded a Presidential Unit Citation.
Tonai ultimately wants Building 640 to serve as more than a way to honor the past — she hopes that it will positively impact the future, particularly when it comes to conflicts abroad.
"We might not prevent the next war, but I think what we can try to do is enlighten and engage future generations," she said. "We want them to know the history [of Japanese Americans] so it doesn't repeat itself."
Before the exhibition can open, however, NJAHS needs to raise an additional $1.5 to $2 million. Many MIS veterans, such as Hawai'i lawyer and judge Andrew Sato, who has been involved in fundraising efforts for Building 640 since 2004, are helping the organization complete the last leg of the project.
"I'm glad that it's to this stage," said the 87-year-old Hawai'i fundraising chair. "We're finally seeing the light at the end of the tunnel."
Along with veterans Herbert Yanamura and Harry Fukuhara, Sato has led a campaign focused on fellow MIS veterans who served in World War II as well as in the Korean War. He explained that his main goal is to disseminate information on the project and to welcome donations of all sizes.
Sato admitted that many of the octogenarians he approaches are "careful not to over-reach" financially. Still, he said that despite their fixed incomes, MIS veterans have not shied away from making donations ranging from $500 to $1,000.
"We're all contributors. We're making points for up there," he joked, pointing upwards.
As for what has driven him to lead a fundraising campaign for the last seven years, Sato said the answer is simple: patriotism.
"It's a story that should be told," he said. "It's not a Japanese American story — it's an American story."