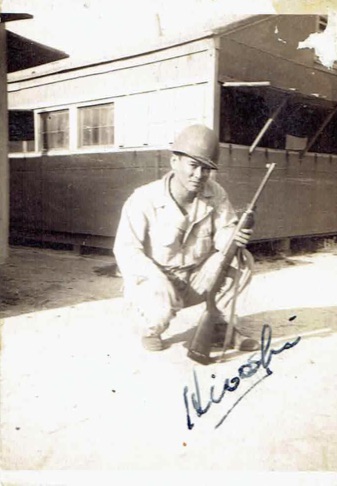 Hiroshi Okura, Private, Battery A, 522nd Field Artillery Battalion, 442nd RCT. Hiroshi, also known as Johnny, was born on November 3, 1921, in Honomu, Hawaii. He was the fifth child of six born to Kanta and Miyo (Kozai) Okura. Kanta arrived in Hawaii from Oda-mura, Fukuoka, Japan, in 1907. Miyo arrived in Hawaii from Konoha, Tamana-gun, Kumamoto Prefecture, in 1911.
Before the war, Okura was disillusioned, working various jobs in which he found no future. On December 7, 1941, he was doing construction work at Fort Armstrong at Honolulu Harbor when the attack came. He witnessed a Japanese plane fly over and when he saw a bomb drop from the plane, he dove under a truck for cover. The next day, Okura went back to work, where he along with the rest of the Japanese workers were rounded up by angry Military Police. They were escorted to the post entrance gates at gunpoint and told, "Run!" They all thought they were all going to be shot. Regardless of this bad experience, Hiroshi looked at the Army as an opportunity to get out of Hawaii and hopefully change his future for the better.
Hiroshi Okura signed his WWII Draft Registration card on February 14, 1942. At the time, he was employed by the Honomu Sugar Company, his point of contact was his older brother Kazuki, and he was 5'6-1/2", 135 lbs. He volunteered and was inducted into the U.S. Army on March 27, 1943. The 146 Big Island men assembled that day at the Hilo Armory for roll call, then marched to Kalakaua Park opposite the Federal Building for the oath of induction. The previous evening, his parents hosted a farewell party for him at their home with many friends and family members attending. The party featured Ichiro Shishido as master of ceremonies and musical entertainment by Seigi and his String Lads.
Completing his basic training at Camp Shelby, Mississippi, he was assigned to the 522nd Field Artillery Battalion, Battery A, as a Field Lineman.
He served throughout the war, from the arrival of the 442nd in Italy in May 1944, in France, and in Germany. At the surrender of Germany on May 8, 1945, Hiroshi was with the 522nd in Donauworth, Germany. He signed up to transfer to the Pacific Theater of Operations. However, in the process of being transferred, the war with Japan came to an end on August 15. He remained in Germany for several months of the occupation, arriving back in Honolulu on the U.S. Army transport Tabinta on November 20 with 101 other returning veterans.
In an indirect way, the Army had provided him with the future opportunities he was hoping for. During his time at Camp Shelby, while on furlough he had visited Chicago with some friends and discovered that he liked the city. After the war, he settled back home in Hawaii where he met and married Toshiko Tomiyama. They decided to leave their island paradise and make Chicago their new home. Taking advantage of the GI Bill, Hiroshi enrolled in art school there, and eventually he worked in the commercial art field.
In 1949, Hiroshi and Toshiko's first son, Gerry, was born, followed a year later by their second son, Terry. Early in his life, Gerry contracted a terminal kidney disease, but in the late 60s or early 70s, when transplant operations were still in their infancy, Hiroshi successfully donated one of his kidneys to Gerry. In 1996, Gerry peacefully passed away at the age of 46, but the years extended to him by the transplant from his father were very fulfilling. In 2015, Toshiko passed away just before her 90th birthday.
Today, Hiroshi enjoys his two granddaughters, Lauren (born 1981) and Lynn (born 1983), and four great-grandchildren, Asher, Navy, Graham, and Archie. He likes being self-sufficient and lives independently, but often wonders why he's still alive. Hiroshi epitomizes the Go for Broke motto of the 442nd. He loves gambling and betting – with the exception that he didn't go broke doing it. Though age is taking its toll, he still enjoys drinking beer and bringing laughter into the lives of his family and friends.
Photo of Hiroshi with his two granddaughters on his 99th birthday