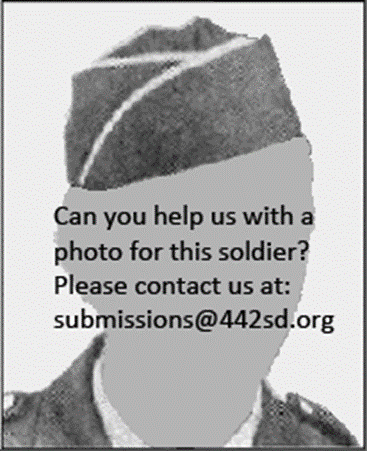 Hiroshi Nakamura Nagakura
Technician 5th Grade
442nd Regimental Combat Team
2nd Battalion, Headquarters Company
Hiroshi, also called Rusty, was born January 10, 1925, in Kahiliwai, Kauai, Territory of Hawaii. He was one of three children (older sisters Flora Itsue and Misau) of Shinsaku and Yuka (Doi) Nagakura. After his father died, his mother remarried. On December 15, 1926, in Kapaa, Kauai, his 47-year-old widowed mother, Yuka Nagakura, married 46-year-old bachelor Hakaru Nakamura, who had arrived in Hawaii from Nagano Prefecture, Japan, in 1905. Yuka arrived in Hawaii in 1920 from Hiroshima Prefecture, Japan. He had several half-sisters in Japan.
Hiroshi Nagakura moved to Honolulu while he was still in high school. He was a student at McKinley High and a part-time food department worker at the Kress store on Fort Street when he signed his draft registration card on January 16, 1943, Local Board No. 4. The teenager had been fined $50 for signing his card six days late. His point of contact was Eddie Tominaga. He was 5'4" tall, and weighed 135 pounds.
Hiroshi was inducted into the U.S. Army on March 24, 1943, and among the new soldiers living at Boom Town, the "tent city" at Schofield Barracks. On March 28, the men were given a community farewell ceremony on the grounds of Iolani Palace. They were sent to San Francisco on the S.S. Lurline on April 4, then traveled by train to Camp Shelby, Mississippi, for training. Rusty was assigned to 2nd Battalion, Headquarters Company.
After nearly a year of basic and specialized training and field maneuvers, Nagakura left Camp Shelby with the 442nd on April 22, 1944, by train for Camp Patrick Henry, Virginia. On May 2, they sailed from nearby Hampton Roads in a convoy of over 100 ships for the Mediterranean Theater of Operations in Italy.
After entering the Mediterranean, the ships carrying the bulk of the 2nd Battalion dropped out of the convoy and steamed into Oran, on the coast of North Africa, to discharge cargo.  The other ships arrived at Naples, Italy, on May 28.  It is not known in which of these groups Hiroshi was traveling.
The battalion spent a week at a staging area in Bagnoli, near Naples, before leaving on LSTs for Anzio on June 6, where they marched five miles to a bivouac area. From Anzio, the 442nd went to a large bivouac area at Civitavecchia, north of Rome, where they went through additional training and final preparations for going to the front lines.
The ships that had stopped in Oran arrived on June 17, going through the same processing as the other units. After a week in a bivouac area in the nearby town of Bagnoli, they left on LSTs for Anzio.
The 442nd entered combat at Suvereto on June 26, 1944. Nagakura participated in the Rome-Arno Campaign before the unit moved to France on September 27. After the Rhineland-Vosges and the Rhineland-Maritime Alps Campaigns, they returned to Italy for the Po Valley Campaign.
For his wartime service, Rusty Nagakura was awarded the Bronze Star Medal, Good Conduct Medal, Asiatic-Pacific Campaign Medal, European-African-Middle Eastern Campaign Medal with four bronze stars, WWII Victory Medal, Army of Occupation Medal, Combat Infantryman Badge, and Distinguished Unit Badge. He was awarded the Congressional Gold Medal on October 5, 2010, along with the other veterans of the 100th/442nd Regimental Combat Team. This is the highest Congressional Civilian Medal.
After V-E Day on May 8, 1945, Nagakura remained in Italy for the Occupation. On December 6, 1945, he arrived back in Hawaii with several hundred other veterans on the troop ship USAT Aconcagua at Pier 26 in Honolulu. On December 23, he was discharged from the U.S. Army in Honolulu.
Hiroshi married Gertrude Oka and over the years they had three sons. He completed his college education. By 1956, the family lived in Poughkeepsie, New York, where he was an electrical engineer at IBM. A year later he was a staff engineer in the Magnetic Tape Devices Department. He later left IBM and became Vice President of Memorex in September 1971 in Santa Clara, California. Rusty was an avid golfer and played in local tournaments.
Hiroshi Nagakura died on January 23, 1977, in Santa Clara, California. He was buried at the National Memorial Cemetery of the Pacific at Punchbowl on April 1, 1985, in Section R, Row 857. His wife Gertrude died in 2013 and is buried with him.
Researched and written by the Sons & Daughters of the 442nd Regimental Combat Team in 2021.