Hawaii History Day State Fair competition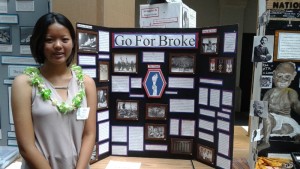 Sixth-grader Victoria (Tori) Yamashita and her panel display on the 442nd RCT, titled 'Go for Broke'." (from Byrnes Yamashita)
The legacy of the 442nd Regimental Combat Team is alive and well as represented by several entries in the State Finals of the Hawaii History Day State Fair, held on April 15, 2017 at the Windward Community College on Oahu.
Sons and Daughters members Grace Fujii, Byrnes Yamashita and Jonathan Ego attended the Hawaii History Day State Fair finals at Windward Community College campus and enjoyed the competition and awards ceremony. Jonathan's father, Kenji Ego, a 442nd RCT veteran, was also in attendance.
Angelee Marshall, a 7th grade student from Kahuku Intermediate and High School, came in second for her 442nd RCT documentary and qualified for the National History Day competition at the University of Maryland, College Park in mid-June. She will share the final version of her documentary so that it can be posted on the S&D website. Stay tuned.
Byrnes' two nieces, Tori and Katie Yamashita, qualified for the State finals from the Leeward District in the junior and senior categories, respectively. Tori produced a tri-fold display (photo above) on the history of the 100th/442nd RCT titled "Go for Broke." Katie, along with partner Esther Park, produced a documentary video on the 442nd called "442nd RCT: Japanese American Soldiers Fighting on Two Fronts." Their project also qualified for the National History Day competition.
There were two entries featuring the 100th/442nd RCT from Maui students that also qualified for the National competition. It was heartwarming to see that students across the State are helping to perpetuate the legacy of the Nisei soldiers of World War II.