Howard Mitsuru Urabe
Sergeant
442nd Regimental Combat Team
2nd Battalion, G Company
Howard Mitsuru Urabe was born in Kapaa, Kauai, Territory of Hawaii, on March 16, 1923. His parents were Kenzo and Shizue (Yonekura) Urabe. Kenzo was born in Fukuoka Prefecture, Japan, on September 14, 1898; Shizue was born in Honolulu on April 17, 1903. Howard was the oldest of six children; his siblings included brothers Ralph, Henry, and George and sisters Helen and Elaine.
Urabe graduated from Kauai High School in 1940. He was known as an exceptional speaker in his youth. He moved to Honolulu to attend the University of Hawaii (UH) where he was an ROTC cadet. On December 7, 1941, immediately after Pearl Harbor was attacked by Japan, Howard and all ROTC cadets were told to report for duty, armed with Springfield rifles and five bullets each, and sent out to engage Japanese paratroopers who were thought to have landed. After searching for 6 or 7 hours, they received official orders from the Military Governor (Hawaii was now under Martial Law), converting them into the Hawaii Territorial Guard (HTG). Their mission was to protect vital installations on the island from the feared impending invasion by the Imperial Japanese Army.
Six weeks later, on January 19, 1942, Howard and the other ethnically Japanese cadets were discharged from the HTG as they were now classified 4C – "enemy aliens" – and were ineligible to serve in the military due to suspicion of their loyalty to Japan. Now came the long and courageous battle to prove Americans of Japanese ancestry were just as loyal as those of other ancestral origins.
On February 23, 1942, after a petition to the Hawaii Military Governor (Lt. Gen. Delos C, Emmons), Howard and the other expelled cadets were assigned to a 169-man auxiliary unit called the Varsity Victory Volunteers (VVV). They helped with various construction projects at military installations around Oahu. Their steady and reliable performance played a significant role in assuaging the doubts of the Army leaders and President Roosevelt. In January 1943, when the all-Nisei 442nd Regimental Combat Team was formed, the VVV was asked to disband and join it.
Urabe registered for the draft at Local Board No. 4, 1108 Pensacola Street, Honolulu, on June 30, 1942, naming his father Kenzo Urabe of Kapaa as his contact. He was 5' 5" tall and weighed 122 lbs. He listed his employer as the Corps of Engineers Auxiliary, 34th Engineers, at Schofield Barracks and his residence was 2324 Metcalf Street, known as the (UH) Students House in Honolulu.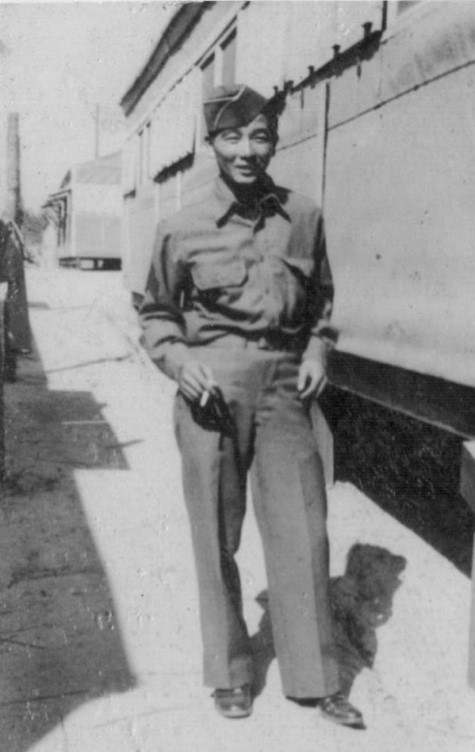 Howard Urabe enlisted in the U.S. Army on March 24, 1943.  After the farewell ceremony given by the community at Iolani Palace on March 28, he left with the other new soldiers on April 4 on the S.S. Lurline for San Francisco.  They then traveled to Mississippi for training at Camp Shelby, where he was assigned to 2nd Battalion, G Company.
The 442nd left Mississippi on April 22, 1944, for Camp Patrick Henry, Virginia. They then shipped out to the Mediterranean Theater of Operations on May 2 and arrived the end of the month in Naples, Italy. The bulk of the 2nd Battalion were on a ship that left the convoy and entered port in Oran, Algeria. After offloading cargo, they rejoined the regiment on June 17.
After traveling to a staging area in Civitavecchia north of Rome, they underwent final preparations for combat, which they entered near Suvereto on June 26. This was the Rome-Arno Campaign.
By July 4 they had pushed farther north. Howard Urabe died that day in the battle for Hill 140, just north of the Cecina River, while attacking a German machine-gun nest. According to the text of his Silver Star (posthumous) citation:
Howard M. Urabe, Sergeant, Infantry, Company G, 442nd Infantry Regiment. For gallantry in action on 4 July 1944, in Italy. During an attack on the key position of an enemy defense line, Sergeant URABE crawled twenty-five yards through sparse undergrowth to reach a position in front of an enemy machine gun. Timing his movements between the bursts of fire from the gun, Sergeant URABE suddenly stood up and fired a rifle grenade into the nest, killing the machine gunner and destroying the gun. When the other two members of the gun crew started to run, Sergeant URABE killed both of them with his M-1 rifle. When another machine gun fired upon him, Sergeant URABE fired another grenade and knocked out the second gun. Sergeant URABE was affixing another grenade to his launcher to be prepared for further action when he was killed by a sniper's bullet. Sergeant URABE'S courage and skill reflects great credit upon himself and the Armed Forces of the United States. Home address: Kapaa, Kauai, Territory of Hawaii. Next of kin: Mr. Kenzo Urabe (father).
His bravery on Hill 140 earned him this Silver Star. Sergeant Howard Mitsuru Urabe was buried in the U.S. Military Cemetery in Follonica, Italy, Plot D, Row 38, No. 3851. On July 22, 1944, his family held memorial services for him at the home of his uncle and aunt, Mr. and Mrs. Hikogoro Yonekura, 1615 McGrew Lane, and the following day, Sunday July 30, at Kapaa All Saints Church.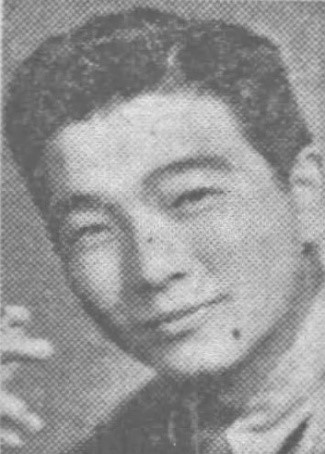 For his military service, Sergeant Urabe was awarded the following medals and decorations: Silver Star Medal, Bronze Star Medal, Purple Heart Medal, Good Conduct Medal, American Campaign Medal, European-African-Middle Eastern Campaign Medal with one bronze star, World War II Victory Medal, and Combat Infantryman Badge. He was awarded the Congressional Gold Medal on October 5, 2010, along with the other veterans of the 100th/442nd Regimental Combat Team. This is the highest Congressional Civilian Medal.
Urabe's comrades later said that he had planned to make his career in social work or perhaps take up teaching. There are several published books referencing Howard Urabe:
Nisei Memories, by Paul Howard Takemoto. The author's father, Kaname Takemoto, was a close friend of Howard's and served in Italy with him. He describes many wartime memories. Urabe made such an impact on Takemoto that the latter gave his son Paul the middle name of "Howard."
No Sword to Bury, by Franklin Odo, which tells about Japanese Americans in Hawaii during the war. It mentions Howard Urabe being awarded the Silver Star for his bravery.
A Man of No Moon, by Jenny McPhee. Although this is a fictional story, one chapter about the war features a character named Howard Urabe and contains some factual information about his heroic actions in Italy.
In early 1948, the cooperative living arrangement known as Students House, where Urabe had lived when he was a student at UH, announced its plan to enlarge by the addition of two new wings. The wings were to be named for two former residents who were killed in action in Italy. The first wing for Gary T. Hisaoka, and the second wing for Howard M. Urabe.
In 1948, the Army began the process of closing the smaller military cemeteries in Italy and offered the family the choice of reburial at the large U.S. Military Cemetery in Florence or returning home.  Sgt. Urabe's family chose to have his remains returned.  He arrived on December 24, 1948, on the USAT Sinnett to Dock M-3 at Pearl Harbor with 121 other of Hawaii's war dead.  Over 700 family and friends were waiting on the pier where the 265th Army Band played Aloha Oe as the ship docked at 8:30 a.m.  They were eulogized in a shipside service by the Secretary of Hawaii, Oren E. Long, who said, We are proud to have had such sons.  These men stood the test of action and added a new chapter of American heroism to our history.  The caskets were taken to the Army mausoleum on Oahu awaiting final burial arrangements.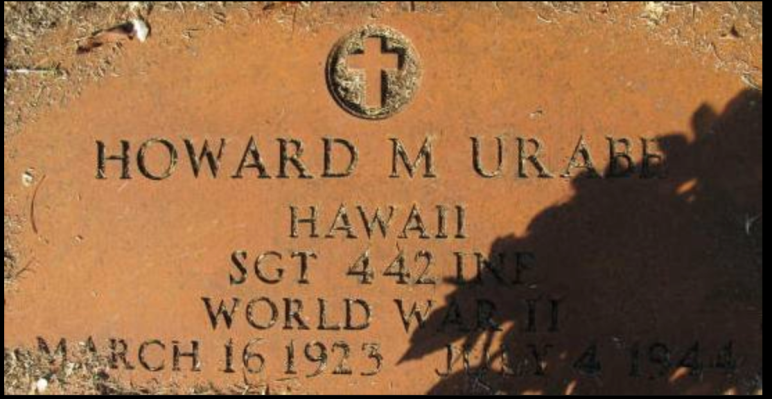 On January 13, 1949, Sgt. Urabe's casket was among those of four Kauai war dead to arrive on the Garden Island on the inter-island steamer Hualalai. A brief memorial service was held at the dock with the military funerals held on January 14.
Sergeant Howard Mitsuru Urabe was buried at the Kauai Veterans Cemetery in Hanapepe. His flat granite government marker was ordered from West Chelmsford, Massachusetts, by his father on March 24, 1949.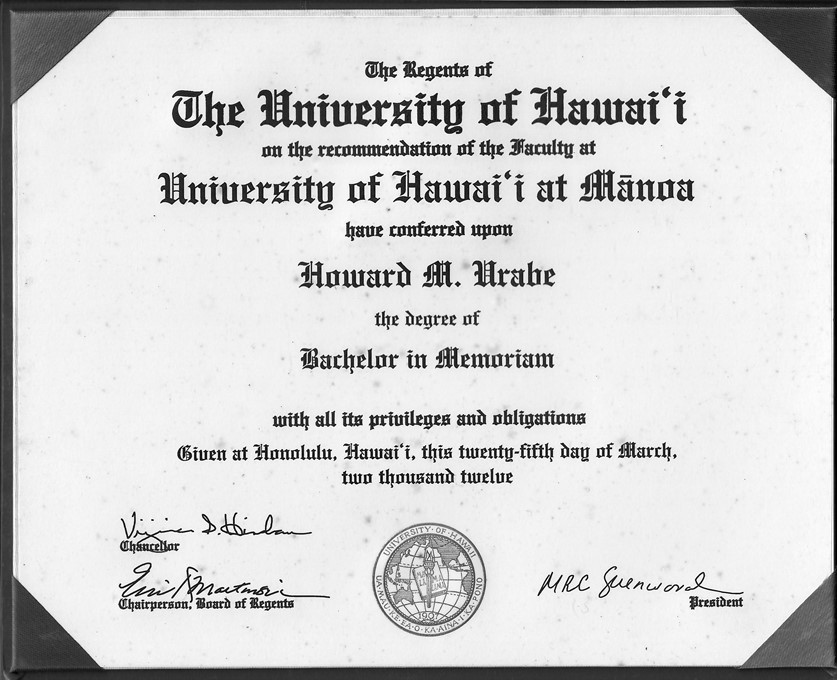 On May 14, 2012, the 70th anniversary of the formation of the Varsity Victory Volunteers, the University of Hawaii awarded posthumous degrees to the seven ROTC cadets, including Sergeant Urabe, who were killed in action during World War II while serving with the 442nd Regimental Combat Team. The degrees were presented to the next of kin. Sergeant Urabe's diploma was received by his younger sister, Elaine Urabe Tamura.
Researched and written by the Sons & Daughters of the 442nd Regimental Combat Team in 2021.