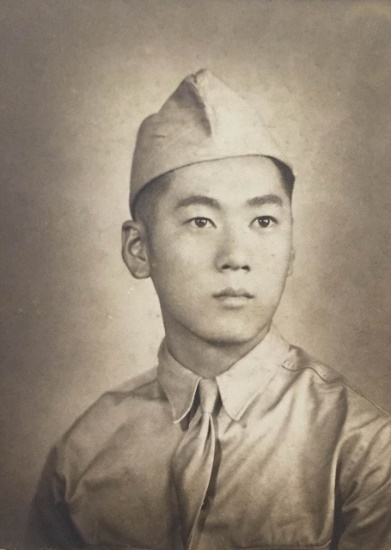 Isamu Furuya
Private First Class
442nd Regimental Combat Team
3rd Battalion, Headquarters Company
Isamu Furuya was born on April 11, 1924, in Honolulu, Oahu, Territory of Hawaii. He was one of nine children born to Masaru and Misayo (Hasegawa) Furuya. His siblings were Mamoru, Frank Fumio, Charles Kiyoshi, Henry Hideo, Katherine H., Julia A., Elsa T. and Clarence T. Furuya.
Masaru emigrated from the town of Kanagawa, Fukuoka Prefecture, Japan; arriving at Honolulu on January 20, 1914, on the China Maru. Misayo was born in Hanalei, Kauai. Masaru worked for the Lihue Plantation Company in Hanamaulu. He married Misayo on July 8, 1919, on Kauai. By 1930, he was working as a carpenter. By 1940, the family had moved to 2725 Kahoaloha Lane in Honolulu, and he was employed by S. Tsutsumi Construction, 915 Housten Street.
Isamu graduated from McKinley High School in 1942. He registered for the draft on June 30 at Local Board No. 3 at the National Guard Armory, Honolulu. He was employed a Hawaiian Pines and living at 2725 Kahoaloha Lane; his point of contact was his uncle George Hasegawa. He was 5'7" tall and weighed 135 pounds.
On March 24, 1943, Isamu enlisted in the U.S. Army. He was sent to Boom Town, the "tent city" at Schofield Barracks where all the recent volunteers were housed. On March 28, they were given an aloha farewell ceremony by the community at Iolani Palace. On April 4, they left on the S.S. Lurline for San Francisco. After arriving on the mainland, Isamu and the rest of the new soldiers were sent by train to Camp Shelby, Mississippi, for training, arriving on April 18. He was assigned to 3rd Battalion, Headquarters Company of the 442nd Regimental Combat Team.
After a year of basic and specialized training and military exercises, they left by train for Camp Patrick Henry, Virginia, on April 22, 1944. On May 2, the 442nd sailed from nearby Hampton Roads in a convoy of over 100 troop ships, and arrived in Naples, Italy, on May 28.
The battalion spent a week at a staging area in Bagnoli, near Naples, before leaving on LSTs for Anzio on June 6, where they marched five miles to a bivouac area. From Anzio, the 442nd went to a large bivouac area near Civitavecchia, north of Rome, where they went through additional training and final preparations for going to the front lines. After a week in a bivouac area in the nearby town of Bagnoli, they left on LSTs for Anzio. The 442nd entered combat on June 26 near Suvereto in the Rome-Arno Campaign.
Isamu was present for all the battles of the 442nd in Italy. They left for France on September 27, 1944. Once they arrived in Marseilles, the Combat Team was in a bivouac area in nearby Septèmes until October 9, when they were transported north to participate in the Rhineland-Vosges Campaign. In October-November, the 442nd liberated the important road junction of Bruyères, followed by Biffontaine and the famous "Rescue of the Lost Battalion" – the 1st Battalion of the 141st (Texas) Infantry Regiment that had advanced beyond its support, become surrounded by the enemy, and was unable to extricate itself.
Following the Vosges, Isamu went with the 442nd for participation in the Rhineland-Maritime Alps Campaign in southern France. They were in the area of Nice, Menton, and Sospel beginning on November 21. The 442nd returned to Italy on March 25, 1945, for the Po Valley Campaign, leading to the end of the war in May.
After Germany surrendered on May 7, 1945, he remained in Italy for occupation duties. Isamu arrived back in Honolulu on December 19, 1945, on the USAT Evangeline and was discharged on January 2, 1946.
For his wartime service, Private First Class Isamu Furuya was awarded the Bronze Star Medal with one oak leaf cluster, Good Conduct Medal, American Campaign Medal; European-African-Middle Eastern Campaign Medal with four bronze stars, World War II Victory Medal, Army of Occupation Medal, Combat Infantryman Badge, and Distinguished Unit Badge. He was awarded the Congressional Gold Medal on October 5, 2010, along with the other veterans of the 100th/442nd Regimental Combat Team. This is the highest Congressional Civilian Medal.
December 1, 1950, Isamu graduated from a lineman apprenticeship program with Hawaiian Electric Company. In May 1958, he was injured when a transformer exploded in a vault where he was working.
He married Harumi Inenaga in May 1956 at the Church of the Crossroads in Honolulu. They had three children – two boys and a girl.
Isamu Furuya died on January 10, 2018. He was interred in the Hawaiian Memorial Park in Kaneohe, Oahu, Hawaii.
Isamu's brother Mamoru Furuya served as a Sergeant, M Company, 3rd Battalion.
Researched and written by the Sons & Daughters of the 442nd Regimental Combat Team in 2022.