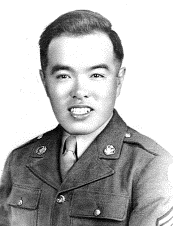 Iwao Arthur Takahashi
Sergeant
442nd Regimental Combat Team
3rd Battalion, I Company
Iwao Arthur Takahashi, son of Torakichi and Hana (Shiromizu) Takahashi, was born on January 31, 1916, in Whittier, California. He was the third born of four siblings: brother James Masao, and sisters Takiyo and Aiko. Torakichi emigrated from the village of Kitazaki, Fukuoka Prefecture, Japan, in 1900. Hana emigrated from the village of Imazu, Fukuoka Prefecture on the S.S. Siberia and arrived on September 4, 1910, in San Francisco. Torakichi and Hana were married the day she arrived.
In 1920, the family was living at 610 North Bright Avenue in Whittier. Torakichi was a market gardener. By 1930, they were living at the end of Cadova Road in Whittier and Torakichi was a farm laborer. In 1940, they lived on Route 1/Santa Gertrudis Avenue in Whittier. Iwao was the only child living at home and he was a laborer on his father's flower farm.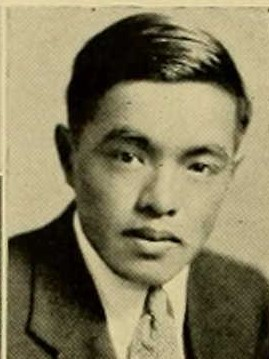 Art, as he was known, attended Broadway School in Whittier, Washington Grammar School in La Habra, and East Whittier Grammar School. He graduated in 1933 from Whittier High School, where he was a member of the Razor Club (community welfare work), Spanish Club, and B Class football and track teams. He also was a member of the Toastmasters in Anaheim. Prior to entering the service, he was a flower grower.
Right: Senior class photo in 1933
On October 16, 1940, Iwao signed his draft registration card, Local Board No. 269, Bellflower, Los Angeles County. He was living with his parents on Santa Gertrudis Avenue and his father was his point of contact. He was 5'7" tall and weighed 138 pounds.
On November 5, 1941, Arthur was inducted into the U.S. Army at Downey, California, and he was sent for basic training to Camp Roberts, California. In 1942, he was stationed at Camp Robinson in Little Rock, Arkansas.
In the spring of 1942 his parents were evacuated to the Santa Anita WCCA Assembly Center, located at the Santa Anita Racetrack in Arcadia, California. They were then incarcerated at the Rohwer War Relocation Center in McGehee, Arkansas, arriving on September 27, 1942.
While stationed at Camp Robinson, Art was able to visit his parents at Rohwer. His girlfriend, Esther Mitsuko Fukushima, and her family, from Montebello (Los Angeles County) were also incarcerated there. He and Esther were married on February 25, 1943, in Desha County, Arkansas. Two days later, she was released from Rohwer to move to Little Rock where Art was.
Arthur and Esther were able to meet in New York during Christmas 1944, while he was stationed at Camp Shelby, Mississippi. The following month he was sent to the Theater of War and arrived at Nice, France, as a replacement to the 442nd Regimental Combat Team and assigned to 3rd Battalion, I Company.
On March 23, 1945, the 442nd shipped out from Marseilles, traveled to Livorno, Italy, and was attached to the 92nd Division.
The Fifth Army had been stalemated at the Gothic Line for the prior five months.  In front of the 442nd lay mountains code-named Georgia, Florida, Ohio 1, Ohio 2, Ohio 3, Mount Cerreta, Mount Folgorito, Mount Belvedere, Mount Carchio, and Mount Altissimo.  Capturing these objectives hinged on surprising the Germans.  The 100th was assigned to attack Georgia and the 3rd Battalion to attack Mount Folgorito. 
On 3 April, the 100/442nd, whose presence in Italy was still a secret,  moved into position under the cover of nightfall to hide from the Nazis. The next day the Nisei soldiers waited until nightfall, then in total silence they climbed the steep mountain through the night.  By 0500 the following morning they were on top ready to strike.  They achieved total surprise, and in a little over 30 minutes the objectives Georgia and Mount Folgorita were taken, cracking the Gothic Line. 
After counterattacking, the Germans were again defeated, and began to move their reserve units away from the center of the Gothic Line to strengthen their defenses against a complete breakthrough on their western flank.  But the 100/442nd could not be stopped.  They made a continuous push against the German Army and objectives began to fall: Ohio 1, 2, and 3, Mount Belvedere on 6 April by 2nd Battalion, Montignoso 8 April by 3rd Battalion, Mount Brugiana on 11 April by 2nd Battalion, Carrara by 3rd Battalion on 11 April, and Ortonovo by the 100th on 15 April.  The 100/442nd turned what was initially a surprise diversionary attack into an all-out offensive.  The advance came so quickly that supply units had a difficult time keeping up.
The Combat Team drove so hard that beginning on April 17, the Germans decided to destroy their fortifications and pull back to make a final stand at Aulla. The last German defense in Italy was Mount Nebbione, directly south of Aulla. San Terenzo lay east of Mount Nebbione and became the launching point for the Aulla assault. The final drive of the 442nd began on April 19 and lasted until April 23, when the 3rd Battalion finally took Mount Nebbione and Mount Carbolo.
Sgt. Takahashi was killed in action near Fosdinovo, Italy, on April 21, 1945, during this fierce battle to take these last two mountains. He was killed in action during a combat patrol 11 days before the war ended in Italy. The hospital admission record states that he was wounded in his buttock/hip area.
The recollections of First Sgt. George Miyashiro, I Company, many years later describe Sgt. Takahashi's death:
…I took my squad on a combat patrol to a nearby mountain town supposedly occupied by the enemy…A newly arrived radioman with a square-back radio pack was assigned to go along. I said, 'Hi!' to Art Takahashi, 'Welcome to the squad!' Two Italian partisan guides were provided to lead us into town through the winding mountain road….As we approached a straightaway, the fog lifted slightly and I spotted a machine gunner ready to fire directly at us from higher ground….The machine gun burst; Art was wounded…A few minutes later the fog rolled in. I rushed to Art, carried him on my back to safety around the bend, and hollered to the litter bearers…I aborted the mission…At least our moving presence revealed that the enemy was live in that little town….Art died enroute to the aid station…Nobody knew when Art had reported for duty, that morning or the night before…Since our headquarters was wiped out…
Takashi's death was reported in the Ogden Standard-Examiner (Ogden, Utah) on May 3, 1945. His father-in-law, the Reverend Joseph K. Fukushima of the Japanese Christian Union Church, had been notified. At the time, his wife Esther was living in Marion, Iowa, with Art's brother James at 915 18th Street. She was employed at the Jones Dental Laboratory in Cedar Rapids. Other survivors included his parents and two sisters, Mrs. Takiyo Tanamachi of Arizona and Mrs. Aiko Saito of New Jersey. A memorial service for Arthur Takahashi was held during the Sunday worship service at the Presbyterian Church in Marion on May 20, 1945.
Sgt. Takahashi was interred in the U.S. Military Cemetery in Granaglione, Italy, Section D, Row 6, Grave 498.
For his military service, Sergeant Iwao Arthur Takahashi received the Bronze Star Medal, Purple Heart Medal, Good Conduct Medal, American Defense Medal, American Campaign Medal, European-African-Middle Eastern Campaign Medal with one bronze star, and Combat Infantryman Badge. He was awarded the Congressional Gold Medal on October 5, 2010, along with the other veterans of the 100th/442nd Regimental Combat Team. This is the highest Congressional Civilian Medal.
On August 16, 1945, Art's parents, Torakichi and Hana Takahashi, were released from Rohwer to return to Whittier.
In 1948, the remains of Americans buried overseas began slowly to return to the US if the family so wished. As a result, Art was brought home and interred at Evergreen Cemetery in Los Angeles, California, Section A, by the 442nd Nisei Memorial.
Postscript. On November 4, 1949, his widow Esther married Makio Oka in Ogden, Utah. Over the years, they raised a family of five children. Esther died on August 30, 2011, and was buried at Washington Heights Memorial Park in South Ogden.
Researched and written by the Sons & Daughters of the 442nd Regimental Combat Team in 2022.