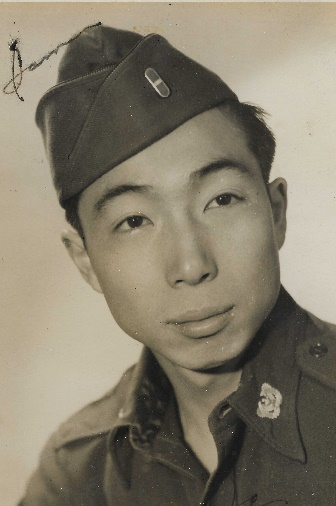 James Noburo Yamamoto
Warrant Officer, Junior Grade
442nd Regimental Combat Team
Headquarters Company
James Noburo Yamamoto was born on February 22, 1916, in Los Angeles, California, to Shinsaku and Nao (Hashimoto) Yamamoto. He was one of three sons (himself, Tsurochi Lloyd, and Shintai George) and three daughters (Hatsui, Yoshui Rose, and Shizuko). Shinsaku emigrated from Wakayama Prefecture, Japan, arriving in Los Angeles on April 18, 1915. He was a truck driver in the vegetable produce business. Nao emigrated on the Hong Kong Maru from Kumemura, Yamaguhi Prefecture, arriving in San Francisco on December 27, 1913.
James registered for the draft on October 16, 1940, in Los Angeles at Local Board No. 216. His point of contact was his father, Shinsaku; they lived at 726 Crocker Street, Los Angeles. Like his father, he was self-employed as a truck driver in the vegetable produce business. He was 5'6" tall and weighed 135 pounds.
James enlisted in the Army on January 7, 1942, at Fort MacArthur, San Pedro, California. He had completed two years of college, and was listed as a skilled chauffeur/driver.
In the spring of 1942, his family was evacuated to the Santa Anita Assembly Center, located at the Santa Anita Racetrack in Los Angeles County. After a few months, they were sent to Arkansas where they were incarcerated in the Rohwer WRA Relocation Camp.
In March 1943, James was transferred to Camp Shelby, Mississippi, and assigned to the 442nd Regimental Combat Team, Headquarters Company.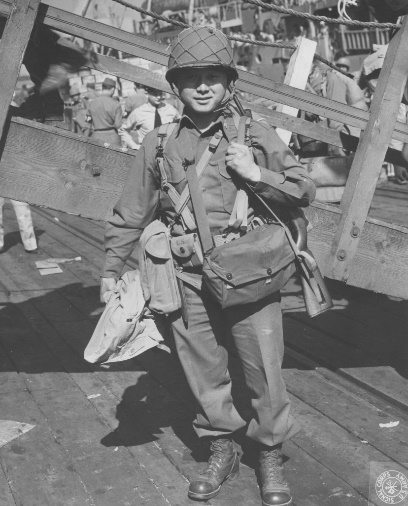 After over a year of training, Yamamoto shipped out to Europe with the 442nd on May 2, 1944, from Hampton Roads, Virginia, in a convoy of over 100 ships. The Combat Team arrived in Naples, Italy, on May 28, and spent the next week at a staging area in nearby Bagnoli before leaving on LSTs for Anzio on June 6. They entered combat on June 26, 1944, near Suvereto.
Right: loading out for Italy at Hampton Roads
James fought in the Rome-Arno Campaign in Italy, Rhineland Campaign-Vosges and Rhineland Campaign-Maritime Alps in France, and Po Valley Campaign back in Italy.
For his military service, Warrant Officer J.G. James Noburo Yamamoto was awarded the Bronze Star Medal, American Campaign Medal, European-African-Middle Eastern Campaign Medal with four bronze stars, World War II Victory Medal, Army of Occupation Medal, Combat Infantryman Badge, and Distinguished Unit Badge. James was awarded the Congressional Gold Medal on October 5, 2010, along with the other veterans of the 100th/442nd Regimental Combat Team. This is the highest Congressional Civilian Medal.
After the war, James N. Yamamoto married Ritsuko Hoshizaki on April 2, 1950, in Los Angeles. They remained in Los Angeles where they raised a family of two daughters.
James N. Yamamoto died in Los Angeles on July 29, 1985.  Survivors included his wife Ritsuko, two daughters, mother Nao, brother Lloyd, and sisters Mrs. Theresa Kushi and Mrs. Shizuko Hayashibara.  A private graveside service was held on August 3 at Inglewood Park Cemetery in the Inglewood area of Los Angeles.
Researched and written by the Sons & Daughters of the 442nd Regimental Combat Team in 2021.