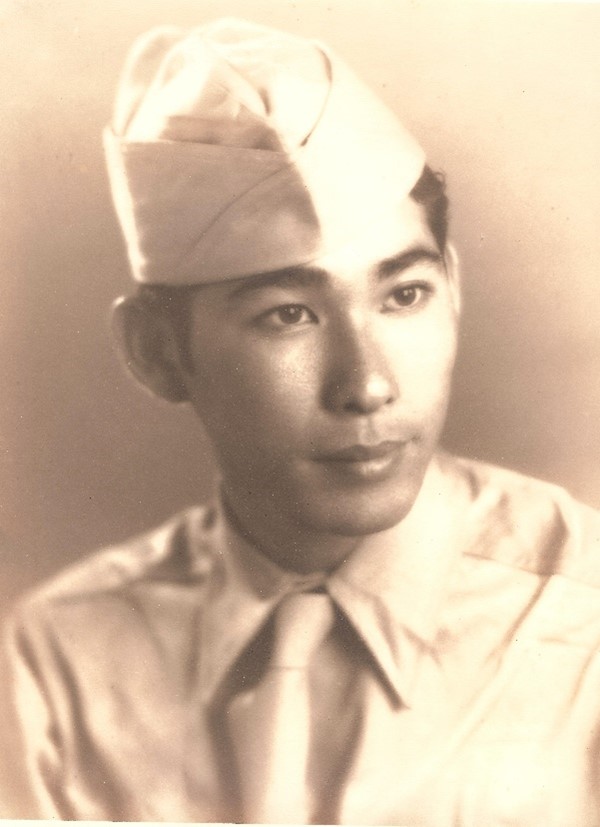 James Yasumi Omatsu
Technician 5th Grade
442nd Regimental Combat Team
Headquarters Company
James Yasumi Omatsu was the youngest of the six children of Hiyakutaro and Harue (Yamasawa) Omatsu, and was born on October 5, 1921, at Watertown, Oahu, Hawaii. This former settlement was on the east side and inland of the opening of Pearl Harbor to the sea and was razed in 1935 for the construction of Hickam Air Force Base. His siblings were: brother Masatoshi, sisters Norma Umeko, Hanako, Takeko, and Edna Mitsue. His parents arrived in Hawaii in 1908, from the village of Nihoshima, Hiroshima Prefecture, Japan.
Shortly after his birth, the family moved to North King Street in Honolulu, where they lived above the small grocery store that they operated. In 1936, Omatsu arrived from Japan – where he had been a student – on the Chichibu Maru with his parents and sister Umeko.
James graduated from Farrington High School in 1939; and began studying Engineering at the University of Hawaii. He also enlisted in the Hawaii National Guard.
On the morning of December 7, 1941, the Omatsu family was enjoying breakfast when naval and air forces from the Empire of Japan began attacking U.S. military installations on Oahu. Since the family home was about five miles from Pearl Harbor, they could hear and feel the bombs exploding. James went outside to see what was happening. He could clearly see the Japanese planes flying overhead; the red hinomaru (the circle of the sun) were clearly visible on the attacking planes' wings and fuselage; he could also occasionally see the pilots as they flew overhead.
Immediately after the attack, James was activated by the National Guard, issued one weapon (a Springfield 1903 rifle) with five rounds of ammunition, and ordered to guard the Kodak film processing plant on Kapiolani Boulevard. This duty lasted for about two weeks, then all National Guard members who were of Japanese ancestry were recalled and discharged. He did not resume his Engineering studies but instead found work with the Army Corps of Engineers who were building airfields on Oahu.
Omatsu signed his draft registration card on February 15, 1942. At the time he was employed by Walker-Moody, U.S. Engineering Department (U.S.E.D.), located at 820 Piikoi Street. He worked at Kahuku Airfield Area 13. He was 5'5" tall, and weighed 115 pounds. His point of contact was his older brother, Masa Omatsu, and they lived with their family at 2003 North King Street.
In early 1943, when a solicitation was made for volunteers to form what was to become the 442nd Regimental Combat Team, James was among the first to volunteer, enlisting on March 23. His civilian occupation was listed as "semi-skilled chainmen, rodmen, axmen, surveying." He did not tell his mother until after he had taken this step – and she was angry with him when he finally told her. He was sent to Boom Town, the "tent city" at Schofield Barracks where the new soldiers were housed. On March 28, they were given a community farewell at Iolani Palace. On April 4 they sailed on the S.S. Lurline to San Francisco. From there, they went by train across country to Camp Shelby, Mississippi.
James was assigned to Regimental Headquarters Company. During basic training, he became close friends with Hajime "Charlie" Matsuura and Robert F. Onzuka of Headquarters Company (they all survived the war and stayed somewhat in contact). It was reported by Camp Shelby on September 23, 1943, that James had been promoted to Private First Class. He qualified as a sharpshooter on the M-1 Garand rifle.
At some point, James procured a service flag (blue star on a white field with a red border) and sent it home. His parents displayed it proudly in the windows of their store. Prior to receiving that flag, American soldiers passing by the Omatsu store thought nothing of going inside and helping themselves to whatever they wanted. The next time that happened, Mrs. Omatsu slapped the GI's hand and said in her broken English, "Not only you fighting for this country!" as she pointed to the service flag in the window. The GI was so ashamed he dropped what he was trying to take, apologized, and left. No further thefts occurred after this.
Upon completion of basic training, James' unit left Camp Shelby on April 22, 1944, for Camp Patrick Henry, Virginia. The Combat Team left from nearby Hampton Roads in a convoy of over 100 ships. They arrived at Naples, Italy, on May 28. The 442nd entered combat on June 26 near Suvereto in the Rome-Arno Campaign.
While in the combat zone, Omatsu discovered the capricious nature of warfare. One night he was getting prepared to bed down for the night, so he placed his poncho on top of some rabbit cages in a clearing near a house. He went down to a nearby stream to wash up; while doing so an artillery round landed in the clearing and destroyed everything. If he had been delayed going down to the stream, or finished up earlier, he would probably have been blown into little bits. James retrieved pieces of the hot shrapnel and brought them home to Hawaii to remind him of this very close call.
James also took advantage of opportunities for recreation during off moments, going to the beaches whenever possible. It was here on European beaches that he and his friends first saw women in bikinis, attire not yet worn in the US.
On September 27, 1944, the 442nd was sent to France where they participated in the Vosges Campaign. They were sent back to Italy in mid-March 1945, to break the western end of the Gothic Line.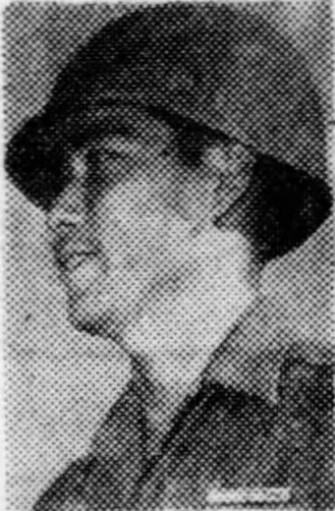 On April 4-5 in the Apennine Mountains north of Lucca, Corporal Omatsu was engaged in action that earned him the Bronze Star. In broad daylight, he established "a regimental operations post on a forward part of a hill 800 yards from the front line," and then "observed and directed artillery fire on numerous enemy dugouts and machine gun nests. Direct hits killed more than 20 of the enemy and caused confusion in their ranks." The award ceremony was held in Italy later in the year prior to Omatsu's return to the US.
Omatsu at time of award ceremony in Italy
When hostilities ended, James procured some war souvenirs – two German helmets, a German bayonet, and a Radom Vis P-35 (German 9mm pistol of Polish design), which he brought back to Hawaii.
In April 1945, Omatsu suffered a noncombat injury by a foreign object penetrating the popliteal region of his knee. He was returned to duty in May.
For his service Tec/5 James Omatsu received the following awards: Bronze Star with oak leaf cluster, Good Conduct Medal, Asiatic-Pacific Campaign Medal, American Campaign Medal, European-Africa-Middle Eastern Campaign Medal with four bronze stars, World War II Victory Medal, Army of Occupation Medal, and Combat Infantryman Badge. He also was awarded the Congressional Gold Medal on October 5, 2010, along with the other veterans of the 100th/442nd Regimental Combat Team. This is the highest Congressional Civilian Medal.
Omatsu arrived aboard the USAT Aconcagua to Pier 26 in Honolulu on December 17, 1945, at 8:00 a.m., with 550 other returning soldiers. He was soon discharged from the U.S. Army.
On February 19, 1947, Omatsu sailed to the mainland on the S.S. Matsonia.
On June 5, 1949, James married Doris Miyeko Sumida in Honolulu. They had four sons, all of whom served in and retired from the Armed Forces: Michael, Commander, U.S. Coast Guard, retired; Patrick Jyogi, Chief Warrant Officer 3, U.S. Coast Guard, retired; Stephen, Sergeant First Class, U.S. Army, retired; and Sean Kelly Noritomo, Captain, U.S. Army, retired.
James Omatsu passed away on March 20, 2011. Per his wishes, his ashes were scattered at the Scatter Garden at the National Memorial Cemetery of the Pacific (Punchbowl) on March 28, 2011. A small amount of his ashes was preserved and inurned with his wife's ashes after her passing on December 24, 2016. Their combined ashes are at Punchbowl in the Columbarium.
Researched and written by the Sons & Daughters of the 442nd Regimental Combat Team with assistance from the Omatsu family in 2021.