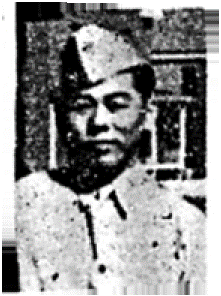 Jimmie Yutaka Taketa
Private
442nd Regimental Combat Team
3rd Battalion, K Company
Jimmie Yutaka Taketa was born on May 9, 1915, in Tacoma, Washington, to Yonakichi and Satano (Nishimura) Taketa. He had sisters Yoneko and Keiko and brother Kazuo.
Yonakichi emigrated from Hiroshima Prefecture, Japan, arriving at Tacoma (via Victoria, British Columbia, Canada) on August 9, 1906, on the Tosa Maru. Satano emigrated from Hiroshima Prefecture, arriving at Tacoma in May 1914 on the Chicago Maru. They were married on May 19, 1914, in Tacoma. In 1930, the family lived at 2307 Commerce Street in Takoma and Yonakichi was the manager of a laundry.
Jimmie registered for the draft on October 16, 1940, at Local Board No. 1, Pierce County Tribune Building, Puyallup, Washington. His point of contact was T. Mochisaki, a friend. He was employed by Mrs. C. Katayama on her farm in Sumner, Pierce County. He was 5'1" tall and weighed 130 pounds.
The family was evacuated to Minidoka Relocation Center at Hunt, Idaho, after Executive Order #9066 was issued on February 19, 1942. His father was sent on to Rohwer Relocation Center in Arkansas, arriving in December 1942 – and was released on August 7, 1944.
Jimmie enlisted in the U.S. Army on March 10, 1943, at the Presidio of Monterey, California. He was sent to Camp Shelby, Mississippi, and assigned to the 442nd Regimental Combat Team, 3rd Battalion, K Company.
After a year of basic and specialized training and field exercises, the 442nd left Camp Shelby for Camp Patrick Henry, Virginia, on April 22, 1944.  They shipped out to the Mediterranean Theater of Operations on May 2 from nearby Hampton Roads in a convoy of over 100 ships.  They arrived at Naples, Italy, on May 28.
They spent the next few days at Staging Area #4 in Bagnoli. On June 6, the men left for Anzio aboard LSTs and LCIs. The night they arrived, they came under fire as German airplanes raided the ammunition dumps in and around Anzio.
The 442nd soon transferred to a bivouac area near Civitavecchia, just north of Rome. They went into combat near Suvereto, farther north, on June 26, in the Rome-Arno Campaign. The 442nd moved north from Suvereto, liberating the towns of Belvedere, Sassetta, and Castagnetto. On July 1, they marched from Bibbona to an assembly area just south of the Cecina River. At that time of year, it was hardly more than a trickle of water and very fordable in most places. Enemy artillery first became increasingly heavy, indicating they would make some sort of a stand on the high ground north of the river. The regiment encountered fierce resistance from the Germans as they engaged near Castellina Marittima just north of the Cecina River on July 5, 1944.
On the morning of July 16, the 3rd Battalion relieved the 2nd Battalion, and prepared for an attack to seize the town of Luciana from the Germans. There was heavy fighting throughout the day. The fight was house to house. In a violent fire fight, Private Jimmie Taketa was wounded. As he was being evacuated by Staff Sergeant Akira Roy Shimatsu, they were caught in a tree burst of fire under an extremely heavy enemy artillery barrage. Both men were killed.
Private Jimmie Yutaka Taketa was interred in the U. S. Military Cemetery at Follonica, Italy, Section H, Row 4, Site 23.
For his military service, Private Jimmie Yutaka Taketa was awarded the Bronze Star Medal, Purple Heart Medal, Good Conduct Medal, American Campaign Medal, European-African Middle East Campaign Medal with one bronze star, World War II Victory Medal, and Combat Infantryman Badge. He was awarded the Congressional Gold Medal on October 5, 2010, along with the other veterans of the 100th/442nd Regimental Combat Team. This is the highest Congressional Civilian Medal.
He was survived by his father, Yonakichi Taketa, his mother, Mrs. Satano Taketa, 22-12-E Hunt, Idaho, and his sister, Miss Keiko Taketa of Twin Falls, Idaho.
In 1948, the smaller wartime cemeteries were being closed. Families were given the choice of having their loved one returned to the US or reinterred in a larger overseas cemetery. Based on the Taketa family's decision, Jimmie was moved to the Florence American Cemetery and Memorial, Via Cussia, Toscana, Italy, Plot H, Row 4, Grave 23.
Researched and written by the Sons & Daughters of the 442nd Regimental Combat Team in 2022