John Hidemi Takara
Sergeant
442nd Regimental Combat Team
2nd Battalion, F Company
John Hidemi Takara was born on August 22, 1922, in Papaikou, Hawaii island, Territory of Hawaii. He was the fifth of six sons and one daughter of Ushi and his wife Ushi (Uyehara) Takara. His brothers were: Eddie Yushin, Yoshio, Richard Nobuyoshi, and Walter Hiroshi; and sister Amy E. His parents arrived from the village of Shimajiri, Okinawa Prefecture, Japan, in 1906 and 1912, respectively.
In 1930, the Takara family lived in Kainouli, South Hilo. His father was a worker on a sugar plantation. The family consisted of father Ushi, mother Ushi, sons Yushin, Yoshio, Nobuyoshi, Hidemi, and Hiroshi.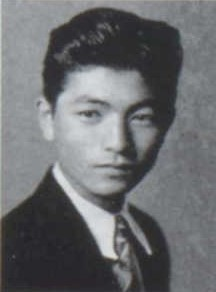 At some point, Hidemi moved to Honolulu, where he graduated from McKinley High School in 1940. (Right: Senior class photo)
In 1941, he was living with his brother Eddie at 3443 Winam Avenue and working as a clerk at the Hollister Drug Company. John attended the University of Hawaii (UH). In 1942, he was a member of the Varsity Victory Volunteers (VVV), the UH students and inactivated members of the Hawaii Territorial Guard who volunteered their services as an Army labor corps when they were not allowed to serve in the military. On February 25, Takara was among the group when they were given a sendoff from the UH campus, then escorted to Iolani Palace where Lieutenant General Delos C. Emmons, the martial law governor of the Territory of Hawaii, greeted them.
Afterwards, they were taken to Schofield Barracks where their duties were organized as a volunteer labor corps under Army direction. As most of the men were former UH students who had taken engineering courses, they were placed as an auxiliary under Colonel John M. Silkman's Engineer Regiment. They began work on March 7. Among other work, they operated a rock quarry 12 hours each day, built portable four-man "dog houses" for soldiers to live in, and helped to build a railroad, string barbed wire entanglements, and construct essential field equipment such as iceboxes and fly traps.
Camp life for the VVV men was described in a series of articles in the Honolulu Advertiser in June 1942. They lived in three two-story frame barracks at Schofield – Varsity Hall, Victory Hall, and Volunteers Hall – and paid $28.60 each month for their room and board. They ran their own mess hall and grew their own vegetables.
One of their efforts was buying U.S. War Bonds. When they received their first $90 monthly paycheck on April 9, each of the 159 men purchased one bond, and this continued each month to a total of $36,000. They also donated money to the United Welfare Fund and blood to the Honolulu Blood and Plasma Bank, and collected salvage materials for war use. In their leisure time, they had a busy program of sports activities and teams. In addition, John was one of several of the VVV men who made models of war airplanes from Allied and enemy nations for the U.S. Bureau of Aeronautics. A special exhibit at the Honolulu Academy of Arts was held that summer and John's model airplanes were among those featured. They were able to take correspondence courses at UH at a 50 percent reduction in tuition fees. A weekly news bulletin, The Volunteer, was issued by the young men as well. They also donated 65 toys they had made or repaired/repainted to the Honolulu Council of Social Agencies for distribution at Christmas to needy children and those in foster homes and hospitals.
On June 30, 1942, John signed his World War II Draft Registration card in Honolulu, Local Board No. 2, 3563 Waialae Avenue. His point of contact was his eldest brother, Eddie Y. Takara, his home address was with his brother at 3443 Winam Street, Honolulu; he was employed – as a VVV member – by the U.S. Army Corps of Engineers Auxiliary, 34th Engineers, at Schofield Barracks. He was 5'5" tall and weighed 115 pounds.
On January 30, 1943, the 157 members of the VVV were officially mustered out of service – per their request – so that they could volunteer to serve in the U.S. Armed Forces. A ceremony was held at Iolani Palace at 11:45 a.m., which also included the deactivation of the VVV. Three days later, on February 2, 1943, John enlisted in the Army, along with 156 of his fellow VVV members. They were designated to go to the 442nd Regimental Combat Team or the Military Intelligence Service. John was returned to Schofield Barracks; the majority of his fellow soldiers would enlist in March. The new volunteers were sent to the "tent city" known as Boom Town at Schofield Barracks.
On April 4, they left on the S.S. Lurline for San Francisco and the train trip across the US to Camp Shelby, Mississippi. Takara was assigned to F Company, and in September was promoted to Private First Class.
After nearly a year of basic training, specialized training, and field maneuvers, the 442nd left Camp Shelby for Camp Patrick Henry, Virginia, on April 22, 1944.  They sailed from nearby Hampton Roads on May 2 in a convoy of over 100 ships for the Theater of War.  They arrived in Naples, Italy, on May 28 and entered combat in the Rome-Arno Campaign near Suvereto on June 26.
Takara served in the campaigns of the 442nd: Rome-Arno in Italy, Rhineland-Vosges and Rhineland-Maritime Alps in France, and Po Valley back in Italy.
After V-E Day on May 8, 1945, John re-enlisted on November 8, 1945, and served in the Signal Corps.
For his military service, Sergeant John Hidemi Takara was awarded the Bronze Star Medal, Purple Heart Medal, Good Conduct Medal, European-African-Middle Eastern Campaign Medal with four bronze stars, World War II Victory Medal, Army of Occupation Medal, Combat Infantryman Badge, and Distinguished Unit Badge. He was awarded the Congressional Gold Medal on October 5, 2010, along with the other veterans of the 100th/442nd Regimental Combat Team. This is the highest Congressional Civilian Medal.
On November 16, 1948, Takara had his name officially changed from Hidemi Takara to John Hidemi Takara by a decree issued by Hawaii Governor Ingram M. Stainback.
On December 20, 1949, John married Mae Mitsue Nakandakari. Mae was born in 1930 in Papaikou, Hawaii island. They settled at 1634 Nuuanu Avenue. Over the years, they raised a family of two sons and one daughter. He was an active member of the Leeward Chapter of the Disabled American Veterans (DAV). By 1960, they had moved to 1504 Noelani Street in Pearl City.
John Hidemi Takara died on January 27, 1970, at Saint Francis Hospital, Honolulu. At the time of his death, he was 47 years old and was employed as an electronic technician. He was a member of the Oroku Azu Jin Club, which his father helped to establish in Hilo in 1924 for immigrants from Okinawa.
On February 2, his family printed a Card of Thanks in the Honolulu Advertiser for the many expressions of sympathy, donations, and floral offerings received from family, friends, and various organizations during their recent bereavement.
Takara was survived by his wife Mitsue, sons Calvin Noriyuki and Calvert Mitsuo, daughter Jo-Ann Hideko Takara, and brothers Eddie Yushin, Yoshio, and Richard Nobuyoshi Takara. He was buried in the National Memorial Cemetery of the Pacific at Punchbowl, Section U, Row 231-J. His widow died on February 12, 2011.
Researched and written by the Sons & Daughters of the 442nd Regimental Combat Team in 2021.