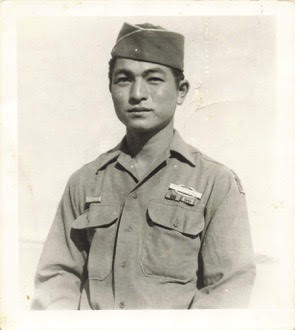 John Hidemi Takara, Sergeant, Company F, 2nd Battalion, 442nd RCT
John Hidemi Takara was born on August 22, 1922, in Papaikou, Hawaii, T.H. He was the fifth of six sons of Ushi and his wife Ushi (Uyehara) Takara, who arrived from Shimajirigun, Okinawa Prefecture, Japan, in 1906 and 1912, respectively.
In the 1930 Federal Census, the Takara family lived in Kainouli, South Hilo. His father was a worker on a sugar plantation. The family consisted of father Ushi (42), mother Ushi (38), sons Yushin (16), Yoshio (12), Nobuyoshi (10), Hidemi (8), and Hiroshi (5).
John was a member of the Varsity Victory Volunteers (VVV), the group of University of Hawaii students and members of the Hawaii Territorial Guard in 1942 who volunteered their services as an Army labor corps when they were not allowed to serve in the military. On February 25, Takara was among the group when they were given a sendoff from the UH campus, then escorted to Iolani Palace where Lieutenant General Delos C. Emmons, the martial law governor of the Territory of Hawaii, greeted them. Afterwards they were taken to Schofield Barracks where their duties would be organized.
On June 30, 1942, John signed his WWII Draft Registration card in Honolulu, Local Board No. 2, 3563 Waialae Avenue. His point of contact was his eldest brother Eddie Y. Takara, their address was 3443 Winam Street, Honolulu; he was employed by the U.S. Army Corps of Engineers Auxiliary, 34th Engineers, at Schofield Barracks, T.H. He was 5'5", 115 lbs.
He enlisted in 1943 (exact date was not found). In September 1943, while in training at Camp Shelby, Mississippi, he was promoted to Private First Class.
He served in Company F during World War II and was awarded the Combat Infantryman Badge for his service. After V-E Day, John enlisted again on November 8, 1945, and served in the Signal Corps. He was also awarded the Bronze Star Medal for his World War II service.
In 1949 he married Mae Mitsue Nakandakari. They raised a family of two sons and one daughter.
John Hidemi Takara died on January 27, 1970, at Saint Francis Hospital, Honolulu. At the time of his death he was 47 years old, lived at 1504 Noelani Street, Pearl City, and was employed as an electronic technician. He was a member of the Oroku Azu Jin Club, which his father helped to establish in Hilo in 1924 for immigrants from Okinawa.
Takara was survived by his wife Mitsue, sons Calvin Noriyuki and Calvert Mitsuo, daughter Jo-Ann Hideko Takara, and brothers Edie Yushin, Yoshio, and Richard Nobuyoshi Takara. He was buried in the National Memorial Cemetery of the Pacific at Punchbowl, Section U, Row 231-J.