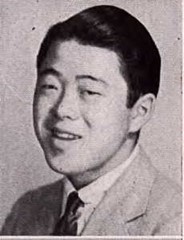 John Kanda
Technician Fifth Grade
442nd Regimental Combat Team
100th Infantry Battalion, Headquarters Company
John Kanda was born on May 9, 1922, in Los Angeles, California, to Kenzo and Asako (Amabe) Kanda. He was the youngest of four children: Mariko Mary, George E., Frank T., and John. His parents were born in Mitsu District, Okayama Prefecture, Japan, in 1882 and 1891, respectively. Kenzo arrived in El Paso, Texas, on December 19, 1906. Asako arrived in San Francisco on December 21, 1914, aboard the Nippon Maru. Kenzo married Asako on December 23, 1914, in San Francisco.
Kenzo and Asako settled in Los Angeles. In 1920, they were living at 1361 West 25th Street and Kenzo was working as a gardener. By 1930, they lived at 2601 Cochran Avenue in a house valued at $4,000, which they owned. Kenzo was the owner of a retail grocery store. In 1940, they lived at 5300 West Adams Boulevard, which they owned, and Kenzo still owned his grocery store. John was a student and also worked as a construction laborer.
John graduated from Alexander Hamilton High School, Los Angeles, in 1940. He was the top gymnastic star and led the school to several championships. He was considered the best gymnast in the Western League schools, and "showed Olympic possibilities" according to the local Evening Vanguard newspaper. His specialties were horizontal bars, parallel bars, and rings.
On January 22, 1941, his brother George died from injuries in a fishing accident off Santa Barbara Island. He was a professional fisherman employed by Southern California Fish Corporation on the seiner boat, Golden Gate. George was throwing a seine from a skiff to the Golden Gate when he was crushed as heavy seas pushed the two boats together.
In the spring of 1942, the family was evacuated to the Santa Anita WCCA Assembly Center in Arcadia, near Los Angeles. While there, John left as a volunteer to work in Aberdeen, Bingham County, Idaho, where he was employed by John Neuman. He and the other volunteers were hired out to work on various local farms. On June 30, John registered for the draft at Local Board 1 in Aberdeen. His point of contact was his sister Mary, who was still at Santa Anita. He was 5'4" tall and weighed 140 pounds.
John returned to Santa Anita in September and on September 25, 1942, the family was incarcerated at the WRA Relocation Center known as Amache, near Granada, Colorado. They were released at different times in 1943 and 1944 to Denver, Colorado: Mary on January 4, 1943; John on February 17, 1943; Asako on November 22, 1943; and Kenzo on May 23, 1944. John returned to Idaho after his release.
On April 17, 1944, John Kanda was among 24 young men in Jerome County, Idaho, whose draft status was reclassified to 1-A. He enlisted in the Army on September 14, 1944, in Denver, Colorado, where he was working as a mechanic. – as he later said, "when the draft caught up with me." His civilian occupation was "skilled motor vehicle mechanic."
Kanda was sent to Camp Shelby, Mississippi, for basic training, and then to the 442nd in France as a replacement in the 100th Battalion, Headquarters Company. At the time, the 442nd was in southern France for the Rhineland-Maritime Alps Campaign. They had been in the area of Nice, Menton, and Sospel since November 21, 1944, in what were mostly defensive positions protecting the French border with Italy from incursion by the Germans.
In February 1945, it was announced in the newspaper that John Kanda was among the 33 Jerome County soldiers who had received his Combat Infantryman Badge in France.
John Kanda left from Marseilles on March 20-22, when the 442nd RCT was transferred back to Italy as part of the Fifth Army for battle in the Po Valley Campaign. He served until the German surrender on May 8, 1945, and remained in Italy for the occupation.
Kanda was discharged on July 3, 1946.
For his military service, Tec/5 John Kanda was awarded the Bronze Star Medal, Good Conduct Medal, European-African-Middle Eastern Campaign Medal with two bronze stars, World War II Victory Medal, Army of Occupation Medal, Distinguished Unit Badge, and Combat Infantryman Badge. Frank was awarded the Congressional Gold Medal on October 5, 2010, along with the other veterans of the 100th/442nd Regimental Combat Team. This is the highest Congressional Civilian Medal.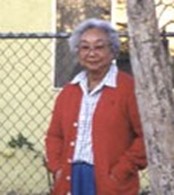 On June 25, 1950, in Los Angeles, John married Alice Sumie Gotori, daughter of Kanyomon and Kie (Tanaka) Gotori of Riverside. They had been incarcerated at Poston WRA Relocation Camp. The couple settled in Los Angeles where John owned a service station and a garage on La Brea and Adams Boulevard on the west side. John Kanda's parents, Asako and Kenzo, became naturalized US citizens at the U.S. District Court in Los Angeles on March 19, 1951, and May 27, 1955, respectively.
Alice Kanda in August 1999 in front of her childhood home
Alice Kanda died on August 7, 2009, in Burbank. She was survived by her husband and her brother Eddie Gotori. On September 2, 2016, John Kanda died in Burbank, California, at the age of 94. On September 17 his funeral was held at 11:30 a.m. in the Fukui Mortuary's Chapel in the Garden, 707 East Temple Street, Los Angeles. It was officiated by Reverend Karen Fay Ramos-Young of the Centenary United Methodist Church. Survivors included his sister Mary Kirachi, brother-in-law Eddie Gotori, nephew/caregiver Ken Wachter, and other nieces, nephews, and relatives in Los Angeles and Alabama. In lieu of flowers, the family requested donations to the Monterey Bay Aquarium.
John's brother, Frank T. Kanda, served in the 442nd Regimental Combat Team, 3rd Battalion, M Company, and was killed in action.
Click on the following link for the interview of Alice Kanda in 1999: Asian American Riverside (ucr.edu)
Researched and written by the Sons & Daughters of the 442nd Regimental Combat Team in 2022.