Kenji Takubo
Private First Class
442nd Regimental Combat Team
3rd Battalion, K Company
Kenji Takubo was born on August 18, 1924, in Honolulu, Oahu, Territory of Hawaii. He was the youngest child of Rinosuke and Yoshi (Kozuki) Takubo. He was one of five children in the family. His half-siblings were: half-sister Mitsue Mildred and half-brothers Tadayoshi and Tsunao Jack Wakayama. His older sister was Yukiye Gladys Takubo.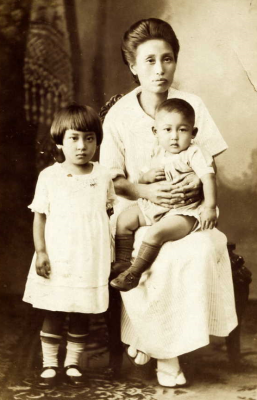 Father Rinosuke emigrated from Ehime Prefecture, Japan, in 1905. He was employed as a seaman. In 1911, he married Kiku Takubo upon her arrival in Honolulu. They divorced in November 1914. Mother Yoshi emigrated from the village of Nihojima, Hiroshima Prefecture, on October 21, 1907, arriving on the Asia Maru. By the end of January 1920, Yoshi was the widow of Zenshu Wakayama and was supporting herself and her children by working as a dressmaker. She and Rinosuke were married on February 7, 1922, in Honolulu.
Right: Yoshi with her two youngest – Yukiye and Kenji
In 1930, the family lived at 1471-D Christley Lane and Rinosuke was employed as a stevedore. In 1933, Tadayoshi died and in 1934, Yoshi died. In 1938, Rinosuke died as a result of steam burns suffered in an accident when the inter-island steamer S.S. Hualalai, where he was employed as the watertender, was 10 miles out at sea from Hilo.
By 1940, Kenji lived with his guardian, his half-sister Mildred, and her husband at 1464-O Queen Emma Street.
Kenji, whose nickname was "Tugboat," was educated at Royal School, Central Intermediate School, and McKinley High School, where he was active in boxing, football, basketball, bowling, and playing the trombone in the band.
He registered for the draft on December 12, 1942, at Local Board No. 5 at Royal School on Punchbowl Street in Honolulu. His point of contact was his half-sister, Mitsue Mildred (Wakayama) Okita, with whom he lived at 147 Gandall Lane. Kenji was employed as a carpenter at E. E. Black, Ltd., a defense contractor located on Kawaiahao Lane, and worked at the Lualualei Ammunition Depot. He was 5'2" tall and weighed 115 pounds.
Kenji enlisted in the U. S. Army at Honolulu on March 25, 1943. His civilian occupation was listed as "Unskilled construction occupations." He was sent to the "tent city,' known as Boom Town, at Schofield Barracks with the other recruits. They were given a farewell aloha ceremony by the community on March 28 at Iolani Palace. On April 4, the new soldiers left on the S.S. Lurline for San Francisco enroute to Camp Shelby, Mississippi. Kenji was assigned to the 3rd Battalion, K Company.
After a year of training, the 442nd left Camp Shelby for Camp Patrick Henry, Virginia, on April 22, 1944. They shipped out to the Mediterranean Theater of Operations in a large convoy of troop ships on May 2, and arrived at Naples, Italy on May 28. He entered battle with the 422nd near Suvereto north of Rome on June 26. Kenji fought in the Rome-Arno Campaign, up the western side of Italy, driving the German Army north of the Arno River.
On September 5, 1944, the 442nd was pulled out of the battle lines and sent to a bivouac area at Castiglioncello on the coast. Five days later they left from Piombino on Liberty ships for Naples, where they bivouacked in a grove of olive trees outside of the city. On September 27, they left by ship to Marseilles, France, then traveled north 500 miles to the battle front in northeastern France to join the Rhineland-Vosges Campaign.
Their first objective was to liberate the important rail and road junction of Bruyères in the Vosges Mountains. The intense battles to liberate Bruyères and neighboring Biffontaine lasted from October 16-24. The combat team was then put into reserve in Belmont for a brief rest. After two days, on the afternoon of October 26, they were ordered to the front lines again to aid in the rescue of the Lost Battalion – the 1st Battalion of the 141st (Texas) Infantry Regiment. This battalion had gotten ahead of the lines and was surrounded on three sides by the enemy. Attempts by the 141st and other units to free it had been unsuccessful, so the 442nd was called in.
On October 27, all three battalions were in line abreast and launched an attack against the Germans. At 3:30 p.m., the Germans launched a counter-attack against I and K Companies. When their tanks were knocked out, the Germans slowly withdrew. As night fell, the 3rd Battalion did not pursue, since it was impossible to maintain control in the pitch darkness. The next morning the Combat Team resumed its assault on the German line. During this operation on October 28, Private First Class Kenji Takubo was killed by an artillery shell.
Private First Class Kenji Takubo was interred in the U.S. Military Cemetery in nearby Epinal, France.
On March 27, 1945, per General Orders No. 19, Headquarters, 6th Army Group, Pfc. Kenji Takubo was awarded the Silver Star Medal for his actions on the day he was killed. The Citation reads:
For gallantry in action on 28 October 1944 in the vicinity of Biffontaine, France. When his company was pinned down by a heavy concentration of enemy artillery, rifle, grenade, and small arms fire, Private Takubo noticing that the aid man was unable to attend to the numerous casualties, left his covered position and crawled 50 yards under enemy fire to a wounded comrade. There he administered first aid, placed the patient upon his back, and proceeded to crawl to a less exposed position 30 yards away, where the wounded man was evacuated by a litter team. Private Takubo was killed by an artillery tree burst later that day.
Next of kin: Gladys Y. Takubo, (Sister), 147 Gandall Street, Honolulu, Oahu, Territory of Hawaii.
On December 7, 1945, a memorial service for 226 soldiers of the 100th/442nd who were killed in action, including Pfc. Takubo, was held at 1:30 p.m. at the McKinley High School auditorium in Honolulu. The program committee consisted of the 100th and 442nd Veterans Clubs, Women's War Service Association, and Emergency Service Committee. The speaker was Lt. Gen. Robert C. Richardson.
For his military service, he was awarded the Silver Star Medal, Bronze Star Medal, Purple Heart Medal, Good Conduct Medal, American Campaign Medal, European-African-Middle Eastern Campaign with two bronze stars, World War II Victory Medal, Distinguished Unit Badge, and Combat Infantryman Badge.  Kenji was awarded the Congressional Gold Medal on October 5, 2010, along with the other veterans of the 100th/442nd Regimental Combat Team.  This is the highest Congressional Civilian Medal.
In 1948, the remains of Americans buried overseas began slowly to return to the US if the family so wished. Kenji's family chose to have his remains brought home. On September 1, Pfc. Kenji Takubo was among 78 soldiers whose remains arrived in Honolulu from San Francisco on the USAT Dalton Victory at Pier 40 at 1:00 p.m. This was the first of the ships bearing Hawaii's fallen sons to return home.
Earlier that morning in waters off Diamond Head, the Coast Guard cutter Iroquois and the Navy destroyer escort George circled the choppy seas to meet the Dalton Victory. Four 442nd veterans were aboard the Iroquois and each dropped a giant orchid, rose, and anthurium wreath into the ocean next to the Dalton. As the ship entered the harbor, a 21-gun salute was fired from Fort Armstrong, and Army, Navy, and Marine planes flew overhead. As the ship docked at Pier 40, church bells tolled throughout Honolulu.
Hundreds of family and friends were there to greet the ship. George Miki, President of the 442nd Veterans Club, and Earl Finch of Hattiesburg, Mississippi, were on the dock to welcome the soldiers home and talk to the parents who were awaiting the arrival of the ship. The flag-draped caskets were held at the Army mausoleum at Schofield Barracks pending burial arrangements.
The following day there was a memorial processional with the caskets of two anonymous soldiers carried on caissons through downtown to a service at Iolani Palace, where they later lay in state in the Throne Room.
On July 28, 1949, at 3:00 p.m., Private First Class Kenji Takubo was reinterred at the National Memorial Cemetery of the Pacific (Punchbowl), Honolulu, Hawaii, Section D, Site 376.
His brother Jack Tsunao Wakayama served in the U.S. Army in World War II.
Researched and written by the Sons & Daughters of the 442nd Regimental Combat Team in 2021.