Kenneth Kentaro Shibata
Staff Sergeant
442nd Regimental Combat Team
3rd Battalion, K Company
Kenneth Kentaro Shibata was born on January 3, 1919, in Hoffland, Sheridan County, Nebraska, the oldest of three sons and one daughter of Katsutaro and Sakino Shibata.  His siblings were:  George, Roy, and Marguerite.  Katsu immigrated from Tokyo, where he was born.  He arrived in British Columbia, Canada, on August 8, 1906.  He took the Great Northern Railroad to Tacoma, Washington, arriving on August 25.  In 1918, he returned to Japan to be married and brought Sakino back on the Atsuta Maru, arriving in Seattle on May 22, 1918.  Sakino was also born in Tokyo.  Their closest relative was his mother, Mrs. Emi Shibata, 18 Honminatocho, Kyosachiku, City of Tokyo.  Their stated destination was Fort Lupton, Colorado.
They soon moved to Nebraska, where they operated a boarding house in Alliance; Katsu also worked for the Potash Reduction Company in Sheridan County, 60 miles north.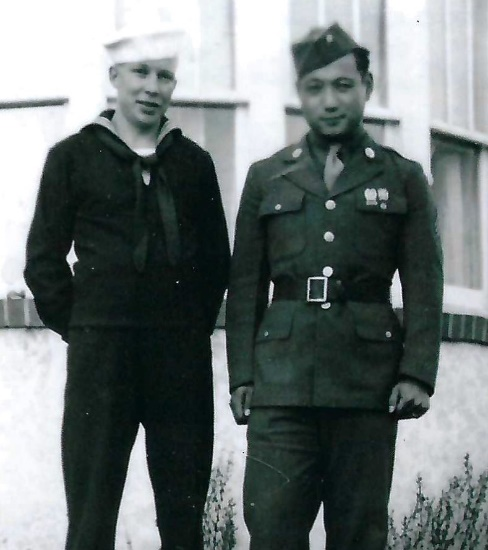 By 1920, the family had moved to Colorado where their second child was born. In 1930, they were living in Oak Creek, Routt County, Colorado, and were the proprietors of a boarding house. They had four lodgers who worked in the coal mines. In 1940, the family was still in Oak Creek. Katsu and Kenneth worked in the coal mines and Sakino was the keeper of a lodging house with 27 coal miners as lodgers.
Right: Shibata with friend Maurice Birkett, Steamboat Springs, 1943
Kenneth registered for the draft on October 16, 1940, at Local Board No. 38, Steamboat Springs, Colorado. He listed his father as his point of contact. He was employed by the Hayden Coal Company as a miner. He was 5'7" tall and weighed 159 pounds.
Gus, as Kenneth was known, enlisted in the U.S. Army on March 25, 1942, in Steamboat Springs, Colorado. At the time he was working as a semi-skilled mining machine operator. He was sent to Camp Shelby, Mississippi, for basic training with the 442nd Regimental Combat Team, and assigned to 3rd Battalion, K Company.
After over a year at Camp Shelby, the 442nd left for Virginia on April 22, 1944. They shipped out to the Mediterranean Theater of Operations on May 2 in a large convoy of troop ships and arrived in Naples, Italy, on May 28.
After several days as a staging area near Bagnoli, they went by LST to the beachhead at Anzio. From Anzio, the 442nd transferred to a bivouac area near Civitavecchia, just north of Rome. They went into combat near Suvereto, farther north, on June 26, in the Rome-Arno Campaign.
The 442nd moved north from Suvereto, liberating the towns of Belvedere, Sassetta, and Castagnetto. On July 1, they marched from Bibbona to an assembly area just south of the Cecina River. At that time of year, the river was hardly more than a trickle of water and very fordable in most places. Enemy artillery became increasingly heavy, indicating they would make some sort of a stand on the high ground north of the river. The Combat Team encountered fierce resistance from the Germans as they engaged near Castellina Marittima just north of the Cecina River on July 5, 1944.
On the morning of July 16, the 3rd Battalion relieved the 2nd Battalion, and prepared for an attack to liberate the town of Luciana from the Germans. There was heavy fighting throughout the day. On the 17th, K Company was engaged in house to house fighting in Luciana. By dusk, the Germans had been cleared from the town. Kenneth Shibata was wounded in action on July 17, 1944. His hospital admission form showed that he was badly injured by artillery fragments; he died the next day – July 18.
Staff Sergeant Kenneth Kentaro Shibata was interred in the U.S. Military Cemetery at Follonica, Italy, Plot 3, Row 98, Number 1170. He was survived by his parents Katsu and Sakino Shibata, sister Marguerite, and brothers Roy and George. He was posthumously awarded the Bronze Star Medal for "heroic achievement in action on 16 July 1944 in Italy."
On September 26, Shibata was reported by the War Department on a list of 1,917 Colorado men wounded "several weeks ago." His next of kin was his mother, Mrs. Sakino Shibata, of Haybro.
For his military service, Staff Sergeant Kenneth Kentaro Shibata was awarded the Bronze Star Medal with one oak leaf cluster, Purple Heart Medal, Good Conduct Medal, American Campaign Medal, European-African-Middle Eastern Campaign Medal with one bronze star, World War II Victory Medal, and Combat Infantryman Badge. He was awarded the Congressional Gold Medal on October 5, 2010, along with the other veterans of the 100th/442nd Regimental Combat Team. This is the highest Congressional Civilian Medal.
In 1948, the remains of American soldiers buried overseas began slowly to return to the U.S. if the family so wished. The Shibata family decided to have Kenneth brought home.
When Staff Sergeant Kenneth Shibata's remains were returned to Denver, Crown Hill Memorial Park, a public cemetery, refused to bury the killed-in-action soldier because he was of Japanese ancestry. The Crown Hill Cemetery claimed under its 1908 Articles of Corporation that they were free to refuse because of public covenant. It was later discovered that their cemetery already had accommodated burials of persons of Japanese ancestry.
Staff Sergeant Kenneth Shibata was interred at Fairmount Cemetery in Denver, Colorado. His name appears on the Nisei Japanese American Memorial in the cemetery.
Brothers Roy and George Shibata both served in the Army during World War II.
Researched and written by the Sons & Daughters of the 442nd Regimental Combat Team in 2021.