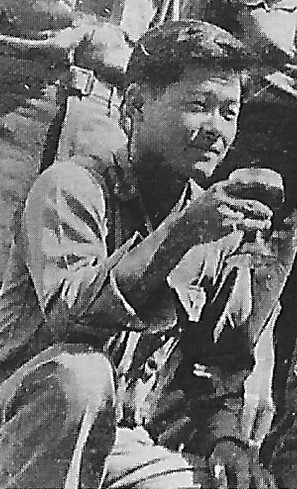 Kiyoshi Sadanaga
Corporal
442nd Regimental Combat Team
522nd Field Artillery Battalion, Service Battery
Kiyoshi Sadanaga was born on February 6, 1920, in Onomea, South Hilo, Hawaii island, Territory of Hawaii. He was the sixth of five sons and four daughters of Torakichi and Tane Sadanaga: sons Takio, Tadashi, Charles Kidakichi, Kiyoshi, Masatoshi; daughters Tatsuko, Tomeyo, Masae, and Akiyo. His parents arrived from Yamaguchi Prefecture, Japan, in 1903, and his father worked as a carpenter, and later overseer, for the Onomea Sugar Company in Papaikou. Torakichi's birth surname was Hirabara; he changed it to his wife's surname of Sadanaga when they married.
On June 13, 1935, Kiyoshi graduated from Hilo Intermediate School, followed in 1938 by graduation from Hilo High School.
Sadanaga signed his World War II Draft Registration card on July 1, 1941, Local Board No. 2 at the Professional Building in Hilo. At the time, he was living in Papaikou. His point of contact was his father, and he was employed by the Onomea Sugar Company in Papaikou, Hawaii island. He was also a student at the University of Hawaii. He was 5'4" tall and weighed 125 pounds.
On March 23, 1943, Kiyoshi enlisted in the U.S. Army. His civil occupation was listed as a "Checker." He was sent to Boom Town, the tent city at Schofield Barracks where all the recent volunteers were housed. On March 28, they were given an aloha farewell ceremony by the community at Iolani Palace. On April 4 they left on the S.S. Lurline for San Francisco.
After arriving on the mainland, Sadanaga and the rest of the new soldiers were sent by train to Camp Shelby, Mississippi, for training, arriving on April 18. He was assigned to Service Battery, 522nd Field Artillery, along with seven other men from Waialua. He was the head of the Defense Section of Service Battery, and was a machine gunner.
After a year of basic and specialized training and military exercises, they left by train for Camp Patrick Henry, Virginia, on April 22, 1944. On May 2, the 522nd left Hampton Roads on the USAT Johns Hopkins in a convoy of over 100 troop ships, arriving at Brindisi and Bari, Italy, on May 28. They went by train to Naples, arriving on May 29, where they met up with the rest of the 442nd. After a week in a bivouac area in the nearby town of Bagnoli, they left on the LST 526 for Anzio, arriving on June 7.
The 442nd entered combat on June 26 near Suvereto in the Rome-Arno Campaign, ultimately driving the German Army north of the Arno River. Sadanaga was present for all the action seen by the 442nd in Italy.
Then the 442nd was selected to join the battle in France. On September 10, 1944, the 522nd Battalion left Rosignano, Italy, on the S.S. Richard K. Call for the overnight trip to Qualiano, where they were in another bivouac area until September 21. Following six days in the staging area at Bagnoli near Naples, they left on the U.S.S. Thurston for France on September 27.
Once they arrived in Marseilles, they were in a bivouac area in nearby Septemes until October 9, when they were transported north to participate in the Rhineland-Vosges Campaign. In October-November, the 522nd Field Artillery helped to liberate the important road junction of Bruyères, followed by Biffontaine, and the famous "Rescue of the Lost Battalion" – the 1st Battalion of the 141st (Texas) Infantry Regiment that had advanced beyond its support, become surrounded by the enemy, and was unable to extricate itself.
Following the Vosges, Corporal Kiyoshi Sadanaga went with the 442nd to participate in the Rhineland-Maritime Alps Campaign in Southern France. They were in the area of Nice, Menton, and Sospel beginning on November 21. Service Battery was stationed and housed in Ville Franche, near Nice, in the estate known as La Leopolda, the winter home of King Leopold of Belgium.
On March 9, 1945, the 522nd Field Artillery was detached from the 442nd Regimental Combat Team and attached to General Alexander Patch's Seventh Army to add fire power for its assault on the Siegfried Line in Germany, and final battles to defeat the Nazis.
The 522nd Field Artillery left Menton, France, and convoyed north. They crossed the Saar River into Germany at Kleinbittersdorf on March 12, 1945. The fast-moving 522nd gave constant chase to the retreating enemy across southern Germany toward the Austrian border. They fired over 15,000 rounds of artillery fire, made 52 displacements, and covered 617 miles. The war ended with the unconditional surrender on May 8 of all Nazi forces while the 522nd was in Schaftlach, south of Munich.
The Battalion moved from Schaftlach on May 9, north to the area of Donauworth. Service Battery was assigned to the town of Baumenheim for the balance of the occupation. The 522nd was deactivated on October 5, 1945, and men with more than 70 "points" began preparing for the long journey home.
Corporal Sadanaga arrived at Pier 40-B in Honolulu on January 22, 1946, with hundreds of returning veterans on the USAT U.S. Grant. For the first time, the Royal Hawaiian Band was on hand to greet them. The USO was there with pineapple juice and cookies set out on tables with ti leaves as tablecloths. And scores of family and friends bearing lei and boxes of favorite foods were also there, creating picnic parties all over the dock and parking areas. Kiyoshi was discharged from the Army at a separation center on Oahu on January 25.
For his wartime service, Corporal Kiyoshi Sadanaga was awarded the following: Bronze Star Medal; Good Conduct Medal; American Campaign Medal; European-African-Middle Eastern Campaign Medal with four bronze stars; World War II Victory Medal; and Army of Occupation Medal. He was awarded the Congressional Gold Medal on October 5, 2010, along with the other veterans of the 100th/442nd Regimental Combat Team. This is the highest Congressional Civilian Medal.
After the war, Kiyoshi returned to the University of Hawaii to earn his Bachelor's degree. He was employed by the Hawaiian Sugar Planters Association, where he was employed for three years as assistant in the Department of Genetics at their experiment station. In August 1949, they granted him a year's leave of absence so he could take graduate studies at Iowa State University (ISU). On September 6, he left for Ames, Iowa, where he worked for the school and earned his Masters degree, followed by his Ph.D. degree in Plant Genetics in 1955.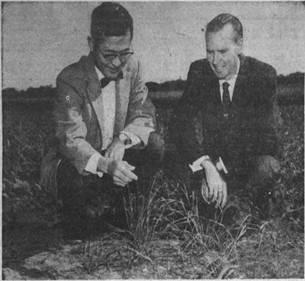 In 1960, while working as a U.S. Department of Agriculture (USDA) plant geneticist at ISU, he and plant pathologist Marr D. Simons developed a strain of oats that was resistant to all known races of rusts and smuts – a discovery that would greatly increase oat production.  This came after a severe outbreak of new types of oat crown rust in 1957.
Right: Sadanaga with Marr D. Simons
In 1960-1961, Sadanaga was at the University of Kyoto, Japan, on a Fulbright scholarship. On his return to Ames in the summer of 1961, he visited Hong Kong, Bangkok, New Delhi, France, and Italy.
On December 22, 1961, Dr. Sadanaga was visiting his family in Onomea, Hawaii, where he was the guest speaker at a program sponsored by the Onomea Comets 4-H Club.
In 1966, Kiyoshi married Lourdes O. Tuazon, a native of the Philippines, who had earned her Ph.D. degree in Physical Chemistry from ISU in 1959. They later moved to California and lived in Santa Barbara. Over the years, they raised a family of one son and one daughter. Dr. Sadanaga was employed by the U.S. Department of Agriculture for 28 years.
Kiyoshi Sadanaga died on August 29, 2004, in Davis, California. A Prayer Service was held in his memory at St. James Church in Davis on September 11. He was inurned in the Columbarium at the National Memorial Cemetery of the Pacific at Punchbowl, Site CT7-C, Row 300, Site 311. The marble cover of his niche says "Go For Broke." Survivors included his wife and children.
His brother Masatoshi ("Papoose") Sadanaga served in H Company, 442nd RCT.
Researched and written by the Sons & Daughters of the 442nd Regimental Combat Team in 2021.