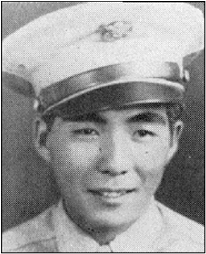 Kiyotoshi Watanabe
Private
442nd Regimental Combat Team
3rd Battalion, Headquarters Company
Kiyotoshi Watanabe ("Kiyan") was born on April 23, 1923, in Lahaina, Maui, Territory of Hawaii. He was the youngest of three sons of Tsuneki and Matsue (Yoshinaga) Watanabe. Both parents were born in Ushima-mura, Kumamoto Prefecture, Japan. His father, Tsuneki, emigrated on the SS China Way, arriving in Honolulu on November 26, 1906. He was self-employed as a fish broker.
In 1930 the family was living in Lahaina, but by the 1940 Federal Census his mother had died and the family was living in Hilo on Hawaii island. Kiyan attended Hilo High School (sophomore class photo below: he is second from left in front row). Before entering the service, he was employed as a truck driver for the Hilo Transportation Company.
On March 14, 1943, his name was among the 116 names of Big Island volunteers announced by Local Board No. 2 in Hilo as chosen for induction in the U.S. Army. The men had all passed physical exams and otherwise qualified. The men participated in a rally at Mooheau Park in Hilo on March 15 that included an Army band, lei for all selectees, and four speakers: Lt. Col. Walter F. Alt of the Hawaii District Command; J.M. Brown, Chairman of Local Board No. 2; William Goldsmith, Hilo Chamber of Commerce, and Tom Okino, Deputy County Attorney.
Kiyotoshi Watanabe was inducted into the Army on March 18, 1943, in Hilo, Hawaii. At the time, his civilian occupation was given as "chauffeur/driver, bus/taxi/truck/tractor." He was sent to the "Tent City" at Schofield Barracks with the other recruits. They were given a farewell aloha ceremony by the community on March 28 at Iolani Palace. On April 4 the new soldiers left on the S.S. Lurline for San Francisco enroute to Camp Shelby, Mississippi, for training.
After basic training, Kiyan was assigned to the 3rd Battalion, Headquarters Company, then went through specialized training and field maneuvers until April 1944. The 442nd RCT left Camp Shelby and went to Camp Patrick Henry, Virginia, in preparation for deployment to Europe. They shipped out by sea on May 2 for Italy.
The 442nd entered combat on June 26, 1944, near Suvereto, north of Rome. By late August, they had advanced north to the Arno River. On August 23, the 3rd Battalion was holding the line along the Arno River just west of Florence. Private Kiyotoshi Watanabe was killed during action that day.
Private Watanabe was buried in the wartime U.S. Military Cemetery in Vada, Italy. On September 23, 1944, his memorial service was held at the Hilo Hongwangji Mission. On January 21, 1945, his father Tsuneki Watanabe accepted his son's Purple Heart Medal at a ceremony for posthumous presentations for Hilo's war dead. The ceremony was held at the Hilo SSO Playhouse on Mamo Street and the medals were presented by Colonel Hollis Muller, Hawaii Island's military commander.
For his military service, Private Kiyotoshi "Kiyan" Watanabe was awarded the Bronze Star Medal, Purple Heart Medal with one oak leaf cluster, Good Conduct Medal, American Campaign Medal, European-African-Middle Eastern Campaign Medal with one bronze service star, World
War II Victory Medal, and Combat Infantryman Badge. He was awarded the Congressional Gold Medal on October 5, 2010, along with the other veterans of the 100th/442nd Regimental Combat Team. This is the highest Congressional Civilian Medal.
In 1949, most of the wartime cemeteries in Italy and France were closed and the remains reburied in one of the larger cemeteries or returned home, at the decision of the soldier's family. Watanabe's family requested that his remains be returned home. On April 21, 1949, his casket arrived at Pier 40-A in Honolulu on the USAT Sergeant Jack Pendleton with 133 other war dead. This was the fourth-largest contingent of Hawaii's sons to return home. There was a shipside service with many friends and family in attendance. The 264th Army Band played Aloha Oe, three military chaplains eulogized the soldiers, and Secretary of Hawaii Oren E. Long gave a speech, saying, "They were volunteers in the struggle to preserve democracy. Hawaii is proud to have such sons." The caskets were held at the Army mausoleum until burials could be arranged.
Kiyotoshi Watanabe was interred at the National Memorial Cemetery of the Pacific (Punchbowl), Honolulu, Oahu, Section D, Site 90, at 3:00 p.m. on July 27, 1949. He was one of 19 war dead interred that day.