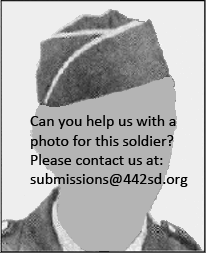 Larry Noboru Yamauchi
Private
442nd Regimental Combat Team
232nd Combat Engineer Company
Larry Noboru Yamauchi was born on June 18, 1920, in Honolulu, Territory of Hawaii. He was the sixth of ten children of Jiro and Kamado (Gusukuma) Yamauchi. His siblings were Haruko, Mirian Shizue, James Takiji, Seijiro Paul, Richard Shigeru, Miriam Mitsuko, Evelyn Kazue, and Harold H. Jiro and Kamado emigrated from Nishibaru-mura, Okinawa Prefecture, Japan, in 1907 and 1912, respectively. Jiro arrived in Honolulu on March 14, 1907, on the French steamer Amiral Fourichon. Kamado arrived on the China Maru on July 29, 1912.
Jiro began working for a sugar plantation after his arrival in Hawaii. By 1930, he was a hog farmer on Oili Road in Waialae Nui Valley. In 1940, Jiro, Kamado, son James and his wife Ruth, were still running their hog farm.
Larry registered for the draft on July 1, 1941, at Local Board No. 2, 3563 Waialae Avenue, Honolulu. At the time, he was employed by the Territorial Civil Service as a groundskeeper and yardman at the Fair Grounds. He lived at 120 Oili Road, and his point of contact was his brother, James Takiji Yamauchi, of the same address. He was 5'6" tall and weighed 126 pounds.
On February 8, 1942, Larry was inducted into the Army. He had been working as a waiter. The location of his basic training and follow-on assignment are not known.
In March 1943, he was transferred to Camp Shelby, Mississippi, and assigned to the 232nd Combat Engineer Company, 442nd Regimental Combat Team. After over a year of training, Larry shipped out to Europe with the 442nd on May 2, 1944, from Hampton Roads, Virginia, in a convoy of over 100 ships. They arrived in Naples on May 28. The Regiment entered combat near Suvereto, Italy on June 26. Larry served in four campaigns with his engineer company: Rome-Arno in Italy, Rhineland-Vosges and Rhineland-Maritime Alps in France, and Po Valley back in Italy.
In the Vosges Campaign and following the battle to rescue the "Lost Battalion," orders came down from the Division's Command on November 5 to clear the Lavelin-Corcieux Valley and take the town of St. Dié. This fight proved to be fiercely contested by the Germans. The regiment had to use foot paths through the Forest Dominiale du Champ into the valley to move supplies forward, and take the wounded back. The 232nd Combat Engineer Company was tasked with creating a usable road to the front lines that was capable of supporting trucks and tanks. They were plagued by constantly rainy weather, creating a muddy mire that stopped even the jeeps. They built a corduroy and plank road over the paths, and were challenged to keep the road open as the tank and truck traffic tore it up. All the while, the Germans shelled the engineers with artillery and mortars, and infiltrated snipers to shoot them. During this action, Larry was wounded by fragments from an artillery shell. He was treated and returned to duty.
For his military service, Private Larry Noboru Yamauchi was awarded the Bronze Star Medal, Purple Heart Medal, Good Conduct Medal, American Campaign Medal, European-African-Middle Eastern Campaign Medal with four bronze stars, World War II Victory Medal, Army of Occupation Medal, Combat Infantryman Badge, and Distinguished Unit Badge. Larry was awarded the Congressional Gold Medal on October 5, 2010, along with the other servicemen of the 100th/442nd Regimental Combat Team. This is the highest Congressional Civilian Medal.
On Tuesday, November 20, 1945, Larry arrived back in Hawaii aboard the troop ship USAT Tabinta. The ship docked at Pier 26 with 103 war veterans aboard. The seven officers and 96 enlisted men boarded trucks that took them to the Army Separation Center at Fort Kamehameha for processing. Larry was discharged from active duty on November 24, 1945, at Fort Kamehameha, Territory of Hawaii.
On September 7, 1946, Larry married Ethel Yoshiko Tamanaha. They raised a family of one son and two daughters. In 1956, Larry was working as a mason for Gilbert Kobatake Construction Company, which was owned by one of his 232nd Combat Engineer Company officers. In 1969, he was working as a mason for Hercules Contracting Company. He was active in the Waialua Athletic Association, and served as a Director in 1960-1962. He also played in the Rural Oahu Senior Baseball League.
Larry passed away on March 6, 1999. He was buried on March 12 in the Hawaii State Veterans Cemetery in Kaneohe, Section 46-B, Site 29. Ethel passed away on October 6, 2012, and was buried with her husband.
Researched and written by the Sons & Daughters of the 442nd Regimental Combat Team in 2021.