Larry Tadayuki Tanimoto
Sergeant
442nd Regimental Combat Team
3rd Battalion, I Company
Larry Tadayuki Tanimoto was born on May 9, 1919, in Honomu, South Hilo District, Hawaii island, Territory of Hawaii. He was one of eleven children of Jinkuro and Fute (Oshima) Tanimoto. The seven sons were: Paul Hikatsu, Tsutomu, Tsukasa, Masakotsu, Tadayuki, Victor Kazunobu, and Lionel Yoshito. The four daughters were: Violet Sawayo, Haruaki, Fujiko, and Carol Ayamei. Jinkuro and Fute emigrated from Niho-machi, Hiroshima Prefecture, Japan, in 1904 and 1906, respectively. Jinkuro arrived on January 23, 1904 on the S.S. Gaelic; Fute on November 2, 1906 on the S.S. Korea.
In 1910 and 1920, Jinkuro was working as a teamster for the Honomu (sugar) Plantation, and the family was living in Camp 16 and Camp 15, respectively. By 1930, he was retail fish merchant, and in 1940, he was a janitor for the Alexander Baldwin Company at Bishop & Market Streets in Honolulu.
Larry was educated at Pauoa School, Kawananakoa Intermediate School, and McKinley High School in Honolulu. He registered for the draft on October 26, 1940, Local Board No. 5 at the Tax Office in Honolulu. He was employed with the Independent Lighting & Fixtures, Ltd., 729 Alakea Street. His point of contact was his mother; they were living at 228 Namokueha Street in Honolulu. He was 5'6½" tall and weighed 142 pounds.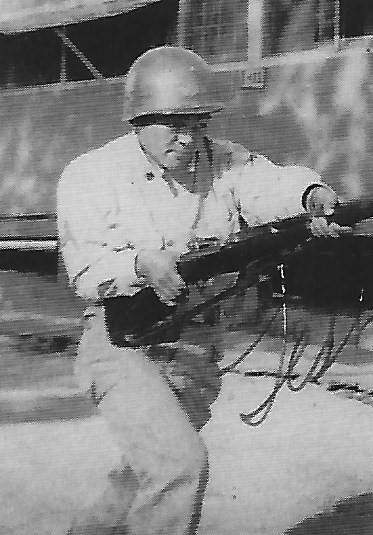 Larry enlisted in the U.S. Army on March 25, 1943, in Honolulu.  His civilian occupation was listed as "Tinsmiths, coppersmiths, and sheet metal workers."  Before entering the service, he was working as a plumber for the Army.  He was sent with other enlistees to the "tent city," known as Boom Town, at Schofield Barracks.  On March 28, they were given a community farewell at Iolani Palace.  On April 4, they sailed on the S.S. Lurline to San Francisco.  After a train trip across the US, they arrived at Camp Shelby, Mississippi, for training.  After basic training, Fred was assigned to 3rd Battalion, I Company, 4th Platoon. 
Right: Larry at Camp Shelby
After over a year of training, Larry shipped out to Europe with the 442nd on May 2, 1944, from nearby Hampton Roads, Virginia, in a convoy of over 100 ships.  After arriving at Naples, Italy, on May 28, they entered combat near Suvereto on June 26.  Larry served in the Rome-Arno Campaign.  The Combat Team was next sent to Marseilles, France, on September 27 for participation in the Rhineland-Vosges Campaign.  From Marseilles, the Combat Team traveled 500 miles north to the front lines in northeast France.
Their first objective was to liberate the important road junction of Bruyères in the Vosges Mountains. The intense battles to liberate Bruyères and neighboring Biffontaine lasted nine days, October 16-24. The Combat Team was then put into reserve in Belmont for a brief rest. Larry was treated for hives at this time and returned to duty. The cause may have been certain foods, an infection, or emotional stress. After two days in Belmont, on the afternoon of October 26, they were ordered to the front lines again to aid in the rescue of the Lost Battalion – the 1st Battalion of the 141st (Texas) Infantry Regiment. This battalion had gotten ahead of the lines and was surrounded on three sides by the enemy. Attempts by the 141st and other units to free it had been unsuccessful, so the 442nd was called in to break through the Nazi siege and rescue the Texans.
The initial objective of the Texas "lost" battalion had been to clear the Germans from the entire long, densely forested ridge where it had become surrounded. After intense fighting beginning on October 27, the 442nd was successful in the rescue on October 30. Third Battalion was then ordered to push on down to the end of this ridge. Although Sergeant Tanimoto was the weapons platoon machine gun section leader, he asked to take out a patrol. He was killed when his patrol was ambushed on November 3, 1944. The fighting would go on until November 9. The German line was completely shattered, but 442nd losses were so great that the Combat Team was temporarily ineffective as a fighting force.
Sergeant Larry Tadayuki Tanimoto was interred in the U.S. Military Cemetery at Epinal, France, about 20 miles from where he was killed.
On March 28, 1945, it was reported in the Honolulu Advertiser that Sgt. Tanimoto was among those 16 fallen soldiers whose next of kin recently received the Purple Heart Medal in private ceremonies by Lt. Col. Corwin H. Olds, Chaplain of the Central Pacific Base Command.
The Distinguished Service Cross, the second-highest military medal for soldiers who display extraordinary heroism in combat against an armed enemy force, was presented posthumously to Sgt. Tanimoto for his actions at Biffontaine and La Houssière, at a large, two-hour ceremony held on May 16, 1945, at the airfield in Novi, near Genoa, Italy. Attending the ceremony were Lieutenant General Lucian K. Truscott, Commander of 5th Army, and Major General E.M. Almond, Commander of the 92nd Division. The citation reads:
Headquarters, European Theater of Operations, U.S. Army, General Orders No. 65 (1945)
Larry Tadayuki Tanimoto, Sergeant, U.S. Army
For extraordinary heroism in connection with military operations against an armed enemy while serving as an acting Platoon Leader in Company I, 3d Battalion, 442d Regimental Combat Team, attached to the 36th Infantry Division, in action against enemy forces on 29 and 31 October 1944 and 3 November 1944, in the Vosges Mountains, France. Sergeant Tanimoto, while participating in an attack on "Suicide Hill," forced the surrender of two enemy gunners while making himself the sole target for another machine gun fifty yards away. He successfully led a heavily armed patrol in dispersing a numerically superior enemy mine-laying detail. While leading another patrol, an enemy machine gun wounded the scout and pinned the remaining men to the ground. Sergeant Tanimoto rose to his feet and killed two of the gun crew, giving his men an opportunity to outflank the nest. The heroic courage and loyalty displayed by Sergeant Tanimoto in the face of great danger, at the cost of his own life, exemplify the highest traditions of the military forces of the United States and reflect great credit upon himself, the 36th Infantry Division, and the United States Army.
For his military service, Sergeant Larry Tadayuki Tanimoto was awarded the Distinguished Service Cross Medal, Bronze Star Medal, Purple Heart Medal, Good Conduct Medal, American Campaign Medal, European-African-Middle Eastern Campaign Medal with two bronze stars, World War II Victory Medal, and Combat Infantryman Badge.  Larry was awarded the Congressional Gold Medal on October 5, 2010, along with the other veterans of the 100th/442nd Regimental Combat Team.  This is the highest Congressional Civilian Medal.
On December 9, 1945, Sgt. Tanimoto was among the hundreds of war dead of the 100th/442nd RCT who were honored at a memorial service held at McKinley High School auditorium. The service was under the auspices of the veterans clubs of the 100th Infantry Battalion and the 442nd RCT, the Women's War Service Association, and the Emergency Service Committee. The main speaker was Lt. Gen. Robert C. Richardson, commander of U.S. Army Pacific.
In 1948, the Army began the process of closing the smaller military cemeteries in Europe and offering the families an opportunity to bring them home. Although Epinal was to remain one of the major cemeteries, Larry's family chose to have his remains returned.
As a result, his flag-draped casket arrived from San Francisco on a U.S. Army cargo vessel, the motorship Pier Bend, along with six others, on September 21, 1949.  After the ship docked at Pier 40 at 10:00 am in Honolulu's Kapalama Basin, a memorial service was conducted by Army Chaplain Edwin L. Kirtley.  Acting Governor Oren E. Long gave an address to the family and friends gathered, saying, We honor these men for their valor.  They fought because they believed in America.  The 264th Army Band played Evening Prayer and There Is No Death.  Chaplain L. Lane McCannon offered a prayer, and Chaplain Joseph P. McBarron of Fort Shafter gave the Benediction.
Sgt. Tanimoto was reinterred on October 6, 1949, at the National Memorial Cemetery of the Pacific at Punchbowl in Honolulu, Section D, Site 389.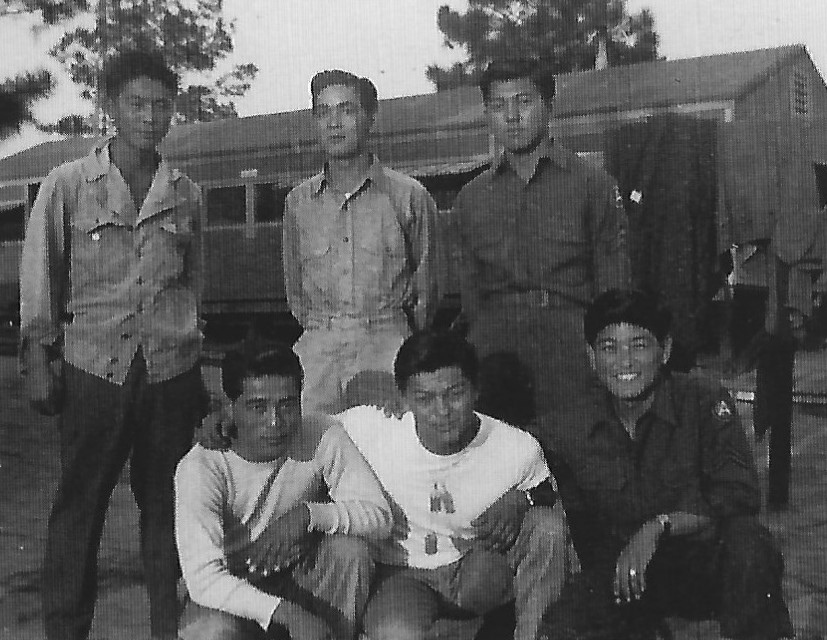 Above: 4th Platoon, L-R Standing: Yoshitaka Uchimura, Takeo Sato (KIA), Tommy Tamashiro (KIA). L-R Kneeling: Allen Tanaka, Larry Tanimoto (KIA), Edward Yamaguchi. Camp Shelby, summer of 1943
Below: 4th Platoon, L-R Standing: (unidentified), Eiji Hama, Takeo Suma, Larry Tanimoto (KIA), Yoshitaka Uchimura; Kneeling: Tsuneo Shiigi, Kenji "Popeye" Segawa, Horace Sagawa, Takeo Sato (KIA); Sitting: Edward Yamaguchi, Toshiyuki "Brush" Shinozawa, Allen Tanaka, Harry "Pappy" Yamasaki (KIA)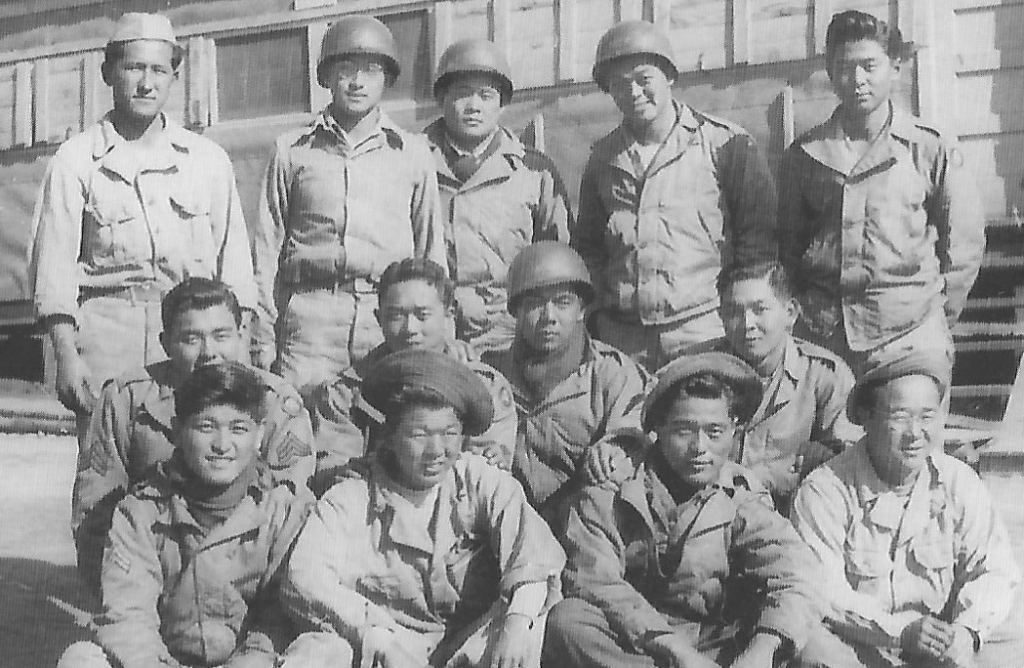 Larry's cousin, Sgt. Yukio E. Tanimoto of E Company was killed in action on April 23, 1945.
Researched and written by the Sons & Daughters of the 442nd Regimental Combat Team in 2021.