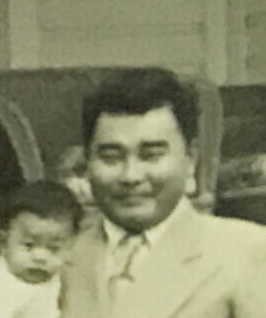 Masato (also called Mansan) was born on January 30, 1920, in Kaneohe, Oahu, Hawaii. He was one of ten children of Sanjuro and Matsuno (Matsumoto) Suehiro. His father immigrated from Yamaguchi Prefecture and his mother from Hiroshima Prefecture in 1898 and 1910, respectively.
He signed his WWII Draft Registration card on July 1, 1941. At the time he was employed by Castle & Cooke Terminals Ltd., his point of contact was Isami Yasutake of 832 S. Hotel Street, and he was 5"4-1/2", 127 lbs.
When the call for volunteers was issued, Masato and his younger brother Goichi both volunteered; Masato was chosen and was enlisted on March 24, 1943. Brother Goichi was not chosen, but he appealed to the local draft board and was inducted five days after Masato. This meant that although they were not in the same company, they did go through training at Schofield Barracks and Camp Shelby together.
According to an interview that Goichi gave, Masato was wounded in Italy 14 days after arrival. Our research did not reveal the exact date or nature of his wounds. As the first action was at Suvereto on June 26, 1944, this may have been when Masato was wounded. His name appeared on a casualty list in the Honolulu Advertiser of October 1, 1944. He was sent home at some point either that year or the next, as he was discharged July 26, 1945.
Masato Suehiro was awarded the Purple Heart and the Combat Infantryman Badge for his WWII service.
After the war, Masato married Yuriko Arakaki on February 7, 1948.
Masato Suehiro died on November 11, 2002. He was buried in the Hawaii Veterans Cemetery in Kaneohe, Section 50-C, Site 12. He was survived by his wife Yuriko, two sons, four grandchildren, and two great-grandchildren. At the time of his death, he was the retired owner of a wholesale food delivery company. Yuriko died in 2012 and was buried next to her husband.