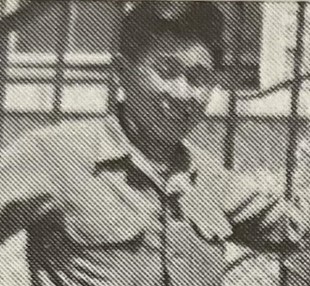 Minoru Hirozawa
Private First Class
442nd Regimental Combat Team
522nd Field Artillery Battalion, Service Battery
Minoru Hirozawa was born on March 15, 1921, at New Mill, in Eleele, Kauai, Territory of Hawaii. His parents were Masaichi and Sada (Ueda) Hirozawa, Masaichi arrived in Hawaii on August 21, 1910, from Hiroshima Prefecture. Sada arrived on October 2, 1917, from Tanna, Hiroshima Prefecture. There were ten children in the family: four sons and six daughters. His father worked for the McBryde Sugar Company.
Minoru had moved to Oahu by the time he signed his World War II Draft Registration card, Local Board No. 2 on February 4, 1942. His point of contact was his older brother Shurei Hirozawa in Eleele, and he was 5'5" tall and weighed 120 pounds. He lived at 1239 S. King Street and was employed by John F. Nichols, 2122 N. King Street. His place of work was Camp Ulupau, a coastal artillery base on the eastern portion of Mokapu Peninsula on the windward side of Oahu. The land is now part of Kaneohe Marine Corps Air Station.
Hirozawa volunteered and was enlisted in the U.S. Army on March 24, 1943, at which time he had one year of college and his civilian occupation was given as "carpenter." Minoru was at the March 28 farewell ceremony at Iolani Palace, and shipped out on the S.S. Lurline for San Francisco on April 4, 1943. He went through basic and specialized training at Camp Shelby, Mississippi. On May 3, 1944, he was with the 442nd when they shipped out to Italy.
Minoru served in the campaigns of the 522nd: Rome-Arno in Italy, Rhineland-Vosges and Rhineland-Maritime Alps in France, and Central Europe in Germany.
In the Maritime Alps, he was in the supply section on the ration crew. He had to deliver hot meals every day, usually from Nice or Cannes on the coast, to the forward battery positions up in the mountains in the area of Sospel. This required the ration crew to leave early in the morning and navigate 22 hairpin turns on a very narrow road, often exposed to German artillery fire. The crews did not return down the mountain until very late at night. Minoru headed one of these crews every other day for four months.
In the months after V-E Day in May 1945, Hirozawa was stationed with other Service Battery men in Baumenheim, near Donauworth, Germany. They served as guards and security, especially as Baumenheim was a train stop town.
Minoru arrived home to Honolulu with hundreds of other returning veterans on the USAT U.S. Grant on January 22, 1946, at Pier 40-B. In addition to family and friends there to greet them, the Royal Hawaiian Band was playing music on the pier and the USO was serving pineapple juice and cookies.
For his World War II service, he was awarded the Good Conduct Medal, American Campaign Medal, European-African-Middle Eastern Campaign Medal with four bronze stars, World War II Victory Medal, and Army of Occupation Medal. On October 5, 2010, Minoru Hirozawa and all the servicemen of the 100th/442nd Regimental Combat Team were awarded the Congressional Gold Medal, which is the highest Congressional Civilian Medal.
After the war, Minoru married Betty Kiyuno Sakai on November 4, 1950, in Honolulu. He worked as a civil engineer for the Hawaii Department of Transportation and they raised one daughter and one son.
Minoru introduced his best friend from the 522nd, Henry Ishida, to his sister Doris – and they married, so the best friends became brothers-in-law.
Minoru Hirozawa died on December 22, 1996, in Honolulu. He was inurned in the National Memorial Cemetery of the Pacific, in the Columbarium at CT3-K, Row 300, Site 335. He was survived by his wife, children, and three grandchildren.
Researched and written by the Sons & Daughters of the 442nd Regimental Combat Team in 2021.