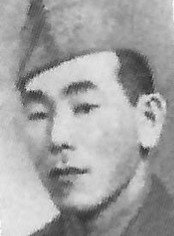 Noboru Sakamoto
Private First Class
442nd Regimental Combat Team
3rd Battalion, I Company
Noboru Sakamoto was born in Hawi, North Kohala, Hawaii Island, Territory of Hawaii, on August 13, 1916. He was the second son of Joseph Goichi and Hisa (Sakamoto) Sakamoto. Goichi (also appears as Uichi) was born in Kohala and was a retail merchant of general merchandise. Hisa emigrated from Japan in 1912, and they married in Honolulu on May 24, 1915. Goichi's parents were Kokichi and Tome (Nakamura) Sakamoto. Kokichi was from Yamaguchi Prefecture, Japan, and arrived on the S.S. City of Peking on February 24, 1903.
Noboru was educated at Kohala Elementary, and graduated from Kohala High School in 1936. After graduation he was employed by the Kohala Sugar Company. His siblings were: brothers Toru and Katsuto; and sister Matsue.
After graduating from high school, he moved to Honolulu where he was engaged in defense work as a carpenter with Turner Construction Company. Noboru registered for the draft on October 26, 1940, at Local Board No. 6, O. R. & L. Depot (Oahu Rail & Land), Honolulu. He listed his employer as Ralph E. Woolley, Castle & Cooke Building. He was 5'5" tall and weighed 142 pounds, and was living at the Kobayashi Hotel in Honolulu. His point of contact was his cousin Mitsuo Sakamoto on Kukui Street.
Noboru Sakamoto was inducted into the U. S. Army on February 8, 1942, at Schofield Barracks, Oahu. His civilian occupation was listed as "Carpenter." He went through basic training at Schofield Barracks. In March 1943, he volunteered for combat duty and left Hawaii on the S.S. Lurline with the new soldiers for San Francisco. On arrival they boarded trains to Camp Shelby, Mississippi, to be trained as soldiers of the 442nd Regimental Combat Team. At Camp Shelby, he was assigned to the 3rd Battalion, I Company.
After over a year at Camp Shelby, the 442nd left for Virginia on April 22, 1944. They shipped out to the Mediterranean Theater of Operations on May 2 in a large convoy of troop ships and arrived in Naples, Italy, on May 28.
From Naples, they went by LST to the beachhead at Anzio. From Anzio, the 442nd transferred to a bivouac area near Civitavecchia, just north of Rome, to make final preparations for combat operations. They went into combat near Suvereto, farther north, on June 26, in the Rome-Arno Campaign. Noboru was a BAR gunner – meaning he carried a Browning Automatic Rifle. There was one BAR man in each infantry rifle squad – with three rifle squads in each rifle company.
The 442nd fought north from Suvereto, taking the towns of Belvedere, Sassetta, and Castagnetto. On July 1, they marched from Bibbona to an assembly area just south of the Cecina River. At that time of year it was hardly more than a trickle of water and very fordable in most places. Enemy artillery first became increasingly heavy, indicating they would make some sort of a stand on the high ground north of the river.
The regiment encountered fierce resistance from the Germans as they engaged near Castellina Marittima just north of the Cecina River on July 5, 1944. The 3rd Battalion came under an intense artillery barrage. Pfc Noboru Sakamoto was killed during this action to take Hill 140.
Private First Class Noboru Sakamoto was awarded the Bronze Star Medal, Purple Heart Medal, Good Conduct Medal, American Campaign Medal, Asiatic-Pacific Campaign Medal, European-African-Middle Eastern Campaign Medal with one bronze star, World War II Victory Medal, and Combat Infantryman Badge.
Noboru was awarded the Congressional Gold Medal on October 5, 2010, along with the other veterans of the 100th/442nd Regimental Combat Team. This is the highest Congressional Civilian Medal.
Private First Class Noboru Sakamoto was interred at the U.S. Military Cemetery in Follonica, Italy, Plot B, Row 21, No. 251.
In 1948, the Army began the process of closing the smaller military cemeteries in Italy and offered families the choice of reburial at the large U.S. Military Cemetery in Florence or returning their soldier's remains back home. Noboru's family chose to have his remains returned. He arrived on December 24, 1948, on the USAT Sinnett to Dock M-3 at Pearl Harbor with 121 other of Hawaii's war dead. Over 700 family and friends were waiting on the pier where the 265th Army Band played Aloha Oe as the ship docked at 8:30 a.m. They were eulogized in a shipside service by the Secretary of Hawaii, Oren E. Long, who said, "We are proud to have had such sons. These men stood the test of action and added a new chapter of American heroism to our history." The caskets were taken to the Army mausoleum at Schofield Barracks awaiting final burial arrangements.
Pfc. Noboru Sakamoto was interred at the National Memorial Cemetery of the Pacific (Punchbowl), Section D, Site 381, at 11:00 a.m. on July 22, 1949 – one of 20 burials of war dead on that day. His tombstone was ordered from West Chelmsford, Massachusetts, on February 23, 1950.

Original Biography prepared by Americans of Japanese Ancestry World War II Memorial Alliance, and provided courtesy of Japanese American Living Legacy (http://www.jalivinglegacy.org/).
Researched and rewritten by the 442nd S&D 6/21/2021.