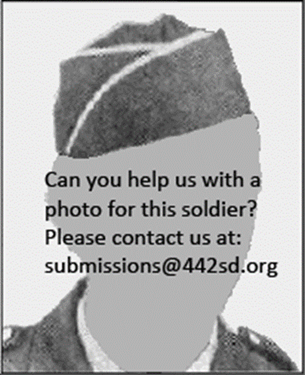 Norihiko Sekino was born on January 14, 1920, in Los Angeles, California. He was the oldest of three children born to Teiichi and Kimino (Kawata) Sekino. Teiichi and Kimino emigrated from the village of Takamatsu, Kibi District, Okayama Prefecture, Japan. Teiichi arrived in 1907 in San Francisco, California. In 1915, he returned to Japan and married Kimino, who arrived in San Francisco four years later on January 15, 1919, on the Shinyo Maru. Norihiko's siblings were brother Naohiko and sister Chiye.
In 1920, Teiichi worked for the Soda Water Works at 113 North Central Avenue in Los Angeles. By 1930, he was working as a gardener for private families and the family lived at 2120 Amy Street. By 1940, they lived at 2124 South Vermont Avenue and Teiichi was a gardener for a contractor. Norihiko was a delivery boy for the soda factory
Norihiko registered for the draft on July 1, 1941, at Local Board No. 232 in Los Angeles. He was working as a truck driver for the Soda Water Works. He listed his brother, Naohiko, as his point of contact. They were living with their family at 2124 South Vermont Avenue in Los Angeles. He was 5'6" tall and weighed 125 pounds.
On November 7, 1941, Norihiko enlisted in the U.S Army in Los Angeles. He had completed four years of high school; his occupation was listed as "Semiskilled chauffeurs and drivers, bus, taxi, truck, and tractor."
Norihiko's family was incarcerated at the Gila River WRA Relocation Camp located 30 miles southeast of Phoenix, Arizona, on August 7, 1942. His sister, Chiye, was released on November 16, 1943, to Oneida, New York; his brother, Naohiko was released on September 20, 1943, to Philadelphia, Pennsylvania. His parents were not released until October 9, 1945; they returned to Los Angeles.
Norihiko's basic training and initial assignment locations are not known. He was transferred in early 1943 to Camp Shelby, Mississippi, and assigned to the 442nd Regimental Combat Team, 2nd Battalion, G Company.
After a year of training, the 442nd left Camp Shelby for Camp Patrick Henry, Virginia, on April 22, 1944. They shipped out to the Mediterranean Theater of Operations in a large convoy of troop ships on May 2 and arrived in Naples, Italy, on May 28.
Norihiko entered battle near Suvereto north of Rome on June 26. He fought in the Rome-Arno Campaign, up the western side of Italy, driving the German Army north of the Arno River. On September 27, 1944, the 442nd was pulled out of the battle lines and sent by ship to Marseilles, France. They next traveled north 500 miles to the battle front in northeastern France to join the Rhineland-Vosges Campaign. Norihiko fought in the battles of this campaign, including the rescue of the "Lost Battalion."
Norihiko served in the following campaigns of the 442nd: Rome-Arno in Italy; Rhineland-Vosges and Rhineland-Maritime Alps in France. He was wounded in his left foot during the actions in the Maritime Alps. The wound was a compound fracture with multiple broken bones. Norihiko returned to the States as a patient on the S.S. Ile de France, arriving in New York City on February 25, 1945. He was discharged from the Army on October 17, 1945.
For his military service, Technical Sergeant Norihiko Sekino was awarded the Bronze Star Medal, Purple Heart Medal, Good Conduct Medal, American Defense Medal, American Campaign Medal, European-African-Middle Eastern Campaign Medal with three bronze stars, WWII Victory Medal, Combat Infantryman Badge, and the Distinguished Unit Badge. Norihiko was awarded the Congressional Gold Medal on October 5, 2010, along with the other veterans of the 100th/442nd Regimental Combat Team. This is the highest Congressional Civilian Medal.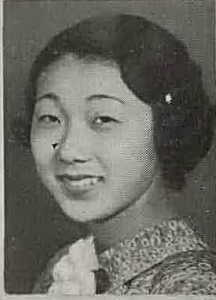 On July 10, 1949, he married Kaoru Kay Fujikawa of Los Angeles. In 1950, they were living at 2420 12th Avenue in Los Angeles and his widowed mother lived with them. Norihiko was working as a postal clerk for the U.S. Post Office. Over the years, they raised a family of four daughters.
Right: Kay Fujikawa 1937 Manual Arts High School photo
Norihiko died on November 4, 1978.  He was survived by his wife, four daughters, one son-in-law, his mother, and his two siblings.  The funeral was held on November 9 at 7:30 p.m. at the Inglewood Church of Christ, located at 323 South Eucalyptus Avenue. Inglewood, California.  Kay Sekino died on February 17, 1997, and was survived by their four daughters and one granddaughter.
Researched and written by the Sons & Daughters of the 442nd Regimental Combat Team in 2022.