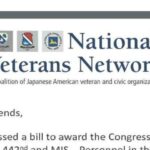 February 28, 2011
Christine Sato-Yamazaki, Chairperson of the National Veterans Network writes:
Here is the latest on the Congressional Gold Medal planning:
Speaker meeting: We finally secured a meeting with Speaker Boehner's staff on March 22nd. We will be meeting with the Speaker's Director of Scheduling and Special Events to begin discussion on the ceremony date, venue and attendee requirements. Since the U.S. Mint will not complete the minting of the Congressional Gold Medal until September (if all goes well), we are planning to push for an October ceremony date. We will also advocate for a large venue that accommodates 1,000 people, in the hopes that the Speaker will allow all registered living veterans, widows, next of kin of KIA and next of kin of deceased veterans to attend the awards ceremony. We do not anticipate having all the answers at this meeting, but we do expect discussions to begin on this very important subject.
Medal design – In January 2011, the U.S. Mint commissioned several artists to produce medal designs that best reflect the contributions of the 100, 442 and MIS. All the designs have been turned in, and are presently being reviewed by the U.S. Mint staff. NVN is expected to see the designs in mid to late March. Preparation are underway to establish guidelines for 23 organizations to review, comment and vote on one preferred design out of 3-4 that will be presented to all of you. In addition to NVN, please be advised that all designs will also be reviewed by the Fine Arts Commission and the Citizen Coinage Advisory Commission who will both weigh in with their opinions. Taking input from all three entities, it will be the Secretary of Treasury who will make the final decision on the design.
National Veterans Registry – As of January 27, 2011, we have the following registrants who have expressed interest in attending the Washington DC celebration:
301 veterans (representing 20 states across the nation)
95 widows
25 next of kin of KIA
144 next of kin of deceased veterans.
Total # registered including family members is 2504.
Honor Flight informed us that they are committed to providing free transportation and accommodation for all veterans to attend the Washington DC celebration,subject to the date of the awards ceremony. They have also discussed the possibility of making an exception to their policy to sponsor "plus one," but that is also contingent upon the date of the ceremony and whether it is travel peak season or not. Once a date is secured, we will provide more information on Honor Flight.
April 15-16 NVN meeting
The National Veterans Network will be holding its fourth meeting in Seattle, WA on April 15-16, 2011. This meeting will be entirely focused on the Congressional Gold Medal. We encourage all organizations to send one or two representative to the meeting. Presently, we have 80% of the organizations participating, but we hope to have all organizations represented either in person or via conference call.  This meeting is graciously being hosted by Seattle NVC. Please review the attached document that outlines the details for this important meeting.
National Campaign Launch
A Blue Ribbon Committee co-chaired by Lt. Gen. Joe Peterson and MG Tony Taguba has been organized to raise funds for the Washington DC celebration. As part of the campaign, we will be publicly launching a campaign in March to increase awareness of the Congressional Gold Medal celebration. A donation page will be added to the NVN web site which will encourage people to donate towards the national celebration. Additionally, in order to increase awareness of your organization and to ensure that  people support the legacy beyond the Congressional Gold Medal, a membership page will also be added to the site, encouraging donors to become members of participating organizations. These two pages will be added to the site in the next 7 days.
Congressional Gold Medal Bill – PL 111-254
In early February, a ceremony took place for Robert Iso, a 442nd I-company veteran, at the Palo Alto VA, who had registered to attend the Congressional Gold Medal ceremony in Washington DC. He became terminally ill and a request was made to have the Congressional Gold Medal bill presented to Mr. Iso before his passing. The bill presentation brought much joy to Mr. Iso, and only four days later, he passed away. Sadly, we realize that there will be many veterans who will not be able to make it to the Congressional Gold Medal ceremonies due to age and health issues. If there is a veteran who is terminally ill and you would like to ensure that he is recognized prior to this passing, we encourage you to present him with a copy of the Congressional Gold Medal bill, PL 111-254.  NVN was able to obtain copies of this bill from the White House, and would be happy to have this bill sent to you. It's truly a historic bill that was signed by President Obama, Senator Daniel Inouye and (former) Speaker Nancy Pelosi. It is fairly large (10×15) so to make arrangement, please contact Terry Shima  at ttshima@comcast.net.
A detailed report will follow in late March reporting the results of our meeting with the Speaker. In the meantime, should you have any questions at all, please do not hesitate to contact me at Christine@csy-assoc.com. For registry and eligibility matters, please contact both Terry Shima at ttshima@comcast.net or Metta Tanikawa at Congressional.goldmedal@gmail.com.
Sincerely,
Christine Sato-Yamazaki
Chairperson, NVN