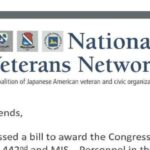 December 23, 2010
Christine Sato-Yamazaki, Chairperson of the National Veterans Network writes:
Dear Friends,
2010 was truly an exciting year for the 100th, 442nd and MIS who will receive the nation's highest civilian honor, the Congressional Gold Medal. We now look forward to a year of celebration in 2011. Here is the latest on the Congressional Gold Medal planning:
National Veterans Registry
Thanks to many of your efforts, NVN continues to receive a steady flow of registrant each week. Over the past month, our numbers have more than doubled. As of today, we now have 1,600 people who are interested in attending the celebration in Washington DC next year. The breakdown is as follows:
201 Veterans
61 Widows
13 Next of Kin of those deceased in line of duty
91 Next of Kin of deceased veterans
Total of 1600 that include family members of above categories
We have received many questions about the National Veterans Registry and what its purpose is. We'd like to take this opportunity to share with you what the registry accomplishes. The NVN's National Veterans Registry is a database of names of veterans, widows, and next-of-kin of soldiers killed in action of the 100th, 442, and Nisei who served in the Military Intelligence Service during World War II who are interested in attending the United States Congressional Gold Medal presentation ceremony in Washington, D.C.  in 2011. The registry is being used for three purposes: 1) to determine the level of interest of individuals who wish to attend the two-day event in Washington DC events so NVN can properly plan and coordinate logistics for the dinner and memorial services; 2) to create an invitation list based on the requirements set forth by the Speaker of the House, who is the host of the Congressional Gold Medal ceremony. It will be the Speaker of the House who will determine the date of the ceremony, who will be invited and how many will be allowed to attend the ceremony. We will be meeting with the Speaker's office early next year; 3) to prepare for our request for Honor Flight benefits for WWII veterans. Honor Flight is attempting to provide free transportation and accommodations for all WWII veterans.
We are asking all organizations and supporters to help us spread the word and encourage 100th, 442nd, MIS veterans and their families to register. Our goal is to register the maximum or all qualified 100th, 442nd and MIS veterans who would like to be kept informed of the Congressional Gold Medal events in 2011. Please also be advised that those who register will receive Congressional Gold Medal information/registration packet in the summer of 2011. If you or others have any questions regarding the registry, please contact Metta Tanikawa at cgm.tanikawa@gmail.com or Terry Shima at ttshima@comcast.net.
I'd also like take this opportunity to thank Metta Tanikawa and Terry Shima of JAVA who have been doing a fantastic job answering inquiries and managing this database on behalf of NVN.
Eligibility
If any veteran or a family member would like to determine whether one is eligible for this award, please see the attached document that outlines the eligibility requirement. Additionally, NVN now has a Eligibility Committee chaired by Terry Shima for any borderline cases. The goal of the Eligibility Committee is to determine eligible veterans in accordance to the law (S 1055) that states that the Congressional Gold Medal is awarded to the 100th Infantry Battalion, 442nd Regimental Combat Team and the Nisei who served in the MIS. The committee has already reviewed a number of case already, and has worked hard to review each case diligently to ensure that all eligible veterans are included. Please see the attached document for more information.
US Mint Congressional Gold Medal Design
NVN is working closely with the U.S. Mint on the first phase of the design process to provide photos, reference information and insignias of the 100th, 442nd and MIS. We are presently reviewing possible themes and inscriptions provided by the Mint for the designers to explore. The Mint designers will be devoting the next several months to work on designs that will be presented to NVN, Fine Arts Commission and Citizen Advisory Coinage Commission for review. We are presently on schedule to review the first set of designs in late February or early March 2011.
National Veterans Meeting
The National Veterans Network will hold its fourth meeting in Seattle Washington in early April 2011. Our special thanks to Seattle NVC for hosting this two-day meeting that will bring together NVN representatives nationwide to continue our planning for the Congressional Gold Medal events. Invitations will be extended to two official representative of each organization and/or regions in NVN at the start of the New Year.
We encourage all NVN representatives in all regions to share this report with their boards, members and supporters.
We will continue to provide monthly update throughout the year. Should you have any questions, please do not hesitate contact me at Christine@csy-assoc.com, and Metta Tanikawa or Terry Shima regarding the veteran registry.
Our warmest holiday wishes to all of the veterans, families and friends.
Sincerely,
Christine Sato-Yamazaki
Chairperson, National Veterans Network
For more information, go to www.nationalveteransnetwork.com