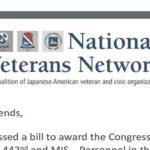 Christine Sato-Yamazaki, Chairperson of the National Veterans Network writes:
First and foremost, the National Veterans Network (NVN) extends it warmest congratulations to all 100th, 442nd and MIS veterans on the passage of the Congressional Gold Medal bill that recognizes your extraordinary accomplishments with the nation's highest honor. With the passage of this bill, NVN will work in collaboration with all 22 organizations nationwide to begin the planning of the awards presentation in Washington DC. On behalf of NVN, I am pleased to provide you with our first planning update.
The National Veterans Network (NVN) has launched its new web site – www.nationalveteransnetwork.com. This web site was designed to provide background and planning updates on the Congressional Gold Medal congressional ceremony that will take place in 2011. We encourage you to check the web site periodically and to share the web site with others. NVN gratefully acknowledges the generosity of Donna Cole in Houston, Texas for sponsoring this web site.