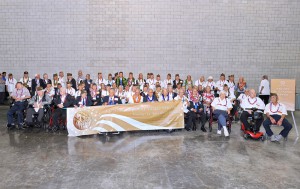 The CGM Hawaii celebration was held on Saturday, December 17, 2011. The day began with a military parade through Waikiki and culminated with a grand banquet at the Hawaii Convention Center.
Over 3,000 people attended the luncheon, honoring the veterans of the 100th Infantry Battalion, the 442nd Regimental Combat Team, the Military Intelligence Service and the 1399th Engineer Construction Battalion.
The following photos capture the event, compliments of Wayne Iha.