Sneak Preview of the Go For Broke, A 442 Origins Story movie, Hawai'i Theater, October 8, 2017
By Gail Nishimura and Jon Ishihara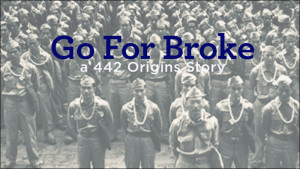 "442nd RCT Foundation Presents a Stacey Hayashi Production" was on the printed program for this special event to provide a preview of this movie long in the making on the 442nd RCT. In attendance at the Hawai'I Theatre in Honolulu were some 442nd veterans, many 100th/442nd family members and distinguished guests. The movie preview was attended by approximately 1400 people.
Opening the event was a group of dancers from Okinawa and Hawaii, with a lively presentation. Then Jake Shimabukuro played the national anthem on the ukulele and the 100th/442nd Reserves Guard posted the colors. Admiral Harry Harris, Commander U.S. Pacific Command, gave the keynote speech and then made a special presentation of the French Legion of Honor medal to veteran Mr. Masayoshi Nakamura. The text of Admiral Harris's speech can be read here. Hawaii Governor David Ige then presented Stacey Hayashi with a proclamation making October 8, 2017 "Go For Broke" day.
This movie was dedicated to the late K. Mark Takai, U.S Representative from Hawai'I and a strong supporter of Stacey Hayashi and this movie. His daughter says "Go For Broke" in the movie. Stacey said Mark would leave copies of her book "Journey of Heroes" in his office for people visiting to read.
Former Senator Daniel Akaka attended and was in one of the scenes of the movie (look for him in the funeral scene.) Our own S&D member Anita Nihei was an extra and you can see and hear her a couple of times during the scene at Iolani Palace. S&D member Gwen Fujie and Anita's son Gavin were also extras but the camera goes pretty fast at times and the crowd and recruits are big groups.
The movie itself moves quickly (90 minutes) and covers events just before and the year after Pearl Harbor. It tells of the Hawaii Territorial Guard and the formation of the Varsity Victory Volunteers (VVV). It also introduces the 298th Infantry/100th Infantry Battalion. The movie closes with the famous picture taken at Iolani Palace of the men who were inducted into the 442nd RCT in April 1943. Very touching as we get a look into the daily lives of different people before, during and after the start of the war, scnes which are based on stories from 442nd veterans.
The Hawaii Film Festival showed the film on the 12th of November at Hawai'i Theater and other venues. It was also just shown on the Big Island and Kaua'i the weekend of 17-19 November. Here is the link to the film's description via the Hawaii Film Festival: go_for_broke_a_442_origins_story_2017