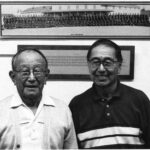 Here is an article by Edgar Hamasu  reflecting on the recent Congressional Gold Medal events. It was published in the Hawaii Pacific Press.
Mitsuo "Ted" Hamasu, 100th Infantry Battalion Veteran, standing before his unit's photo at the 100th Club House with brother Edgar Hamasu (on the right), Korean War Veteran and past President of Military Intelligence Veterans of Hawaii.
Article courtesy of the Hawaii Pacific Press (January 15, 2012). Photo courtesy of Edgar Hamasu.
 
SOME THOUGHTS ON THE CONGRESSIONAL GOLD MEDAL
By Edgar A. Hamasu, President
MIS Veterans Club of Hawaii
Introductory Remarks. When the publisher of Hawaii Pacific Press asked me to write about the December 17th celebration, I quickly replied that I was not a WW II veteran. I served in Military Intelligence Service, but it was in the Korean War.  When the WW II began, I was only 10 years old.  I told him that my brother, Mitsuo, fought with the 100th Infantry Battalion in WW II. But the publisher asked if I would write my impression about the Congressional Gold Medal (CGM) events.

Trip to Washington, D.C.   As has been reported already, on November 2, 2011, United States Congress presented to the 100th Infantry Battalion, 442nd Regimental Combat Team and Military Intelligence Service, our nation's highest civilian award, the Congressional Gold Medal.  I learned that my brother, Mitsuo Hamasu, 92 years old, will be representing the 100th at the Capitol's Emancipation Hall.  I decided to go, thinking, "It's such a great honor for him to be representing his buddies of One Puka Puka (100th)!"
Memories about my brother.  The 10-hour trip was long. While flying, many thoughts came to my mind about my brother.  How can a poor little boy from Pohakea Hawaii go to the nation's capitol to get such a high award?  Mitsuo was a "cho nan," (eldest son) in a family of seven children.  His parents and grandparents were from Kumamoto to work in the sugar cane field.  The family was so poor, Mitsuo had to quit school at 9th grade to work and help feed the family.
He was short in statue, barely 5-foot tall, but he was a hard worker.  "Hoe hana (hoe cane weeds), cut cane, happai ko (carry loads of cane)," he did them all!  But, in 1940, he was classified 1-a and inducted into the Army.  The Army felt he was strong enough to carry a rifle.
Mitsuo cared for the family, even as a soldier.  Every month, he sent money home.  When he was training with the 100th at Camp McCoy, WI, he sent us Christmas presents. It was the first pair of shoes I ever had (Keds, a canvas shoes with rubber sole).  As a 5th grader, I was a proud kid.  No longer did I go "hadashi" (bare-foot).
Homefront during the War.  The 100th was shipped to Europe. The newspapers carried grim news about our soldiers being killed and wounded.  It was gloomy.  Mitsuo continued to send money home even when he was fighting.  Hawaii was under martial law.  All homes and cars were "blacked-out."  No lights could be shown at night.  We carried gas masks, dug air raid shelters and bought war bonds and stamps.  Food and drinks were rationed.  And, worst of all, our Buddhist ministers, Japanese language teachers and other leaders were hauled away and locked up behind barbed wire camps on Honouliuli and Sand Island.  Some were even sent to the Mainland.  We could not learn Buddhism or Japanese language in Hawaii.  On the mainland, over 110,000 people were incarcerated.
We wrote letters regularly to Mitsuo, and our thoughts were always with him.  Mother began to place "Kage Zen," (a meal for an absent person).  A photo of Mitsuo's smiling face sat on a tray on the table.  He was always first to be served a meal.  "Kage Zen" must have worked, because my brother told me he was cold but never hungry.
Usher at the Emancipation Hall.  On Nov. 2nd, I helped as an usher at the Emancipation Hall.  I escorted veterans and other dignitaries to their seats.  So, it was the "thrill of my life" when I escorted my brother and Tsuruye, his wife of 65 years, to their reserved seats, first two seats in the very first row!
I had "chicken skin" when I noticed VA Secretary Eric Shinseki, former U.S. Army Chief of Staff, sitting in the second row behind him.  On the stage in front of them, were assembled the congressional leaders of our great nation!  I tried to empathize with my brother.  "Wow," I thought.  "It's much more than what I deserve!" "Mottainai!"
However, our nation's leaders felt otherwise.  Both Democratic and Republican leaders felt that the AJA units in WW II fully deserved the award.  Kentucky Republican Senator Mitch McConnell quoted President Bill Clinton as saying, "Rarely has a nation been more well served by people it had so ill treated."  Hawaii's Senator Daniel Inouye, after thanking all Americans for the recognition, said, "I'm sure that those who are resting in cemeteries are pleased with this day."  It was truly a "once in a lifetime" experience and I was grateful to have attended.
Hawaii's Dec. 17th CGM Banquet.   In the morning of Dec. 17th, as the trolleys filled with veterans moved slowly along Kalakaua Avenue, smiling and cheering crowd gave the veterans heroes greetings.  Even "heaven" smiled at them with sporadic sprinkling of refreshing showers.  As the trolleys approached the Hawaii Convention Center, people already had gathered.  Over 3,000 people crowded the Convention Center.  About 450 veterans stood and received their 3"-diameter CGM replicas.  Each unit was given a rousing ovation.  Veterans of 1399th Engineering Construction Battalion was bestowed the WW II Victory Medals and were given much-deserved recognition.
Former Army Chief of Staff, Eric Shinseki, now the Secretary of Veterans Affairs, said in his Keynote Speech, "The members of 442nd received more decorations in two years than any other unit of its size in U.S. military history.  We just don't make units like this anymore.  The MIS, using their linguistic abilities, helped to shorten the war; thereby, saving countless human lives.
Dec. 18th CGM Memorial Service.   Lt. Gen. Joseph Peterson, a "Sansei" and St. Louis High School graduate, gave a very meaningful Memorial Message.  He said that the WW II generation is referred to as the Greatest Generation.  "The Japanese Americans must certainly be at the top of the Greatest Generation," he said.  He reasoned that notwithstanding the many challenges they faced after Pearl Harbor, such as being treated with disdain as enemy aliens and placed enmasse in internment camps, their loyalty and patriotism (love of country) never wavered.  They proved their loyalty in the battlefield.
How did they get to be who they are?   How did the "Niseis" get to be that way?  Robert Arakaki, former President of 100th, said, "We learned these values from our "Issei" parents and grand parents.  Pastor Herbert Murata, a MIS veterans, added, "The 'Niseis' di d not grow in a vacuum. We learned many of our values from our parents and also Japanese Language School, Buddhist Temples, churches and our community." Such values as "sekinin" (responsibility), "giri" (duty), "sonkei" (respect), "chugi" (loyalty), "gaman" (perseverence), "ganbaru" (persistence), "shinsetsu" (kindness), "ninjyo" (sympathy), "on" (obligation), "oya koko" (filiel piety), "kansha" (gratitude), and "ai" (love), were learned.  And, they became who they are today.
Where do we go from here?   Now that they received the nation's highest civilian honor from our nation's highest governing body, where do they go from here?  Both Bob Arakaki and Pastor Murata seem to agree that the "Niseis" have responsibility to pass on these values to their children and grandchildren. It is not too late!  We must pass these values on to our children and grandchildren; otherwise, all the honors, recognitions, praises and the nation's highest award will have no significance.
 
Brief Biography of Edgar Hamasu
Edgar is the third son born to Tokuji and Tsuru Hamasu.
He graduated Honokaa High School in 1948, with the hope to visit Japan.
He joined the Army and attended Defense Language Institute at Presidio of Monterey.
He finished one-year course at the top of his class.
Instead of serving in Japan, he was sent to Korea after the Korean War started on June 25, 1950.
He interrogated North Koreans and Chinese Communist Prisoners of War for over one year.
After being honorably discharged from the Army, he attended Michigan State University and received his BS in City Planning.
He also worked for his MA in Public Administration.
He was appointed Planning Director of Hawaii County and later appointed Deputy Director of State Dept. of Land & Natural Resources.
He retired as Executive Director of Sand Island Business Association, managing 76-acre industrial land containing 115 business tenants.
Presently, he is the President of Military Intelligence Service Veterans of Hawaii.
He has been married to Helen Hamasu, an Occupational Therapist, for 55 years. They have two sons and 4 grand children.