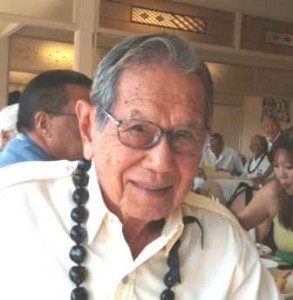 The latest from Ted's Corner… Here is the speech that Ted gave at the recent MIS Shinnenkai Installation Luncheon, held on January 29, 2011 at Natsunoya Tea Garden.
I join with everyone in celebrating Congress's recent law S.B. 1055 which awarded the Congressional Gold Medal to the veterans who served with the 100th, 442nd and MIS.  But there were other Nisei units and soldiers who also served in the War. So speaking as a veteran I feel that that law really intended, if it were possible to do so, to recognize and honor all Nisei veterans regardless of when and where they fought or what unit they served in.  After all, they were all Japanese-Americans, fighting the same war against the same enemies, and for a common cause, and also they all had to fight a second battle, the battle against distrust, racial discrimination and prejudice on the home front. It was their total collective service, loyalty, valor and sacrifice during the World War II that changed the course of social history of the United States and bettered the lives of all persons of Japanese ancestry who call America their home. So today, may I share with you a summary profile of the Nisei Soldiers of World War II and how they loyally served their country in a manner befitting the honor of a Congressional Gold Medal.
Pre-War Nisei Soldiers: No story of  the  Nisei Soldiers would be complete without first recognizing and acknowledging those four stellar pioneer Nisei soldiers Gero Iwai, Douglas Wada, Arthur Komori and Richard Sakakida. (Their stories are found in Pages 30 – 37 of  the MIS Album "Secret Valor")  10 years before the Pearl Harbor attack, the U.S. Army assigned  Lt. Gero Iwai to serve as an undercover investigator to perform counter-intelligence work in its G-2 Division, then military intelligence as G-2 Assistance Chief of Staff  throughout the war years, and as high-ranking officer of the 441st CIC Detachment during the occupation of Japan, completing 26 years of  military intelligence service rising to the rank of Lt. Colonel..  In 1936  Douglas Wada was specially recruited by the U.S. Navy as a language specialist for Navy Intelligence Office entrusted to perform highly-classified intelligence work before and throughout the War. After the War Wada assisted in the prosecution of Japanese war criminals like General Tojo and served as intelligence liaison for the U.S. Navy with the Japanese government, self-defense force, national police and maritime security agency, culminating his 38 years of  naval intelligence services with the rank of Commander. Wada was the first and only Nisei ever to serve in Naval Intelligence Service of the U.S. Navy. In early 1941 Arthur Komori and Richard Sakakida were specially recruited by the US Army to serve as undercover intelligence agents to infiltrate the Japanese community in Manila to perform counter-intelligence work. After Japan's invasion of the Philippines both participated in the defense of Bataan.  Komori was then evacuated from the Philippines with Gen. McArthur to Australia where he was instrumental in founding the Allied Translation & Interpreter Service in  McArthur's Intelligence Headquarters. (Komori served as President of the MIS Veterans Club in 1959)  Sakakida fought with Gen. Wainright until the fall of Corregidor and was the only Nisei to become a Japanese POW during World War II. He was brutally and mercilessly tortured by his Japanese captors but never revealed his undercover status and role against the Japanese military. His dauntless role as one of the greatest Nisei heroes of the War is fully told in his autobiography "A Spy In Their Midst."
What is most remarkable about the story of these four pre-war Nisei heroes is that in that tense pre-war period of widespread fear, distrust and suspicion against all persons of Japanese ancestry when all doors were shut against them, these four were the only Nisei to be trusted enough by American military to be selected and perform essentially "spy work" against an increasing Japanese military threat of those times. They fulfilled their duty and missions with loyal, faithful and dedicated service which laid the foundation for the subsequent acceptance of Niseis into the military service of their country at war.
Pearl Harbor Attack. Japan's attack against Pearl Harbor on December 7, 1941 plunged us into War drastically changing the lives of everyone in Hawaii. Most particularly affected were persons of Japanese ancestry now facing a hostile world of  suspicion, distrust and prejudice for the misfortune of being an American with the face of  the enemy!  This world of suspicion and prejudice is best described in my favorite war story which is found in the preface of Professor Murphy's book "Ambassador In Arms", the unit history of the 100th Battalion. The scene takes place a few weeks after the Pearl Harbor attack in a machine gun pit on the North Shore of Oahu, manned by two soldiers of the 298th Infantry, one is a Hawaiian and the other a Nisei.  After waiting days and weeks for a Japanese enemy who never came, the Hawaiian finally turned the Nisei with the question which had been bugging him all the while, asking: "Eh, if dey come, who you going shoot, dem or me?"  to which the Nisei to his credit spoke for all Nisei everywhere when he indignantly replied: "Who you 'tink stupid, I j'as as American as you!"  In this case the question asked was more significant than its answer because after the Pearl Harbor attack this was the burning question that was on the minds, if not on the lips, of almost everyone who was not of Japanese ancestry, a question that asked: "Whose side are you on?," What and where is your loyalty?" and "Are you a good American?"  It is the fundamental theme and premise of this talk that their faithful and valorous service and record of loyalty throughout World War II was the Nisei Soldiers' definitive and conclusive answer that question "Who you going shoot?"
There were already several thousand Niseis in service at the time of the Pearl Harbor attack serving in the 395th Quartermaster Battalion, 370th Engineer Battalion and the 298th and 299th Infantry Regiments inducted through three Selective Service drafts in 1940 and 1941. After the Pearl Harbor attack they were all retained in service and assigned to the guarding and defense of Hawaii. All of them must have stories of the unique experiences they went through on that fateful day of  December 7, 1941. One of the notable "Pearl Harbor stories" was the grounding of the Japanese midget submarine at Bellows Beach, Waimanalo on December 8, 1941 and the capture of submarine commander Ensign Kazuo Sakamaki by Sgt. David Akui and two Nisei soldiers from Company G, 298th Infantry.  One of them was Thomas Kiyoshi Tsubota, later to become a member of the famed 100th Battalion, who trained at the MIS Language School at Camp Savage and then fought with the famed "Merrill's Marauders" of the Burma Campaign. Tsubota tried to question Sakamaki, but he refused to talk. Tsubota must be considered a militarily historic figure because he participated in the capture of the first Japanese POW of the War, and became the first Nisei to engage in interrogation of a Japanese POW in World War II. Then in mid-January 1942 some National Guard soldiers of the 298th Infantry Regiment on Oahu were assigned and transferred to the 299th Infantry Regiment for outside island duty and were shipped off to Maui and Big Island on the U.S. Army Transport Royal T. Frank. During the night of January 28, 1942 the Royal T. Frank was torpedoed and sunk by an enemy Japanese submarine in the Alenuihaha Channel between Maui and Hawaii with a loss of 17 National Guardsmen, including 12 Nisei soldiers who would become the first Nisei to become KIA in World War II.  That Nisei KIA honor roll reads: Iwao Nakamura, Yoshito Nii, Shoji Okido, Larry M. Oku, Reginald M. Osato, Shinichi Shiigi, Raymond H. Shirakawa, Yeishun A. Soken, BushichiTani, Torao Yamamizu, Albert H. Yano and Yonezo Yonemura.  Eight Nisei soldiers who survived later all became members of and fought with the famed 100th Infantry Battalion.
University of Hawaii ROTC. Among the military units that were frantically called to duty by radio KGU on the morning of  the Pearl Harbor attack on December 7, 1941 was the University of Hawaii ROTC. As a student of the University at the time,  I was one of those ROTC cadets who responded to the call within the first hour of the attack. When we reported we were accepted without question….there was no registration or signups or swearing in…there was no doubts, hesitancy or distrust….we were treated and accepted just like any other American soldier or sailor reporting to his battle station. We were issued Springfield bolt action rifles with a clip of five bullets. Within two hours of the attack the ROTC Regiment was ordered to deploy across Manoa Stream and to form a defense line at the foot of St. Louis Heights to defend and repel Japanese paratroopers who had reportedly landed on St. Louis Heights and were advancing to the City. Excited fear turned to anger as we waited for six hours in the hot sun waiting for an enemy that never came. The specter of Japanese paratroopers on St.Louis Heights was just one of many hysterical, groundless rumors that spread like wildfire across Honolulu on December 7, 1941. But for those 7 or 8 hours of duty that day we had no official military status but only as a student ROTC unit.  36 years later at a 1977 Pearl Harbor Memorial Ceremony at Ft. DeRussey,  the UH ROTC Regiment was honored with a battle streamer as the only American ROTC unit to enter active military service in World War II (for its engagement in that glorious "Battle of St. Louis Heights!") I include the UH ROTC in my story because a large majority, 70 to 80%  of the ROTC Regiment, was comprised of cadets of Japanese ancestry. Some of them went on to serve in the HTG, VVV, 442nd and eventually in the MIS. Their names are familiar to many of you: Yoshiaki Fujitani, Yoshimi Hayashi, Ed Higashino, Warren Higa, Walter Miyake, Wallace Nagao, Akira Otani and Harry Tanaka.
Hawaii Territorial Guard (HTG). Around 4:00 o'clock on the afternoon of December 7th the UH ROTC unit was trucked down to the National Guard Armory (where the State Capitol Building now stands) and converted lock-stock-and-barrel into the Hawaii Territorial Guard, an official military unit of the then Territory of Hawaii. Still wearing our ROTC uniforms and issued white armbands printed with the letters "HTG" we were assigned to guard Iolani Palace, the Courthouse and other government buildings, Mutual Telephone, Hawaiian Electric and Board of Water Supply and other installations in the City. A few days later our Company B was stationed at Dole Cannery where we were assigned to guard the Iwilei industrial area and Honolulu Harbor. I can still picture our HTG guardsman crouched behind sandbags at the edge of the waterfront, armed with only a puny Springfield .03 rifle with five bullets with which to repel the Japanese invaders. I later heard a story about an American troopship entering the Harbor where the arriving soldiers noticing the Harbor being guarded by soldiers with Japanese faces, turned to each other and lamented "Looks like we got here too late."  If this story is true, then those "Japanese soldiers" must surely have been our Company B of the HTG!
But that same scenario was to create dire, disastrous consequences to follow, because in mid-January, 1942 the War Department in Washington D.C. received a frantic message that "The city of Honolulu was being guarded by hundreds of Japs in American uniforms!"  On January 19, 1942 every guardsman of Japanese ancestry was discharged from the HTG! That discharge order was more devastating than if a bomb had exploded in our midst. No words can ever adequately describe the ravaged feeling of  complete abandonment, rejection and repudiation of being dismissed from the service on one's own country, the only country we had ever known,  only because our names and faces resembled that of the enemy…..the very bottom dropped out of our lives. Then to add injury to insult, the Selective Service status of all Japanese Americans was converted from "I-A" (draft eligible) to "4-C" (enemy alien) which thereafter rendered all Niseis ineligible for military service in the United States. We had nothing else to do but to return to the University.
Varsity Victory Volunteers  (VVV). In early February, 1942, Hung Wai Ching, who was Secretary of the University YMCA and also a member of the 3-man Morale Division with direct ties to the Military Governor, talked to a group of  HTG discharges on the University campus. He inspired and persuaded them that they had other options besides shooting a gun to serve their country and he ultimately convinced them to petition the Military Governor to offer themselves as a non-combat labor battalion. Such a petition was prepared and signed by 169 Nisei students who were former HTG discharges and sent to the Military Governor. Chances that the petition would be accepted looked dark, grim and doubtful. Pearl Harbor was still in smoking ruins. The Japanese army was running amok in Asia and SW Pacific and Hawaii was expected to be invaded next. There was widespread hysteria, fear, distrust and anti-Japanese feelings prevailing. There were cries for the removal of the 40% Japanese population from Hawaii. On the mainland President Roosevelt signed Executive Order 9066 which General DeWitt used to imprison 110,000 West Coast Japanese into American concentration camps.
Yet in the face of such great odds General Emmons accepted our petition and the group was given the nickname "Varsity Victory Volunteers" because we volunteered from the University of Hawaii.  Although we were precluded from military service because of our 4-C draft status, on February 25, 1942 we were assigned as a company with civilian status to the regular army 34th Combat Engineer Regiment at Schofield Barracks.  For the next 11 months the VVV worked alongside the 34th Engineer soldiers performing the same  vital defense work over the island of Oahu, stringing barbed wire, digging ammunition pits, building military housing, barracks and warehouses, building new roads, repairing bridges and operating the rock crusher up at Kolekole Pass. In late December 1942, the same Hung Wai Ching was asked to escort Asst. Secretary of Defense John J. McCloy on an inspection tour of Oahu's defenses. Hung Wai made certain that Secretary McCloy would witness the VVV Quarry Gang cracking rocks and operating the rock crusher up in the Waiane mountains and explained that these were all Niseiuniversity students who had given up their education to perform this menial work to serve their country. Whether by coincidence or not, within the next month in January 1943 the War Department announced its approval of an all-Japanese American combat unit, restored the Nisei's draft status from 4-C to 1-A, and issued a call for volunteers to form what was to become the famed 442nd Regimental Combat Team.  Although small in numbers the VVV left a large historical imprint.  Its dramatic formation just two months after the Pearl Harbor attack helped to calm and stem the tide of fear, hysteria and bias against the Japanese in Hawaii; it became the first segregated all-Nisei unit of the War even preceding that of the 100th Battalion; and was a significant factor in persuading the War Department to reopen opportunity for military service to all Japanese Americans.
The 100th Battalion. In late May 1942 as the Japanese Naval Fleet advanced toward its invasion of Midway Island, General Emmons ordered all AJA soldiers in the 298th and 299th Infantry Regiments into a provisional Battalion and on June 5, 1942 shipped them off for infantry training at Camp McCoy, Wisconsin. Two reasons for this decision were: to placate President Roosevelt's insistent demands for evacuation of Hawaii's Japanese to the mainland and to remove all Japanese-American soldiers from the defense of Hawaii in case of a feared Japanese invasion of Hawaii after Midway. Such is the inauspicious origin of an unwanted, feared and distrusted group of Japanese American soldiers which was to later become the famed and legendary 100th Infantry Battalion.
At first the 100th Battalion was truly an orphan outfit, because the War Department did not know what to do with this racially segregated unit, who to attach them to or where to send them.  So for 14 months the !00th was trained and overtrained, first at Camp McCoy and then at Camp Shelby until  they were finally shipped off to North Africa where in September 1943 they were finally assigned to the 34th Infantry Division. For the next 9 months the 100th fought from Salerno through Cassino to Rome establishing an incomparable fighting record and suffered so many casualties that they needed three replacement units from the 442nd to maintain fighting strength, and earning the enviable name "The Purple Heart Battalion."  Lyn Crost. Author of  the book "Honor By Fire" writes: "They were the guinea pig battalion for the Nisei combat soldier of World War II…..if they had failed as combat soldiers in any way, the 442nd and other Nisei would have never gotten the chance to ultimately prove their loyalty to America."
1399th Engineer Construction Battalion. While Nisei soldiers of the 298th and 299th were sent away to form the 100th Battalion, there remained left behind in Hawaii hundreds of Nisei soldiers serving in the 370th Engineers, 395th Quartermaster Battalion, 1536th Dump Truck and 1525th Base Equipment Companies at Schofield Barracks. In April 1944 all these units were  consolidated into the 1399th Engineer Construction Battalion and assigned to the 34th Combat Engineer Regiment to perform vital military defense work on Oahu. They built ammunition dumps, artillery gun pits, bomb shelters, warehouses and jungle training villages, built auxiliary roads in the mountains, laid water lines, operated rock quarries, built and upgraded airfields at Kipapa, Mokuleia and Kahuku, and built a million gallon water tank in Wahiawa which is still in use today.  Men of the 1399th have always tried to remain in the background to the more famed 100th, 442nd and MIS, ostensibly because they did not go overseas to fight the enemy like their other Nisei brothers in arms. This is totally unjustified stance,  because technically Hawaii was classified as a combat zone and the 1399  soldiers were classified and received "overseas status and pay." Most importantly they performed and completed more than 54 vital and necessary defense projects over the island of Oahu that no other unit in Hawaii could match. So outstanding was their record and performance that  General MacArthur twice requested the 1399th be assigned to the Philippines but was refused each time by the War Department which considered the 1399th too vital to the defense of Hawaii, leading to the Meritorious Service Award in October 29, 1945. Two Nisei of the 1399th, Jack Miura and Susumu Motonaga, gave up their lives in the line of duty when on May 30, 1945 at the Mokuleia Airfield a drone target plane accidentally crashed into the truck they were driving killing both men instantly. While this unit labored and served largely in the shadows of other Nisei combat units, the 1399th Engineers had clearly earned and deserved to be considered "the unsung heroes of the Hawaii front" during World War II.
100/442nd Regimental Combat Team. The first opportunity for Hawaii's Nisei to enter military service came in February 1943 with the call for volunteers for the newly authorized all-Nisei combat team.  Hawaii was given a quota of 1,500 volunteers and  almost 10,000 responded within only several weeks time.  Eventually 2,686 were accepted  and they left Hawaii on April 6, 1943 to join the newly organized 442nd Regimental Combat Team. There is little need to tell the "442nd story" here since the 442nd emerged from the war recognized as "the most decorated unit for its size and time of battle in United States military history," and is probably one of the most publicized, in books, periodicals, electronic media and documentary films. So I will dispense with re-telling the familiar "442nd story" and focus on its historical significance and impact by examining what made it "the most decorated unit for its size and time in battle."
Throughout its time in battle, the 442nd was never more than regiment size which numbered about 4,000 at its most. Within its roughly 27 months of existence the 100/442nd spent relatively little time in actual combat. From June to September 1944 it fought the Rome to Arno River campaign for 11 weeks. It was then shipped to France where it fought the Vosges Mountain campaign (capturing Bruyeres and Biffontaine and rescuing the Lost Battalion) from October 14 to November 9 in only 3 weeks of fighting. It was called back to Italy where from April to May 1945 it broke the Gothic Line and drove the German army to surrender in only 5 weeks time,  All this adds up to a total of 19 weeks (or 5 months) time in battle. During this period of combat, the 100/442nd suffered 717 KIA (killed in action) and 3,713 wounded in action for a total of 4,430 casualties. (In the 6 days of the Lost Battalion Rescue alone it lost 54 KIA and 393 wounded)  As a unit the 100/442nd was awarded 7 Presidential Unit Citations,  while individual honors and awards included: 21  Congressional Medal of Honors, 50 DSCs (Distinguished Service Crosses), 588 Silver Stars,  4,000 Bronze Stars and well over 9,000 Purple Hearts. To appreciate the sheer magnitude of this unmatchable service record, consider that while the 100/442nd received 7 Distinguished Unit Citations the next closest were two units (one was the 101st Airborne Division) which earned only two  citations each.  Such a comparison should clearly and convincingly justify its recognition as "the most decorated unit in American military history for its size and time in battle."
Military Intelligence Service Nisei (MIS). "The MIS story" was shrouded in secrecy throughout the War because it dealt with vital military intelligence work in the war with Japan.  I recall when we were being sent overseas we were warned "Don't tell people who you are, where you're going nor what you do."  For some reason the Nisei service and contribution to the MIS remained classified and secret for over 30 years after the War and was first publicly revealed with the publication of Joe Harrington's book "Yankee Samurai." Thereafter many books, periodicals and publications covered the "Nisei MIS story", the latest being the publication by the U.S. Army Center for Military History of the official MIS unit  history "Nisei Linguists – Japanese Americans in the Military Intelligence Service During World War II." Over 15 years ago our own MIS Veterans Club published two books "Secret Valor" and "The Nisei Intelligence War Against Japan'.  So by now the "Nisei MIS story" has been repeatedly told and become well known so that it need not be retold here.
During the War a Navy Commander named McCoy was asked for his opinion on the 100/442nd fighting record in Europe and his curt answer was "Sure, those Japs would be happy to fight the Nazis because they would be fighting against white men, but they surely won't be willing to fight an enemy of their own kind!"  Commander McCoy and his kind should be told that during the War over 6,000 Nisei attended MIS Language School to be trained to fight the intelligence war against Japan and that at least 3,000 of them were sent overseas "to fight an enemy of  their own kind" with distinction and with honor.  Those 3,000 Nisei MIS were sent to every sector of  Asia and  SW Pacific occupied by the Japanese enemy, assigned to all branches of the US military as well as to our allies, and used their language and linguistic competence to help drive the Japanese military back to its homeland and to ultimate defeat. General Charles Willoughby, MacArthur's intelligence chief, commented "The nature of Nisei service, from an intelligence point of view, represented the greatest single contribution to the Pacific war…" General Willoughby is further credited with his famous quote:  "The Nisei shortened the war by two years and saved many thousands of American lives,"which is corroborated by Col. Kai Rasmussen and Col. Sidney Mashbir. (See "Nisei Linguists" p.460)
Throughout it all the Nisei MIS performed their duties without publicity or acclaim but in secret. They served with complete fidelity, devotion and honor, with not a single act of  treason or disloyalty ever charged against them. Little is known that 19 Nisei gave up their lives in the line of duty in the war against Japan, adding convincing proof that Japanese Americans were more than willing and able to fight and even sacrifice their lives against an enemy of their own race. Nisei MIS were accorded the ultimate acknowledgement by their Nation's award of  a Presidential Unit Citation which stated in part: "The key contributions made by the members of the Military Intelligence Service in providing valuable intelligence on military targets helped  advance the United States and Allied cause during World War II and undoubtedly saved countless lives and hastened the end of the war."  To which honor is now magnified by the recent award of the Congressional Gold Medal!
Conclusion
The above-discussed war record of the Nisei Soldiers is self-evident and needs no further explanation or elaboration. By the end of World War II, and especially after seeing 718 white crosses with Japanese names in American military cemeteries across Europe, no one ever asks the question again "Who you goin' shoot?"  And by their matchless record of dedicated service, valor and loyalty, the Nisei Soldiers of World War II validated and confirmed for all time President Roosevelt's famous words:

"Americanism is not a matter of race or ancestry.  Americanism is a matter of the heart, mind and spirit!"