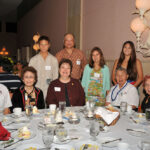 The 442nd Regimental Combat Team
By: Heather Zane, granddaughter of George Goto, 232nd Engineer Co.
In this world there are very few people who change the world for the better. The men of the 442nd Regimental Combat Team are among these people. To be perfectly honest, I know very little about what these men went through.  I wasn't alive to meet the young soldiers who sacrificed so much for their country.  I have only met the men that these soldiers grew to become.
My grandfather, George Goto served as a member of the 442nd Regimental Combat Team.  He has always been a symbol of strength and an example of honor in my life.  Seemingly by accident, he has taught me more than I am capable of describing. He possesses a peaceful power and lives his life with remarkable dignity and grace.  I have never known a better man.  I am sure that the granddaughters and grandsons of the 442nd Combat Team members feel the same way about their grandfathers as I feel about mine.
The soldiers of the 442nd Regimental Combat Team are the bravest and most honorable men I have ever met.  The service that they gave this country is unforgettable and their acts of honor and bravery are unmatched in America's military history.  The sacrifices made during the Second World War are visible in each of their eyes, along with the strong spirits ever present in their hearts.