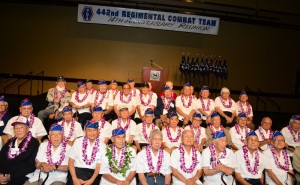 By Lynn Heirakuji, S&D member
The 442nd Regimental Combat Team 74th Anniversary Banquet was held at the Sheraton-Waikiki Hotel on Sunday, March 26, 2017. The 442nd Veterans Club sponsored the annual affair, which was attended by about 440 people – 49 Nisei veterans also signed up for the event.
Ken Inouye, son of the late Senator Daniel K. Inouye, served as the Master of Ceremonies and Governor David Y. Ige rendered the moving keynote address. The Governor, son of a 100th Infantry Battalion veteran, reminded the audience of the climate of racial hysteria that gripped the Nation in the aftermath of the 1941 Japanese bombing of Pearl Harbor. This fear and prejudice led the U.S. President to issue Executive Order 9066, which directed the forced internment of over 110,000 Japanese Americans, most of whom were U.S. citizens. He described how despite this, over 14,000 Nisei went on to serve and perform with incredible valor in the U.S. Army during WWII. The Governor noted that the 442nd story is what inspired him to have the State of Hawaii file the recent suit which resulted in the blocking of the current U.S. President's Executive Order banning travel into America based on nationality and, in effect, religion.
One of those attending the banquet was 96-year old Nisei veteran Hiroshi Arisumi, who hails from Kula, Maui. Hiroshi served with the 232nd Engineer Combat Company of the 442nd RCT and performed highly dangerous duties including mine clearing. Upon returning from the battlefields of Italy and France, he established the Arisumi Brothers construction company, building residential homes. He also stayed extra busy by serving as President of the Nisei Veterans Memorial Center in Maui for over 20 years. Hiroshi has passed on the story of the 442nd to his children and grandchildren. For fun he grows kaki (persimmon) and cherimoya, the latter which he describes as one of the top three most delicious fruits.
On display at the banquet was an exhibit called the, "Pearl Harbor Students' Reflections – 442: Live with Honor, Die with Dignity." The exhibit contained letters from Honolulu Community College (HCC) students in which they shared their reactions to a documentary on the 442nd story. Sharleen Nakamoto Levine who attended the banquet is the HCC instructor who developed the curriculum and brought the exhibit to the banquet. The exhibit was a great example of the many ways in which the 442nd story can be passed on to future generations.
The banquet program also included Mayor Caldwell's proclamation presentation, a musical tribute sung by Reverend Takamasa Yamamura, an invocation by Bishop Eric Matsumoto, remarks by William Thompson, 442nd Veterans Club President, and the singing of the "Go For Broke" fight song.
Even though there are fewer Veterans attending the banquet each year, the Sons & Daughters are always strong supporters of the event and hope to see it continue as a legacy marker for future generations.
See photos from the banquet.