The Aloha Luncheon for Admiral Harry B. Harris, Jr. – "A Hero for our time"
Contributed by S&D member Gail Nishimura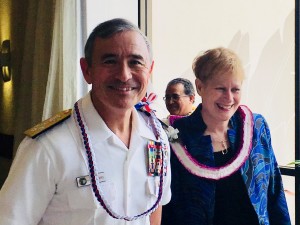 On April 21, 2018 we along with 200 community members were able to extend our Aloha to Admiral Harry B. Harris, Jr. and his wife Bruni Bradley. A luncheon planned by a committee of members from the 100th Infantry Battalion Veterans, Sons & Daughters of the 442nd RCT, Military Intelligence Service Veterans Club of Hawaii, Nisei Veterans Legacy and other organizations was held at the Hale Koa Hotel in Waikiki in honor of Admiral Harris' outstanding service including in his present position as Commander of the United States Pacific Command as well as for his steadfast support of the legacy of Nisei veterans including the 442nd RCT.
Barbara Tanabe was the mistress ceremonies and program speakers and presenters included Harry Nakayama, President of the 100th Infantry Battalion Veterans; the Honorable David Ige, Governor of Hawaii; Lawrence Enomoto, President of the Military Intelligence Service (MIS) Veterans Club of Hawaii; and our own Grace Fujii, President, Sons and Daughters of the 442nd Regimental Combat Team. Admiral Harris also spoke and Mr. Shinye Gima, MIS veteran, led the audience in the "Harris Hurrah!"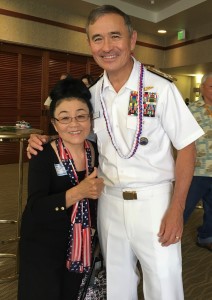 The audience was advised that Admiral Harris and Ms. Bradley were leaving the luncheon and going directly to the airport to leave for Australia, his expected post upon his upcoming retirement from the Navy. Then a day later we found out through the news that he may be going to South Korea instead! What a surprise!
Thank you, Admiral Harris, for the years you were in Hawaii: you embraced the people here as we embraced you. Good luck in your future endeavors.
Aloha!