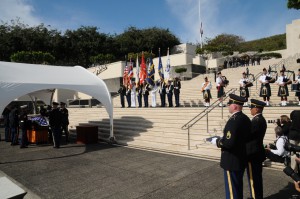 Remembrance of Senator Dan Inouye's Punchbowl Memorial Service 
By Grace Tsubata Fujii    
        December 23, 2012, Sunday:  WWII AJA 100Bn/442RCT/MIS/1399thBn veterans and families (Limited to 100) were accorded VIP treatment at Senator Daniel K. Inouye's memorial service at the National Memorial of the Pacific (Punchbowl). We reported at 6:00 am to the 100th Battalion Veterans Clubhouse. An hour later boarded 2 buses arriving at Punchbowl around 7:30 bypassing other waiting vehicles without our having to go through mandatory body checks at the entrance as other guests. Was shocked that we had special 442 RCT seating and able to view the ceremony so well. Glad our sturdy veterans weathered their long 8 hour day. Huge Appreciation to Command Sgt. Major Beau Tatsumura for coordinating with senator's office in securing this security clearance with VIP status.
        There was a huge group of 100Bn/442RCT Army reservists on duty hovering over the veterans and families, offering water bottles, escorting us to potty breaks and inquiring as to our well-being, making sure we were comfortable, passing sun-screen lotion, holding umbrellas to shield us from the hot sun. You could tell that they were enjoying their duties as much as we appreciated their concerns and reassurance. The EMT (Emergency Medical Technician) reservist returned time and again to check on the veterans. So caring. Huge Mahalo to these gentlemen also.
        The excellent speeches conveyed great admiration, respect and love for Senator Dan and evoked his unmatched greatness. One could sense that every VIP knew that Senator Dan towered above each of them in unparalleled importance with his gifted dedication, humbleness and many accomplishments.
        Each phase of the powerful memorial service was outstanding ~ the myriad of VIPs lead by President Barack and Mrs. Michelle Obama, the 19-gun Cannon Salute, Amy Hanaiali'i's Hawaiʻi Ponoʻī and Queens Prayer renditions, the heartbreaking speeches by Senators Harry Reid and Dan "Uncle Danny" Akaka, the Army Song by the 25th Infantry Division Army Band, Senator's Chief of Staff Jennifer Sabas' very eloquent and emotional speech challenging us to pick up the baton and continue Senator's mission, Senator's favorite song, "Danny Boy" by the Celtic Pipes and Drums of Hawaii, the Military Honors ~ Folding and presentation of American flags to Mrs. Irene Hirano Inouye and to Mr. Daniel Ken Inouye Jr., Taps by the Honorable Jon Tester, U.S. Senator, and the powerful tribute of the Hawaii Air National Guard, 199th Fighter Squadron F-22 Raptors' Missing-Man formation flyover.
        Prior to the program, the New York Times' White House political correspondent, Jeremy W. Peters, introduced himself and asked me some questions. Said this was his first visit to Hawaii and appreciated how friendly Hawaii people are. I wholeheartedly agreed and said that he had to return again. He agreed. He asked if I were ever in the military. "No." (I thought that was funny.) He inquired about Hawaii's impact of not having any senior senators now. I spoke very candidly. Though there will never be another Senator Dan, that it will take perhaps another 20+ years if there is now someone who can be groomed to be equally capable of becoming a dedicated, respected and high ranking congressperson as senator was. He wanted to know how Hawaii felt about Dan's passing. I said Senator Dan was "Bigger than Clinton, Bigger than Obama" and everybody appreciated the enormity of what he did for Hawaii, the nation and other countries. He was so big that one of his campaign signs simply stated, Dan on an 6″ round gold decal; we all knew that referred to Senator Dan Inouye. Many sons and daughters of the 442nd Regimental Combat Team referred to Senator as "Uncle Dan" and in Hawaii we show our respect toward our elders by addressing them as "Aunties and Uncles."
        Reporter Peters asked about the impact on Hawaii from Congress. Told him, that among our many needs, I believed that Congress would do the "right thing" and take care of Hawaii, especially given our pivotal location in the Pacific in view of the hot spots in the Far East, actually our near West. The military needs our location to accomplish important missions.
        Introduced Peters to Mr. Gene Castagnetti, Punchbowl Director, and the reporter conveyed his great appreciation of Punchbowl Public Affairs Specialist Nadine Siak's warm and professional help. Mr. C said that he would be sure to pass on his compliment to her. Later, I also complimented Mr. C on another great ceremony.
        It was a magnificent farewell befitting our beloved Senator.
        Senator Daniel Ken Inouye, Medal of Honor recipient, will be buried at Punchbowl with his first wife Margaret "Maggie" Inouye who is in Section D, Site 391-A, also the section where senator's buddies, the first 100/442 KIA veterans are buried and near astronaut Colonel Ellison Onizuka.
        National Medal of Honor Day is March 25 which is 2 days after the 442nd RCT Anniversary of March 23. I'm sure there will be many visitors paying their respects at senator's final resting place very often. 
Photos compliments of Pat Thompson, Clyde Sugimoto and Terry Takaki.