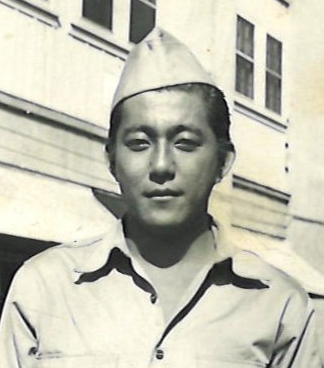 Ralph Hisao Wakayama
Staff Sergeant
442nd Regimental Combat Team
100th Infantry Battalion, D Company
Ralph Hisao Wakayama was born on January 20, 1916, in Kahului, Maui, Territory of Hawaii. He was the second of six children born to Kiyuji and Naka (Wakamiya) Wakayama. His siblings were: Tsuruno (died at age 3 of meningitis), Yoshio, Thelma Kameno, Mitsuo ("Pipi"), and Masae Marjorie. His parents arrived from Hiroshima Prefecture. Father Kiyuji arrived on March 19, 1903, on the S.S. Korea. By 1910, Kiyuji was living with his parents Yoshitaro and Kyo and his siblings Masaichi and Kimiyo on Market Street in Kahului, where his father worked at the sugar mill. Kiyuji later worked as a track man for the Kahului Railroad Company. Mother Naka arrived in Hawaii in 1911.
Hisao's mother died in 1923 and his father in 1929. He and his siblings were raised by their aunt, their father's sister Kimiyo. She and her husband Katsumi Katsutani had eight children, and grandmother Kyo Wakayama also lived with them in Kahului. Katsumi was the proprietor of a hotel and Kimiyo was the hotel's cook.
On March 28, 1939, as a member of the team of "top-notch" Maui Japanese basketball players, he left Mala (the wharf in Lahaina) for Honolulu, where the team played in the first inter-island Japanese basketball tournament. Hisao's nickname on the team was "Peanut."
The following year, Hisao registered for the draft on October 26, 1940, Local Board No. 6, at the OR&L (railroad) Depot in Honolulu. His point of contact was his sister, Mrs. Thelma Kaya, and their address was 1-A Davis Lane. Hisao's employer was Ralph Wooley, Contractor, at the Castle & Cooke Building. He was 5'7" tall and weighed 138 pounds.
On February 8, 1942, Wakayama was inducted in the U.S. Army. His education was listed as "unskilled occupations in the production of clay products." He had attended one year of high school.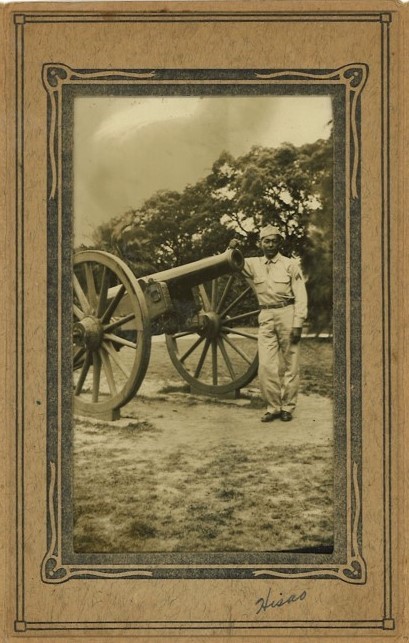 He later recalled: I was drafted in the fifth draft. When the 442nd was formed, a General from Schofield Barracks gathered our unit – Engineers Battalion – and asked for combat volunteers: first meeting – not enough men. General request, second meeting – still shy of total needed. I was one of the 125 men signed up. That's why #10 [i.e., draftee and volunteer] is checked as it is.
Right:  Wakayama in Andrew Jackson Park, New Orleans, May 23, 1943
He was sent to Camp Shelby, Mississippi, for basic and combat training. In September 1943, he was among 257 "temporary" promotions of 442nd men – he was promoted to Sergeant.
Wakayama left Camp Shelby with the Combat Team on April 22, 1944. They shipped out from Hampton Roads, Virginia, on May 4 and arrived in Naples, Italy, on May 28. The 442nd entered combat near Suvereto on June 26.
Wakayama later recalled his wartime experiences: Lots of outdoor living in foxholes – sometimes in deserted homes. Bathed from wells or streams. If you're lucky, you get a hot bath and change of clothing once in three months. Combat rations were lousy. C rations consisted of: a) three meat cans; b) scrambled eggs; c) beans and sausage, or d) beef stew. All cold. Sometimes heated with a portable Coleman stove issued one to a squad. Played checkers carried by one comrade who later was killed. Rehashed some funny incidents occurring in combat. Someone came across vino cellars. "Happy Hour!"
A vivid memory he shared from his time in France: It happened in the Vosges Forest in France. Our unit was isolated. Came time for our rations. Our boys could not contact the supply unit. So, the usual SOP [i.e., standard operating procedure] is to pick a different comrade to get the rations. Instead, the same person volunteered to go, which was after midnight. Later, the enemy started shelling with artillery and one shell landed in the empty foxhole of the person who chose to contact the ration train. Fortunately, he came home alive.
Wakayama shared what to him was the most vivid memory of the war: It happened in the final "push" of the war. Our units attacked and walked all day and night. Finally, about 4:00 a.m., sleepy and tired, we were half-settled. Unfortunately, our 81mm unit was too far forward in order to support the rifle companies. So, Sgt. Eric Abe, Co. D, longer in combat than our platoon officer, suggested we should move to a hill behind us about 400 yards (a strategic withdrawal). Officer agreed. So, we ran at daybreak to a better and safer position with our heavy weapons and ammo. As soon as we pulled out from our first position, which was in a ravine, the enemy shelled that area up and down with countless rounds – seen through my binoculars. Without Sgt. Eric Abe's advice, we all would have been wiped out. Thanks to Eric. So sorry to report, in the second position, the Germans knew where we were, so they shelled our area. A tree burst got one of our boys – "Red" Yamashita. He said that the worst part of his military experience was the "hardship of war" and the thing he missed most during the war was "letters from home."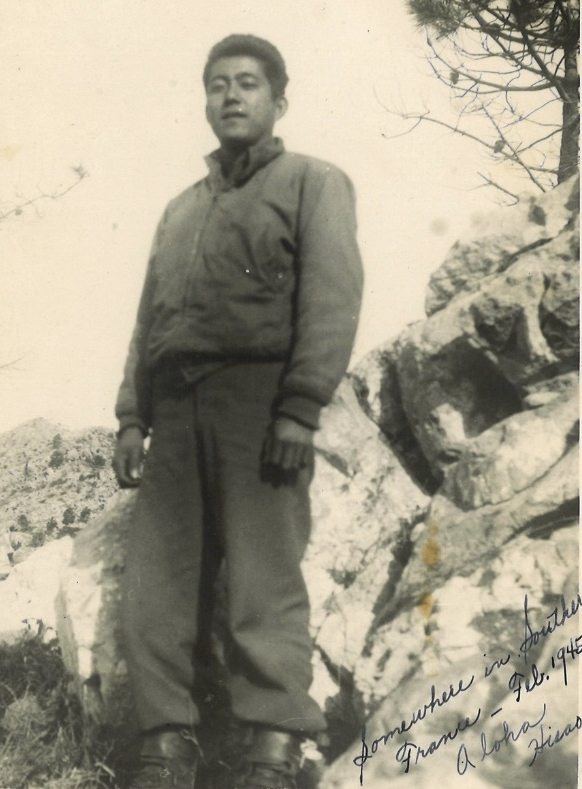 Hisao recalled that he supervised the operation of four heavy mortars in the Italian and French campaigns.  He used maps to determine the range and deflection of weapons for effective fire on targets, issued firing orders. and, with binoculars, made adjustments and ordered adjustments.
Right:  Wakayama "Somewhere in Southern France – Feb. 1945  Aloha  Hisao"
Hisao fought in the following major campaigns of the 442nd: Rome-Arno in Italy, Rhineland-Vosges Campaign and Rhineland-Maritime Alps in France, and Po Valley back in Italy.
He was awarded the Bronze Star Medal, Good Conduct Medal, American Campaign Medal, Asiatic-Pacific Campaign Medal, European-African-Middle Eastern Campaign Medal with four bronze stars, World War II Victory Medal, Army of Occupation Medal, Combat Infantryman Badge, and the Distinguished Unit Badge.
He was awarded the Congressional Gold Medal on October 5, 2010, along with the other servicemen of the 100th/442nd Regimental Combat Team. This is the highest Congressional Civilian Medal.
After the war, Ralph returned home to Oahu. He became active in D Company's veterans' group, serving on the April 1946 reunion committee. He was discharged from the Army on December 31, 1946, from the Army Separation Center at Fort Kamehameha. In 1947, he was a steelworker and lived at 1016 5th Avenue in Kaimuki, Honolulu. In 1949, he was living at 2355-A Oahu Avenue in Manoa Valley, Honolulu, and employed by the Oahu Construction Company.
Ralph married Lei Kim in 1950. They flew to San Francisco, California, on Pan American World Airways on July 18, 1950. On March 8, 1954, they sailed from Honolulu on the S.S. Lurline for Los Angeles. They settled in Gardena, California, where he worked as a steel supervisor, doing the rebar job at construction sites in downtown Los Angeles. Lei was a professional Polynesian dancer in films and television. They had no children, but they raised an adopted son. Ralph was a member of the Gardena Nisei Memorial Post #1961, Veterans of Foreign Wars (VFW) and the Kalama Hawaii social group with many other veterans.
After retiring, Ralph and Lei moved to a retirement community in Summerlin, Las Vegas, Nevada. Ralph enjoyed playing the ukulele and Lei continued dancing. They often performed for the other senior residents. Ralph died in Las Vegas on September 4, 2003. His wife died the following day.
Ralph's nephew, Gary Wakamaya, remembered his uncle as "always a gentleman. Calm, dignified, never raised his voice, always respectful and loving toward Lei. Hard worker, just a very nice person."
The following link contains information from an interview with Wakayama. www.discovernikkei.org/en/resources/military/594/?first_name=Ralph&last_name=Wakayama
Ralph's brother, Mitsuo Wakayama, known as "Pipi," served in the MIS during World War II.
Researched and written by the Sons & Daughters of the 442nd Regimental Combat Team in 2021.