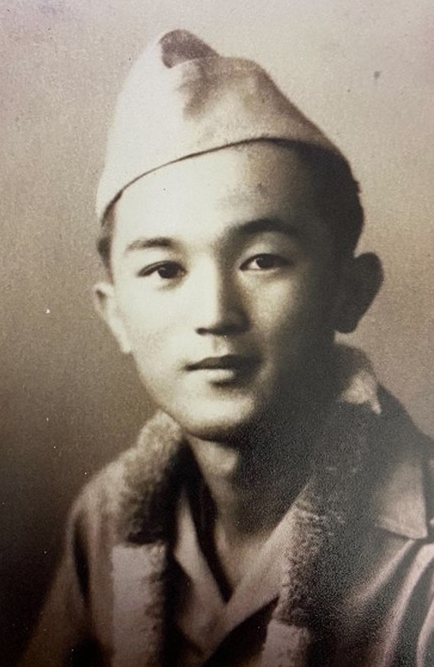 Robert Choichi Zukeran
Private First Class
442nd Regimental Combat Team
2nd Battalion, H Company
Robert Choichi Zukeran was born on August 14, 1921, in Waipahu, Oahu, Territory of Hawaii, to Chosei and Kukame (Shimabukuro) Zukeran. He had seven siblings: brothers Frederick Tamotsu and Isaac Minoru; and sisters Beatrice Teruko, Grace Kazuko, Grace Miyoko, Vivian Kiyoko, and Virginia Sanae.
Chosei emigrated from Okinawa Prefecture, Japan, arriving in 1910. In 1918 he was working as a laborer for the Oahu Sugar Company in Waipahu. Two years later, in 1920, he married Kukame Shimabukuro, who had arrived from Japan in 1913. They lived in Waipahu, and by 1930, they had moved to Honolulu and lived on Auld Lane. Chosei was a house plasterer. Robert graduated from Farrington High School in 1939.
In 1940, the family lived at 1358 College Walk in Honolulu, where Chosei worked at the Alexander Young Hotel Bakery as the chief baker.
Choichi signed his draft registration card on February 2, 1942, Local Board No. 6, at Kawananakoa School. His point of contact was his father Chosei, and he lived with his family at 1358-4 College Walk. He was employed at Schumann Carriage Company on the corner of Richards and Beretania Streets. He was 5'6½" tall and weighed 125 pounds.
On March 25, 1943, Robert enlisted in the U.S. Army in Honolulu. He was sent with the other new soldiers to the "tent city" at Schofield Barracks known as Boom Town. On March 28, they were given an aloha farewell ceremony at Iolani Palace by the community. On April 4, they sailed on the S.S. Lurline to San Francisco.
After a train trip across the US, they arrived at Camp Shelby as part of the 442nd Regimental Combat Team. Robert was assigned to 2nd Battalion, H Company.
He was able to go on furlough with other soldiers to New York City – which was one of the cities the 442nd men enjoyed visiting along with Washington DC and Chicago. Following a year of basic and combat training, including field maneuvers, the 442nd left Camp Shelby on April 22, 1944, and arrived at Camp Patrick Henry, Virginia. They departed on May 2 from nearby Hampton Roads in a convoy of over 100 ships.
The ships carrying the bulk of the 2nd Battalion dropped out of the convoy and steamed into Oran, on the coast of North Africa, to discharge cargo. The other ships arrived at Naples, Italy, on May 28. It is not known in which of these groups Zukeran was traveling.
The battalion spent a week at a staging area in Bagnoli, near Naples, before leaving on LSTs for Anzio on June 6, where they marched five miles to a bivouac area. From Anzio the 442nd went to a large bivouac area at Civitavecchia, north of Rome, where they went through additional training and final preparations for going to the front lines. The ships that had stopped in Oran arrived on June 17, going through the same processing as the other units.
Pfc. Zukeran first entered combat on June 26, when the Regiment engaged German forces at Suvereto, north of Rome. The 2nd and 3rd Battalions were the first to engage the enemy in a fierce firefight. Until July 25, the 442nd encountered heavy resistance from each town as they pushed toward the Arno River. The 442 suffered casualties of 1,272 men (17 missing, 44 non-combat injuries, 972 wounded, and 239 killed) in the process, a distance of only 40 miles.
They rested from July 25 to August 15 at the seaside town of Vada, when the 442nd was assigned to patrol along the Arno River. Crossing the river on August 31 was relatively uneventful, as they were guarding the north side in order for bridges to be built. On September 11, the 442nd was detached from the Fifth Army and then attached to the 36th Infantry Division of the Seventh Army to join the battles to liberate France from the Nazis.
The Regiment was pulled from the front lines in Italy and sent to Naples. After leaving Naples by ship, the 442nd landed in Marseilles, France, on September 30. They traveled 500 miles north through the Rhone Valley, by truck and by boxcar, for combat in the Rhineland-Vosges Campaign.
On October 14, 1944, the 442nd began moving into position to take the important rail and road center of Bruyères. After liberating Bruyères, the Regiment went on to liberate Biffontaine and Belmont. They were pulled off the front and sent to reserve status to rest and recuperate. After less than two days in reserve, the 442nd was ordered to rescue the "Lost Battalion," two miles east of Biffontaine. This battalion, the 1st Battalion of the 141st (Texas) Infantry, had advanced beyond its supply lines, surrounded by the enemy, and was unable to extricate itself.
Following the tough battles through the Vosges Mountains, the 442nd was sent to the south of France for combat in the Rhineland-Maritime Alps Campaign. The 442nd guarded and patrolled a 12- to 14-mile front line segment of the French-Italian border. The 442nd experienced additional losses as patrols sometimes ran into enemy patrols, or sometimes soldiers stepped on enemy and allied land mines. Occasionally, soldiers of the 442nd captured spies and saboteurs.
On March 23, 1945, the 442nd shipped out from Marseilles and traveled to Livorno, Italy, and was attached to the 92nd Division for its final action of the war – the Po Valley Campaign. The 442nd made a continuous push against the German Army in the heavily fortified and defended Apennine Mountains. Here, the 442nd saw some of its most intense fighting. On May 2, the war ended in Italy as the Germans surrendered, followed six days later by victory in Europe.
During occupation duties in Italy, Pfc. Zukeran was with the Combat Team in May and June at Ghedi Air Field processing German prisoners of war. In late July, the 442nd moved south to Livorno for duty guarding the German POWs.
Zukeran left Europe the end of October 1945. He arrived back to Honolulu on December 17 on the USAT Aconcagua at Pier 26 at 9:00 a.m. Thousands of friends and family were there with lei and gifts to meet the more than 500 soldiers, but were held back from the pier. The Army quickly loaded the men onto waiting busses and took them to the Army Separation Center at Fort Kamehameha for processing. They were then given time off with orders to return later for discharge.
Pfc. Zukeran was discharged from the U.S. Army on December 24, 1945.
For his military service in World War II, Pfc. Robert Choichi Zukeran was awarded the Bronze Star Medal, Good Conduct Medal, American Campaign Medal, European-African-Middle Eastern Campaign Medal with four bronze stars, World War II Victory Medal, Army of Occupation Medal, Distinguished Unit Badge with one oak leaf cluster, and Combat Infantryman Badge. He was awarded the Congressional Gold Medal on October 5, 2010, along with the other veterans of the 100th/442nd Regimental Combat Team. This is the highest Congressional Civilian Medal.
In 1947, father Chosei Zukeran opened the 9th Avenue Bakery in Kaimuki. It was a family affair, with his wife and sons all helping out. Robert was living at home and he soon married Lillian M. Sato of Papaikou, Hawaii island. By 1950, they and their first child were living with his parents, one brother, and four sisters at 811 Sixth Street in the Kaimuki neighborhood of Honolulu. He and his father were co-proprietors of the Ninth Avenue Bakery. Over the years Robert and Lillian raised a family of two sons and three daughters.
The popular Ninth Avenue Bakery operated for decades, with Richard and Lillian serving as President and Vice President. In 1960, they opened the Zukeran Building at the corner of 8th Avenue and Waialae. Robert was a partner in the new building and Lillian managed Kaimuki Sundries, located on the Waialae side. The family lived in one of the apartments upstairs. There were also rental apartments and other businesses. In the 1970s, they also owned the Waipahu Bake Shop on Hanawai Circle.
After they retired, they passed the Bakery on to their son and his wife. It was featured in the Honolulu Star-Bulletin on August 30, 2000, with an article about their wonderful baked goods. The best-seller was the oversized Buttercup, a custard- or haupia-filled cupcake, followed by a gigantic long john, and a huge cinnamon bun.
His family described Robert's interests as woodworking, taking pictures around the island or making home movies, fishing, reading, and jogging. He had wanted to become a carpenter before the war changed those plans. His garage was filled with woodworking tools and he even made a grandfather clock for his family. He often fished at the beach with his long fishing pole or at the dangerous Bamboo Ridge on Oahu's east shore. He loved to run from Kaimuki to Kapiolani Park for his health. He and his wife found the time, despite their busy work schedule, for ballroom dancing. He instilled a love of classical music in his children. He learned how to make French pastries by watching movies, which he also made sure his children watched. His reward to them for this was renting cartoons.
Zukeran dearly loved his fellow 442nd buddies. He and his wife regularly socialized with several other couples. He was a member of the 442nd Veterans Club, and often donated sheet cakes to their gatherings and to other organizations.
Robert Choichi Zukeran died on February 7, 2001. He was buried at Honolulu Memorial Park. Survivors included: his wife, four children, seven grandchildren, and – as of this writing – two great-grandchildren.
Researched and written by the Sons & Daughters of the 442nd Regimental Combat Team with assistance of his daughter, who is a member of the Sons & Daughters, in 2022.