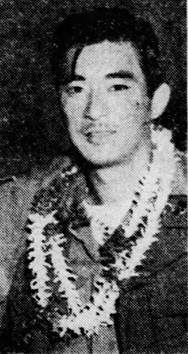 Robert Chosei Owan
Private First Class
442nd Regimental Combat Team
3rd Battalion, Headquarters Company
Robert Chosei Owan was born on May 31, 1923, in Kahuku, Oahu, Territory of Hawaii. He was one of four sons and three daughters of Chiyoko and Tsuru Owan. His father arrived in 1906, from Makobena-mura, Okinawa Prefecture, and his mother Tsuru arrived in 1912, from Okinawa. They owned and operated Owan Store and Tsuru's Restaurant in Kahuku.
Bob, as he was known, was a member of the Boy Scouts well into his teens. While in high school, he was a staff member of the school's bi-weekly literary newsletter, Voice of Kahuku, and their first printed yearbook, Ke Koolau. He graduated from Kahuku High School in May 1941.
On June 30, 1942, Bob registered for the World War II draft at Local Board No. 5, located at Royal School on Punchbowl Street in Honolulu. At the time he was living at 1516 Emma Street and employed by Hawaiian Pineapple as a salesclerk. He was 5'5" tall and weighed 130 lbs. His point of contact was his father Choki Owan in Kahuku.
Robert Chosei Owan enlisted in the U.S. Army on March 23, 1943. His civilian occupation was given as salesclerk. He was in the "tent city" for new recruits at Schofield Barracks, and participated in the March 28 ceremony at Iolani Palace given as a farewell by the community. He was among the new soldiers who left Honolulu on the S.S. Lurline on April 4 for San Francisco. After a train trip across the country, the soldiers arrived at Camp Shelby, Mississippi, for over a year of training. While at Camp Shelby he was assigned to Headquarters Company, 3rd Battalion.
The 442nd left Camp Shelby on April 22 for Camp Patrick Henry, Virginia. On May 2 they left Hampton Roads for Italy, arriving in Naples on May 28. The 442nd entered combat on June 26 near Suvereto.
Robert served in the following campaigns of the 442nd: Rome-Arno in Italy; Rhineland-Vosges and Rhineland-Maritime Alps in France; and Po Valley back in Italy.
During the final campaign in Italy, he received a wound/laceration to his ear from an artillery shell. He was taken to an aid station, and it was determined there was no nerve or artery damage. He was treated and returned to duty. The 3rd Battalion had moved from just north of Azzano on April 5 to Mount Nebbione on April 23, and he was wounded somewhere in this area.
In July 1945, during the occupation in Livorno, Owan was awarded a Bronze Star Medal for action in France. The award had been authorized in April by Gen. Jacob L. Devers, Commander of the 6th Army Group, formerly in France. As reported in the newspaper, Owan and another soldier braved heavy artillery fire, snipers, and mine fields to evacuate wounded comrades on a battlefield in the Vosges mountains in October 1944.
For his wartime service, Private First Class Robert Chosei Owan was awarded the following: Bronze Star Medal with one oak leaf cluster, Purple Heart, Good Conduct Medal, European-African-Middle Eastern Campaign Medal with four bronze stars, World War II Victory Medal, Army of Occupation Medal, Combat Infantryman Badge, and the Distinguished Unit Badge with one oak leaf cluster. He was awarded the Congressional Gold Medal on October 5, 2010, along with the other veterans of the 100th/442nd Regimental Combat Team. This is the highest Congressional Civilian Medal.
Bob arrived home on December 19, 1945, on the USAT Evangeline with over 850 other war veterans of the 442nd (photo above). He was discharged soon afterwards at the Fort Kamehameha Army Separation Center on Oahu.
After the war in January 1946, Bob was on the membership committee for the newly organized 442nd Veterans Club in Honolulu. On August 17, he married Grace Kimie Uyehara and they raised a family of two daughters and two sons. He played baseball for the Kahuku Juniors in the Oahu Plantation Baseball League. The following summer, in 1947, he won the Shoso Tanaka Trophy as "Batting Champ."
Private First Class Robert Shosei Owan died on September 15, 2011, in Kaneohe, Oahu. He was buried in the Hawaii State Veterans Cemetery in Kaneohe, Section 150-O, Site 113. He was survived by his wife, four children, 11 grandchildren, and 10 great-grandchildren.