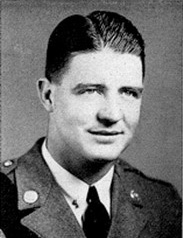 Robert Louis Hempstead
Captain
442nd Regimental Combat Team
3rd Battalion, M Company
Robert Louis Hempstead was born on March 31, 1919, in Detroit, Michigan. He was the only child of Harold Walter and Beatrice Luella (Bilson) Hempstead, who had married in 1918. Harry, as he was known, was on the stock team at the Packard Motor Company in Detroit.
By 1926, the family had moved to Atlanta, Georgia, residing at 190 Juniper Street. His father was an automobile salesman at Oakland Motor Car Company and his mother worked at Western Union Telegram Company. Bobby, as he was called, graduated from Boys' High School in 1937. In 1940, the family lived at 414 Ninth Street N.E., Harry was an automobile salesman at Capitol Motors, and Beatrice was still at Western Union. Bobby attended Clemson A&M College in Charleston, South Carolina.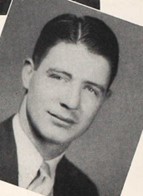 While at Clemson, Hempstead was the advertising manager and later the business manager of the school newspaper, Tiger, where he earned the nickname "Pinch Penny." He was also in the Senior Platoon, and on the Presbyterian Students Council and the YMCA Council. In ROTC while at Clemson, he steadily rose in rank from Private, to Corporal, Sergeant, and 1st Lieutenant. During his final summer he went to ROTC camp at Fort McClellan, Alabama. Hempstead earned a Bachelor of Science degree in Chemical Engineering in 1941.
Hempstead in 1936 at Clemson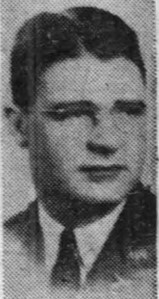 In June 1941, Hempstead accepted appointment to the Officers Reserve Corps. In August 1942, he completed a special course at the Chemical Warfare School at Edgewood Arsenal, Maryland, 30 miles northeast of Baltimore. He rose in rank from 2nd Lieutenant to 1st Lieutenant to Captain, and was transferred to Fort Sam Houston, Texas, in January 1943. With the formation of the 442nd Regimental Combat Team, in February he was transferred to Camp Shelby, Mississippi, as part of the Combat Team. He was given command of M Company, the heavy weapons company of the 3rd Battalion.
Left: Lt. Hempstead about 1943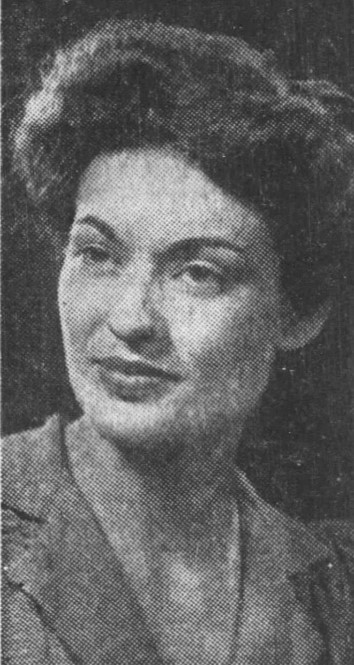 On February 8, 1943, Hempstead's father died. That August, Hempstead married Mrs. Ramona Louise LaFlore Baker in New Orleans, Louisiana. Louise, a native of Oklahoma, was divorced and the mother of a young son, Ronnie Baker. Louise and Ronnie moved to Camp Shelby and lived in the Officers Housing Co-op on Tuscan Avenue, the former Mississippi Woman's College building. She and another resident were in charge of the nursery and took turns as teachers. Her son became known as Ronnie Hempstead.
Right: Mrs. Robert L. Hempstead, 1943
On August 10 the first formal review of the 442nd was held and Captain Hempstead marched with his men of M Company in the 4:00 p.m. parade after an all-day open house that included various demonstrations. The Combat Team marched with their colors and all the battalion banners.
After over a year at Camp Shelby, the 442nd left for Camp Patrick Henry, Virginia, on April 22, 1944. They shipped out to the Theater of Operations on May 2 from nearby Hampton Roads in a large convoy of troop ships and arrived at Naples, Italy, on May 28.
After several days at a staging area near Bagnoli, they went by LSTs to the beachhead at Anzio. From Anzio, the 442nd transferred to a bivouac area near Civitavecchia, just north of Rome. They went into combat near Suvereto, farther north, on June 26, in the Rome-Arno Campaign.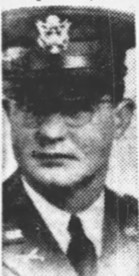 The 442nd moved north from Suvereto, liberating the towns of Belvedere, Sassetta, and Castagnetto. On July 1, they marched from Bibbona to an assembly area just south of the Cecina River. At that time of year, the river was hardly more than a trickle of water and very fordable in most places. Enemy artillery became increasingly heavy, indicating the enemy would make some sort of a stand on the high ground north of the river.
Left: Capt. Hempstead, 1944
By July 3, the 442nd's infantry battalions had crossed the Cecina River and were advancing. The enemy held two key observation posts – Hill 140 and the town of Rosignano Marittimo. From these points the Germans directed a rain of shells at the forward battalions all day. Capt. Hempstead's 3rd Battalion relieved the 100th at midday and this daylight maneuver brought on a storm of enemy self-propelled and artillery fire, causing heavy casualties.
Over the next few days the battle at Hill 140 was so intense that it was nicknamed "Little Cassino" after the famous battle at Monte Cassino earlier in the year (in which the 100th had fought while the 442nd was still in the US). After heavy fighting, Hill 140 was taken and the Combat Team pushed onward. Finally, after over three weeks on the front line, the 442nd was moved to a rest area around Vada. The men spent their time there bathing, cleaning their weapons, relaxing, and catching up on sleep.
On August 20-21, Capt. Hempstead's 3rd Battalion was moved into the line along with the 2nd Battalion, relieving the 1st British Division on a six-mile front on the Greve River at its intersection with the Arno River. All along the front the 442nd was directed to make a considerable show of strength, patrolling aggressively to keep the enemy off balance and worried where the next strike would come from.
Patrols were very active on both sides, but the terrain made patrolling extremely dangerous – it was crisscrossed with hedges and vineyards, making visibility never more than a hundred yards maximum. The 442nd quickly learned that the Germans were maintaining a patrol base on the south side of the Arno River in San Colombano, a few miles from the Greve River, on the left flank of the 3rd Battalion's location.
Capt. Hempstead, as commander of M Company, volunteered to lead a joint M and L Company patrol to wipe out the enemy nest at San Colombano. During the ensuing action, Capt. Robert L. Hempstead was killed. He was later posthumously awarded the Silver Star for the action that took his life. The citation reads:
The President of the United States of America, authorized by Act of Congress, July 9, 1918, takes pride in presenting the Silver Star (Posthumously) to Captain (Infantry) Robert Louis Hempstead, United States Army, for conspicuous gallantry and intrepidity in action against the enemy while serving as Commanding Officer, Company M, 3d Battalion, 442d Regimental Combat Team, attached to the 34th Infantry Division, on 23 August 1944, near San Columbano, Italy.
When it was discovered that the Germans were maintaining a patrol base in San Columbano on the south side of the Arno and on the left flank of the 3d Battalion, Captain Hempstead volunteered to lead a combined Company M and L patrol to wipe out the enemy nest. The patrol went out with a forward observer from Cannon Company. Aided by fire from Cannon Company, the patrol cleared out one enemy strongpoint, killing eight Germans and wounding several others. As the patrol worked its way beyond San Columbano, it was ambushed near a canal and caught in a crossfire from two enemy machine guns, supported by mortars. Captain Hempstead, seeing the patrol was trapped, left his covered position and opened fire with a Tommy Gun, drawing the enemy's attention to him. He was instantly killed by a burst of machine-gun fire, but by creating a diversion, he enabled his remaining men to withdraw to better positions and call down artillery fire on the enemy.
23 Aug 44 Action Date: Headquarters, 92nd Infantry Division, General Orders No. 19 (1945)
Immediately after Capt. Hempstead's death, the patrol called for aid men and litter bearers to evacuate the three men who had been wounded and were lying in full view of the enemy. The following day, Chaplain Masao Yamada of 3rd Battalion went to remove the bodies of the dead, including the body of Capt. Hempstead. A German party met him under the Geneva Convention flag and assisted him and his party in evacuating the bodies.
Captain Robert L. Hempstead was buried in the U.S. Military Cemetery at Vada, Section C, Row 5, Site 344. He was survived by his wife Louise, stepson Ronnie, mother Mrs. H.W. Hempstead, and maternal grandfather, Lewis N. Bilson of Battle Creek, Michigan.
For his service in World War II, Captain Robert L. Hempstead was awarded the Silver Star Medal, Bronze Star Medal, Purple Heart Medal, American Campaign Medal, European-African-Middle Eastern Campaign Medal with one bronze star, World War II Victory Medal, and Combat Infantryman Badge. He was awarded the Congressional Gold Medal on October 5, 2010, along with the other veterans of the 100th/442nd Regimental Combat Team. This is the highest Congressional Civilian Medal.
Capt. Hempstead's widow, Louise, was expecting at the time of his death. She suffered a miscarriage in August, losing twin sons. Five years later she married Thomas D. Kelly and moved to Baldwin Creek, California. She married Victor M. Green in 1969. Louise LaFlore Green died in 1992. Capt. Hempstead's stepson was raised as Ronald Baker Hempstead.
In late 1944, it was reported in the Atlanta Constitution that Capt. Hempstead's mother had joined forces months earlier with two other Atlanta relatives of 442nd men – the mother of Capt. St. Elmo Massengale Jr. and the wife Maj. Ralph George Moye. Five wounded 442nd men from Hawaii were hospitalized at the Army's local Lawson General Hospital and the women "adopted" them – doing whatever they could to make them feel comfortable and not alone. As Mrs. Hempstead said, "They are fine boys, as truly American as my Bobby. I know he'd be happy to know that the other ladies and I are doing what we can to help some of his boys who have been hurt." Hempstead's letters to his mother had been filled with glowing accounts of his "boys."
On October 28, 1945, Capt. Hempstead's mother was presented his Silver Star Medal in a ceremony held in the post chapel at Fort McPherson, near Atlanta.
In 1948, the Army began to close most of its overseas cemeteries and gave families the option having their loved one returned home or reburied in one of the few remaining cemeteries. Captain Hempstead's mother chose to have his remains brought home. As a result, on February 6, 1949, he was one of the 92 war dead from Georgia (including 14 from Atlanta) who arrived on the USAT Corporal Eric G. Gibson at the Brooklyn Army Base in New York Harbor. The ship arrived at Pier 3 with the remains of 5,205 fallen soldiers. The ship had sailed from Livorno on January 30. It encountered bad weather while docking and the memorial service was nearly complete by the time the ship slid into its berth. About 200 friends and family attended the service, which was led by Colonel Edward R. Martin, chaplain of the New York Port of Embarkation. Representatives of the Gold Star Mothers group and several veterans' organization were also in attendance. The U.S. Army band from nearly Fort Hamilton played patriotic music and hymns. As the Gibson finally docked, everyone attending the service turned to salute the ship. The flag-draped coffins were unloaded and sent to regional distribution centers of the American Graves Registration Service throughout the US pending individual burial arrangements.
The funeral service for Captain Hempstead was held on March 5, 1949, at 2:30 p.m. at Spring Hill in Atlanta, with Dr. William V. Gardner officiating. His burial was immediately afterward at West View Cemetery, next to his father in Section 31A. Hempstead was a member of the North Avenue Presbyterian Church.
Visit the following link for Clemson graduates to read Captain Hempstead's obituary: Robert Louis Hempstead – Clemson Corps
Researched and written by the Sons & Daughters of the 442nd Regimental Combat Team in 2022.