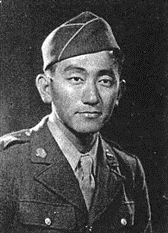 Ryo A. Shiomichi
Private
442nd Regimental Combat Team
3rd Battalion, I Company
Ryo A. Shiomichi, known as Joe, son of Kesaichi and Fusa (Higo) Shiomichi, was born on August 31, 1920, in Brawley, California, and was the youngest of three siblings – Tokio, Edna Yoshida, and Joe. He attended Westmorland Elementary School and was a member of the Boy Scouts. He graduated from Brawley High School in 1938 where he was chosen as Salutatorian. Joe was also active in track and field, being top shot-putter on the Class B team.
When the war broke out, Joe had just graduated from the University of California, Berkeley. Soon thereafter he and his family were evacuated on May 9, 1942, to the Colorado River Relocation Center (referred to as Poston), in Yuma County, Arizona. Joe taught chemistry to the young students incarcerated with their families in the camp. It was also here in camp that Joe married Miye Kojaku on April 16, 1943.
Joe volunteered from Poston on June 28, 1943, to join the 442nd Regimental Combat Team. Shiomichi wrote in a letter to his best friend, Eddie Tokeshi, "…our future lies in America. . . . By volunteering for the army, I feel that the niseis are building up something concrete with which to fight discrimination after the war is over and for that reason I had made up my mind to volunteer ." After enlistment on September 3, 1943, at Fort Douglas in Salt Lake City, Utah, he was sent for basic training at Camp Shelby, Mississippi.
After basic training, he was assigned to 3rd Battalion, I Company. After more training, Joe went overseas with the rest of the 442nd on May 2, 1944, to serve in the Rome-Arno Campaign in Italy. They entered combat near Suvereto on June 26.
Private Joe Ryo Shiomichi was killed in action on July 19, 1944. The day before, 3rd Battalion had taken Colle Salvetti, situated on the last high ground south of the Arno River. On the 19th they set up defensive positions and sent out patrols to see how far the Germans had withdrawn. Shiomichi was killed by a sniper's bullet on this day. He was buried in the U.S. Military Cemetery at Follonica, Plot K, Row 112, No. 1342. A Memorial Service was held for him on August 25 at Poston. He was the fifth former resident to die in the war.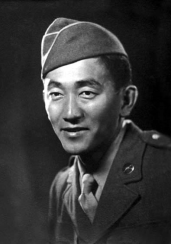 For his service to his country Private Joe Ryo Shiomichi was awarded the Bronze Star with one oak leaf cluster, Purple Heart, Good Conduct Medal, Combat Infantryman Badge, American Campaign Medal, European-African-Middle Eastern Campaign Medal with one bronze star, and World War II Victory Medal. He was awarded the Congressional Gold Medal on October 5, 2010, along with the other veterans of the 100th/442nd Regimental Combat Team. This is the highest Congressional Civilian Medal.
Another of Joe's closest friends, Patrick Sano, stated in an entry in his journal, "This is the lesson, Joe had bequeathed me as his legacy – that a man's strength is other than his brute force. His prime values and priorities determine his place among men. Joe's essence of life was to 'climb mountains.' He did not fear failure; nor would he shirk from diligently trying. He knew when he reached the mountain top, he would find peace . . . and he has."
Lawrence Yatsu, one of Joe's chemistry students in camp, recalled what Joe said, "Larry, all this is a temporary aberration. We don't belong in a camp. But don't be bitter. Don't let this get you down. America is the best country in the world. There will be flukes and aberrations along the way. But get past it. This is temporary. America is the greatest country – don't forget that."
Superintendent of Education at Poston, Dr. Arthur L. Harris, wrote a missive entitled, "A Guy Named Joe," after the notice was received that Joe had been killed in action. In it he wrote, "It is due in no small part to him and to his fellow evacuee workers that the young people came through that first trying year with a rebirth of hope and confidence in their future. . . . At the end of the year Joe had reason to feel that his work in Poston had been accomplished. . . . He then chose to enter active service. In June I received a letter from him, and his closing phrase was, 'Take care of the students back there and we'll try to do our best up here.' . . . yes, for all of us here in Poston, he had 'done his best.'"
In 1948-1949 the smaller wartime cemeteries were being closed and the family given the choice of reburial in a larger cemetery in Italy or being returned home. The family chose the latter. Pvt. Shiomichi was returned to California on February 5, 1949, along with 136 other fallen soldiers from Southern California aboard the USAT Cpl. Eric G. Gibson. He was interred next to the Nisei Veterans Memorial at Evergreen Cemetery in Los Angeles. Shiomichi was survived by his wife and a daughter.
Joe Shiomichi's brother, Tokio Shiomichi, served in the 442nd in 2nd Battalion, E Company.
For more information, visit:
https://postoninterneeobituaries.blogspot.com/2013/12/shiomichi-joe-1920-1944.html
Researched and written by the Sons & Daughters of the 442nd Regimental Combat Team in 2021.