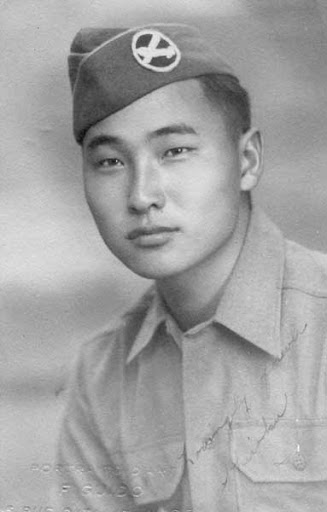 Shiroku Yamamoto
Private First Class
442nd Regimental Combat Team
Antitank Company
Shiroku Yamamoto was born on December 29, 1923, in Ninole, Hawaii island, Territory of Hawaii. He was the only child of Asaemon and Kimiko Yamamoto. His father emigrated in January 1898 from Fukoshimi-mura, Hiroshima Prefecture, Japan.
In 1910, Asaemon was unmarried, living in North Hilo, working as a planter on the Papaaloa Sugar Plantation, and living with his brother, Yaemon, his wife Tsutayo, and their four children. In 1920, he was living with his three nephews in North Hilo. About 1923, 48-year-old Asaemon married a woman named Kimiko, about whom all is known is that she had two sons from a previous marriage. Their son Shiroku was born at the end of 1923, and Kimiko abandoned her husband and son in early 1924.
As a boy, Shiroku enjoyed the simple farm life growing up on the Big Island's Hamakua Coast. In 1930, Asaemon was living in North Hilo District with son Shiroku and three nephews – his brother and sister-in-law were absent. Asaemon had become an independent sugar cane cultivator, planting cane on two small plots he owned and selling his crops to the Laupahoehoe Sugar Company and the Hakalau Plantation Company. By 1940, father and son were living at Kaiakea Camp in North Hilo. Asaemon was listed as a 65-year-old planter and Shiroku was age 16 and a sugar plantation worker. His father died the next year, and Shiroku was orphaned. He had dropped out of school to care for his father, and, after his father's death, he did not return to school but began working.
Elvis and Mary Rhoades, a local couple dedicated to education and young people, unofficially adopted Shiroku and helped guide him to young adulthood. In 1940, he was on the communications staff of the Laupahoehoe School publication, Ka Lau. He was also active in the Boy Scouts, and in February 1941, was presented the Star rank in annual ceremonies of the Hakalau District Court of Honor.
Yamamoto registered for the draft on June 30, 1942, at Local Board No. 2, in Hilo. At the time, he was employed by the Civilian Conservation Corps (CCC) and living at their Pohakulua Camp. He was 5'3" tall and weighed 120 pounds. His point of contact was Elvis Berry Rhodes, Principal of Laupahoehoe School, who was now his court-appointed guardian. He was still active in the Boy Scouts, receiving a Life Scout Badge and a Merit Badge in Civics at the December 1942 Kilauea Council's Court of Honor ceremonies at Hilo High School, the first such meeting since the war began a year earlier. In February 1943, he became Scoutmaster of Troop 2, also known as the Rotary Club Troop, in Hilo, and was responsible for its near-complete reorganization.
Shiroku enlisted in the Army on March 18, 1943. He had completed two years of high school and his civilian occupation was listed as "Semiskilled routeman." He was among the first group of men to volunteer from the Big Island. He departed Hilo on an inter-island steamer for Honolulu, where he was sent to Boom Town, the "tent city" at Schofield Barracks, with other volunteers. They were given an aloha farewell ceremony by the community on March 28 at Iolani Palace. On April 4, the new soldiers left on the S.S. Lurline for San Francisco enroute to Camp Shelby, Mississippi. Following basic training, Yamamoto was assigned as a jeep driver in Headquarters Platoon of the Combat Team's Antitank Company.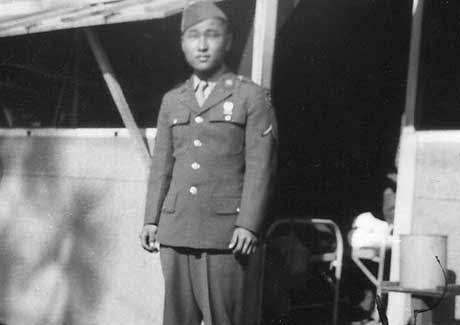 Above: Shiroku at Camp Shelby
In August 1943, orders came in for the Regiment to furnish guards for 500 German POWs, late of the Afrika Korps, who were going to harvest the Alabama peanut crop. Whitey was one of the soldiers assigned this mission. The guard duty lasted to mid-October, when the soldiers returned to Camp Shelby for unit training.
After a year of training at Camp Shelby, the 442nd left for Camp Patrick Henry, Virginia, on April 22, 1944. They shipped out to the Mediterranean Theater of Operations on May 2 in a large convoy of troop ships from Hampton Roads and arrived in Naples, Italy, on May 28.
Yamamoto fought in the Rome-Arno Campaign, entering combat on June 26, 1944, near Suvereto. On July 14, the Antitank Company was pulled out of the battle line and sent to bivouac near Lido de Roma. The Company was assigned to the First Airborne Task Force and their mission was to support the 517th Parachute Infantry Regiment in the invasion of southern France. After unit training for the mission, they took to the air in towed gliders on August 15. The Antitank Company was flown in 44 gliders. The platoons were split up to support different elements of the 517th. They were engaged in combat until October 21. This was an operation in the Southern France Campaign.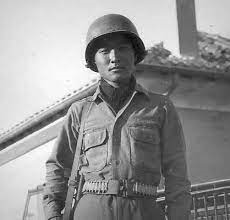 Left: in French village of L'Escarène, winter 1944-45; this image was used for the Go For Broke Commemorative Stamp issued in 2021 by the U.S. Postal Service
On October 24, they rejoined the 442nd RCT for the battles in the Rhineland-Vosges Campaign, 500 miles north in the Vosges Mountains. Afterwards, he served with the Combat Team in the Rhineland-Maritime Alps Campaign from November 1944 to March 1945, and the Po Valley Campaign back in Italy from March until the war ended on May 8. He remained in Italy for the occupation until late 1945, when he returned to the US.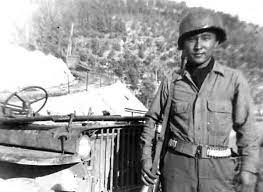 Right: during the Maritime Alps ("Champagne Campaign") in southern France
Pfc. Yamamoto was discharged from the Army in January 1946.
For his military service, Private First Class Shiroku Yamamoto was awarded the Bronze Star Medal, Good Conduct Medal, American Campaign Medal, European-African-Middle Eastern Campaign Medal with one silver star and one bronze service arrowhead, World War II Victory Medal, Army of Occupation Medal, Distinguished Unit Badge, Combat Infantryman Badge, and Glider Badge.
He was awarded the Congressional Gold Medal on October 5, 2010, along with the other members of the 100th/442nd Regimental Combat Team. This is the highest Congressional Civilian Medal.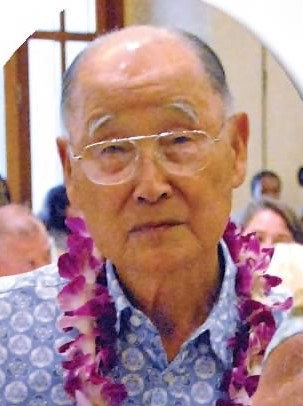 He spent the next four years using the GI Bill to further his education at technical schools on the mainland, departing on July 25, 1946, on the S.S. Matsonia. He attended, among other schools, the School of Horology at Albany, Missouri. While he was at Stout Institute in Menomonie, Wisconsin, his teacher could not pronounce his name. So he told her that shiro is Japanese for white and she could call him Whitey. He kept that as his name the rest of his life.
Right: Whitey at the 70th Anniversary Banquet of the 442nd on March 24, 2013, at the Hilton Hawaiian Village in Honolulu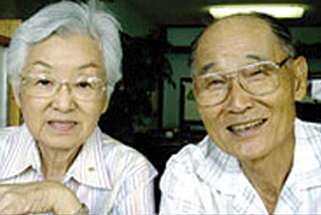 He returned to the islands on February 3, 1951, on the S.S. Lurline. Whitey married Amy Motoyo Yamamoto on June 16, 1951, in Honolulu. She was the daughter of Mr. and Mrs. Gisuke Yamamoto of Ookala, Hawaii island. They did not have any children.
Whitey joined the 442nd Veterans Club in Honolulu and was an active member the rest of his life. He worked in the airline industry as a maintenance technician, spending 22 years with Aloha Airlines. In 1988, he began to volunteer at the U.S. Army Museum of Hawaii at Fort DeRussy, which entailed almost daily interaction with visitors. Amy passed away on January 21, 2011, in Honolulu. Whitey died in March 2018. There were no public funeral arrangements.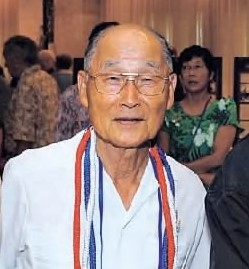 Above: Whitey was honored with a Na Koa Award for volunteering at the U.S. Army Museum at Fort DeRussy in Honolulu for 27 years
Additional information on Whitey may be found at: www.uhfoundation.org and www.manoa.hawaii.edu.
Researched and written by the Sons & Daughters of the 442nd Regimental Combat Team in 2021.