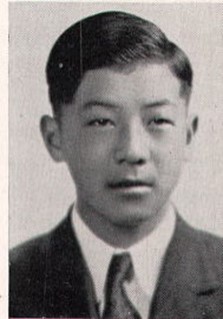 Susumu Okura
Private
442nd Regimental Combat Team
3rd Battalion, I Company
Susumu Okura, son of Momota James and Fuyuko (Emi) Okura, was born on July 27, 1923, in Wilmington, California. "Babe," as he was known, was one of eight siblings: Kiyoshi Patrick, Tomiko, Tsuyoshi ("Tee"), Ben Tsutomu, Jimmie M., Susumu, Mae, and Frances. He was called "Baby" through elementary school because he was supposed to be the last child and the baby of the family. After his sister Mae was born four years later, and then another sister Frances was born four years after that, "Baby" became "Babe."
His parents, Momota and Fuyuko, were from Kanogawa-cho in Mitsu District, Okayama Prefecture, Japan. They were married on December 10, 1910, in Okayama Prefecture and came to America on the S.S. Mongolia, arriving on March 10, 1911, in San Francisco. In 1918, Momota was working in the Milk Department of the Crescent Creamery and by the 1940 Federal Census he was the owner of a florist shop in Wilmington. Momota became a U.S. citizen on June 29, 1956.
Babe attended Fries Avenue Elementary School and graduated from Phineas Banning High School in 1941. He was in the Glee Club and also active in sports throughout his school years. He participated in basketball and track, and in his senior year he was the first-string guard on the basketball team. He also held several student body offices and was a member of the Wilmington Chapter, Order of DeMolay. He was attending Compton Junior College when the War broke out, and was a regular player with the San Pedro Skippers ball club.
On June 30, 1942, Susumu Okura registered for the draft at Local Board No. 190 at 190 N. Marengo Avenue in Pasadena. He was 5'6" tall and weighed 140 lbs. His home address was 830 Wilmington Boulevard in Wilmington, Los Angeles County. However, at this time he had been incarcerated with his family at the Santa Anita Assembly Center in Arcadia, and was employed by the WCCA there. His point of contact was Miss L. Packwood of 129 Don Street in Wilmington.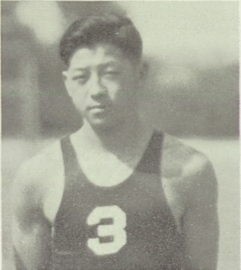 The family was sent to the Jerome WRA Relocation Camp in Jerome, Arkansas, on October 16, 1942. Babe was able to continuing playing basketball at Santa Anita and at Jerome.
On June 10, 1943, Okura volunteered for the Army and was released from Jerome to Chicago, Illinois, where he worked as an auto mechanic for a cab company while waiting to be called to active duty. His parents and two youngest sisters were released on June 5, 1944, to go to Omaha, Nebraska.
Private Susumu Okura was sent to Camp Shelby, Mississippi, for basic training sometime during the summer of 1943. He was assigned to 3rd Battalion, I Company.
After nearly a year of training, Okura left Camp Shelby with the 442nd for Camp Patrick Henry, Virginia, on April 22, 1944. They shipped out to the Mediterranean Theater of Operations in a large convoy of troop ships from Hampton Roads on May 2 and arrived in Naples, Italy, the end of the month.
After several days at a staging area in Bagnoli, the Combat Team left in LSTs for Anzio. From there they went to a large staging area at Civitavecchia, north of Rome, for final preparations to go to the front lines. Susumu participated in the Rome-Arno Campaign, entering combat on June 26, 1944, near Suvereto, north of Rome.
The 442nd was then sent to Marseilles, France, on September 27 to join in the Rhineland-Vosges Campaign. From there they traveled 500 miles north to the frontline in northeast France. Their first objective was to liberate the important road junction of Bruyères in the Vosges Mountains. The intense battles to liberate Bruyères and neighboring Biffontaine lasted from October 16-24. The combat team was then put into reserve in Belmont for a brief rest. After two days, on the afternoon of October 26 they were ordered to the front lines again to aid in the rescue of the Lost Battalion – the 1st Battalion of the 141st (Texas) Infantry Regiment. This battalion had gotten ahead of the lines and was surrounded on three sides by the enemy. Attempts by the 141st and other units to free it had been unsuccessful, so the 442nd was called in.
During this action Private Okura was a runner for the Weapons Platoon of I Company.
The initial objective of the Texas "lost" battalion had been to clear the Germans from the entire long, densely forested ridge where it had become surrounded – until their rescue by the 442nd. The 442nd 3rd Battalion was then ordered to push on down to the end of this ridge. Two days after the Lost Battalion Rescue, Pvt. Okura was killed by intense artillery fire on November 2, 1944.
The fighting would go on until November 9. The German line was completely shattered, but 442nd losses were so great that the Combat Team was temporarily ineffective as a fighting force.
Private Susumu Okura was interred at the U.S. Military Cemetery in Epinal, France, about 20 miles from where he died.
Private Okura's brother Kiyoshi Patrick Okura later wrote, ". . . I recall a letter I received from a friend of mine, who was employed at Father Flanagan's Boys Town, who had volunteered, and he wrote to me from Camp Shelby, Mississippi, that the youngest and best athlete in his Company was Susumu Okura and that he would look after him. The fellow who wrote to me was Kats Okida, age thirty, who was also killed in action on November 4, 1944. Babe was killed on November 2, 1944, both were in Company I. . . ."
Private Susumu Okura was awarded the Bronze Star Medal, Purple Heart Medal, Good Conduct Medal, European-African-Middle Eastern Theatre Medal with two bronze stars, World War II Victory Medal, Combat Infantryman Badge, and Distinguished Unit Badge. He was awarded the Congressional Gold Medal on October 5, 2010, along with the other veterans of the 100th/442nd Regimental Combat Team. This is the highest Congressional Civilian Medal.
In 1948, the remains of Americans buried overseas began slowly to return to the US. if the family so wished. On July 13, 1948, the USAT Oglethorpe Victory arrived in Los Angeles, bringing home 4,383 military personnel who had made the ultimate sacrifice in battle. Susumu was one of the 177 Californians in the group, that had been interred in military cemeteries in France and Belgium.
His body arrived in Los Angeles on August 3, and on August 7 at 1:30 p.m. his funeral service was held at the Daishi Mission. A representative from the American Legion delivered an address at the service and immediately following Private Susumu Okura was reinterred in Section A of the Nisei Soldiers Plot, next to the Nisei Veterans Memorial at Evergreen Cemetery in Los Angeles. His flat granite government marker with the Christian cross was ordered by his father on January 6, 1949, to be shipped from West Chelmsford, Massachusetts.
Researched and written by the Sons & Daughters of the 442nd Regimental Combat Team in 2021.