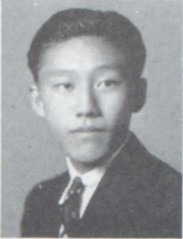 Tadao Yoshimoto
Private First Class
442nd Regimental Combat Team
2nd Battalion, E Company
Tadao Yoshimoto was born on December 12, 1921, in Kukaiau Camp, Hamakua District, Hawaii island, Territory of Hawaii. He was the son of Tarokichi and Miwa (Tojio) Yoshimoto. Tarokichi emigrated from Oshima District, Yamaguchi Prefecture, Japan, arriving on October 3, 1905. Miwa was born on Hawaii island.
There were eight children in the Yoshimoto family: sons Yarito (died in infancy), Roy Kikuo, and Tadao; and daughters Ethel Fujiye, Sakaye (died as a teenager), Hazel Yoshiko, and Minnie Sadami. There was a firstborn child who died in infancy in 1910, the first year that Torakichi and Miwa were married.
In 1920, father Torakichi worked as a field contractor for Kukaiau Plantation Company and the family lived in Kukaiau Camp. By 1930 the family had moved to Honolulu and lived at 1942 Metcalf Street. Tarokichi was employed as a carpenter for a builder.
Tadao attended McKinley High School, where he was a member of President's Hi-Y and the Ad Club. He graduated in 1940.
He signed his draft registration card on February 14, 1942, Local Board No. 4 on Pensacola Street. His point of contact was his father and he lived with his family on Metcalf Street. He was employed by E.E. Black and worked at St. Francis Hospital. He was 5'3½" tall and weighed 115 pounds.
Tadao enlisted on August 15, 1944. His civilian occupation was listed as "Unskilled construction occupations." He was sent to Texas for basic training. Afterwards, he was assigned to the 442nd Regimental Combat Team and sent to Italy, arriving in late March 1945 as a replacement for E Company, 2nd Battalion
On March 20 to 22 the 442nd arrived in Italy from France to fight in the Po Valley Campaign. The influx of replacements put the 442nd back at combat strength. The objective was to participate in a surprise diversionary attack on the western anchor of the German Gothic Line that ran across the Italian peninsula. This elaborate system of fortifications had been attacked in the fall of 1944, but no one had yet been able to pry the Germans loose from the western end. The Gothic Line in this area was hewn out of solid rock, reinforced with concrete, and constructed to give all-around protection and observation. The Germans were dug into mountain peaks rising almost sheer from the coastal plain, bare of vegetation save for scanty scrub growth. They had to be cleared out of this area in order for the Allies to move farther north. The enemy had been upgrading their forces for three weeks in March, bringing in veteran troops and five crack infantry battalions.
The Combat Team left their staging area and moved to a bivouac at San Martino, near the walled city of Lucca. The move was made in absolute secrecy, under cover of darkness. In the new bivouac area, all units utilized their time for training. Makeshift ranges were set up, and the men spent hours adjusting their weapons to the greatest possible accuracy. The new replacements who had seen little or no combat practiced small-unit problems with their squads and platoons far into the night.
Starting on April 3, the 442nd conducted a surprise attack on the Germans at Mount Folgorito. By April 6 the 2nd Battalion had gained the ridge of Mount Folgorito and was poised for an attack on Mount Carchio and Mount Belvedere to the north, the peak that looked down on the city of Massa.
Private Yoshimoto was wounded by artillery shrapnel during the early part of the campaign, resulting in the loss of his left eye. Before he was taken to the aid station, the soldier who was bandaging his wound was himself hit in the forehead by shrapnel and killed instantly.
Yoshimoto was sent back to Hawaii that month and later discharged. It took until May 25 for a brief notice of the wounding of Yoshimoto and three other 442nd soldiers in Italy to appear in the Honolulu Star-Bulletin.
For his wartime service, Private Tadao Yoshimoto was awarded the Bronze Star Medal, Purple Heart Medal, Good Conduct Medal, Asiatic-Pacific Campaign Medal, European-African-Middle Eastern Campaign Medal with one bronze star, World War II Victory Medal, Distinguished Unit Badge, and Combat Infantryman Badge. He was awarded the Congressional Gold Medal on October 5, 2010, along with the other veterans of the 100th/442nd Regimental Combat Team. This is the highest Congressional Civilian Medal.
After the war, Tadao married Sakaye Kakiuchi, the daughter of Mr. and Mrs. Tomiichi Kakiuchi of 4577 Farmers Road. They married on August 9, 1947, at the Makiki Christian Church in Honolulu. Over the years they raised a family of one son and one daughter. They lived in Pearl City and Tadao was employed by the U.S. Army-Pacific (USARPAC) as a supply clerk at Fort Shafter.
Yoshimoto is a member of the Disabled American Veterans (DAV), Leeward Oahu Chapter. He served as Treasurer in 1959 and 1967, and on numerous committees, and attended the Annual Conventions. He was an avid golfer, and won the Engineers Golf Club tournament at Moanalua in July 1955. He is a member of the 442nd Veterans Club, attending the annual anniversary banquets.
Sakaye Yoshimoto died on May 13, 2018. She was inurned at the National Memorial Cemetery of the Pacific at Punchbowl, Court 13, Wall E, Row 100, Site 114. As of this writing, Tadao is living in Pearl City. He has two children, four grandchildren, and seven great-grandchildren.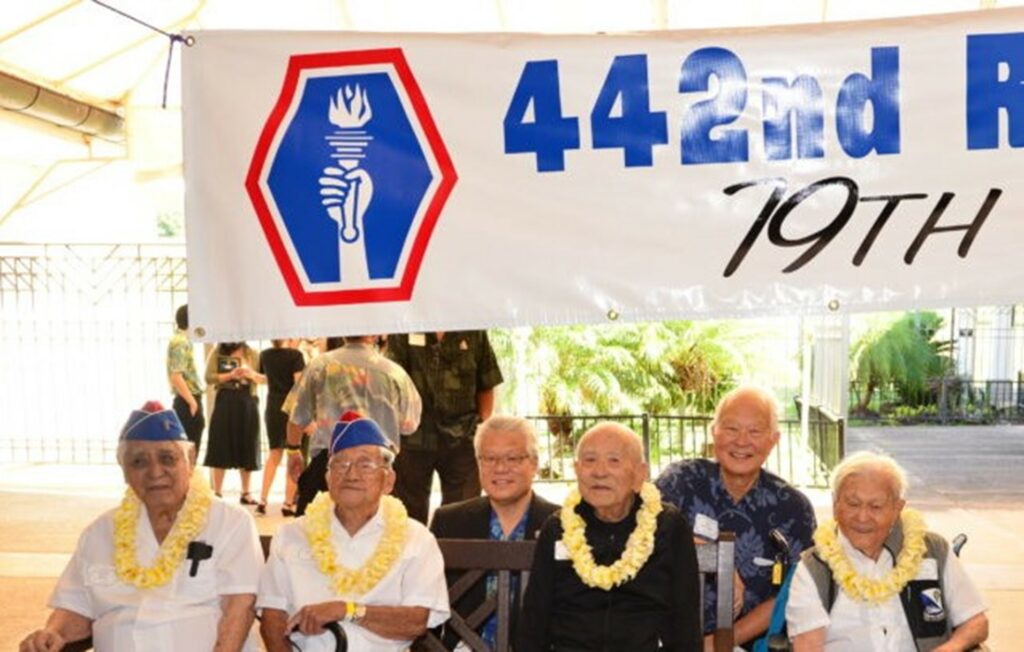 Above: Harold Afuso, Tadao Yoshimoto, Royce Higa, and Jack Nakamura at the Annual 442nd Anniversary Banquet on March 26, 2022.
Visit Interview with Tadao Yoshimoto – ʻUluʻulu: The Henry Kuʻualoha Giugni Moving Image Archive of Hawaiʻi (hawaii.edu) to watch the interview with Yoshimoto on August 28, 2015, done as part of the Daniel K. Inouye Oral History Project.
Researched and written by the Sons & Daughters of the 442nd Regimental Combat Team with assistance from his great-granddaughter Kailey Miyasato in 2022.