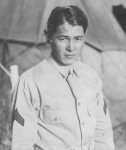 Tadayoshi Hamasaki
Second Lieutenant
100th Infantry Battalion (Separate)
D Company
Tadayoshi Hamasaki was born on May 2, 1922, in Kipahulu, Maui, Territory of Hawaii, to Kijiro and Yoshi (Hirai) Hamasaki. He was the fourth of eight children. His brothers were Yoshio Jack, Midori Duco, Kazuichi, and Shigeru. His sisters were Bessie Shizuka, Yoshiko, and Ann Misao.
Kijiro and Yoshi emigrated from the village of Niho, Hiroshima Prefecture, Japan. Kijiro arrived on April 4, 1892, at Honolulu on the S.S. Batavia. Yoshi arrived in 1900. Both worked as field laborers for a sugar plantation on Maui. In 1920, the family was living in the Market Street Stable Camp. The family moved a number of times on Maui, so the children were born in different locations. Tadayoshi graduated from Kamehameha III Intermediate School in 1938. He quit school after the eighth grade to help support the family. After the war, he went back to school and earned his GED in one year.
Tadayoshi registered for the draft on October 26, 1941, at Local Board No. 2, Bank of Hawaii building in Wailuku. His point of contact was his brother Midori, for whom he was working at the Duco Liquor Store. He also lived with Midori. He was 5'5" tall and weighed 138 pounds.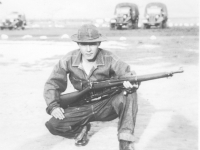 Tadayoshi, known as "Taddy," was drafted on March 25, 1941, into the U. S. Army. After basic training at Schofield Barracks, Private Hamasaki was assigned to the 299th Infantry Regiment, and stationed at Schofield Barracks. He was an active service member at Schofield Barracks during the Japanese attack on Oahu, December 7, 1941.
Right: Taddy during basic training.
In late May, General George Marshall, the Army's Chief of Staff, ordered the formation of the Hawaiian Provisional Infantry Battalion to be made up of the Nisei soldiers from the 298th and 299th. The unit was to leave Hawaii on the first available transport.
On June 5, 1942, the battalion boarded the transport ship, the U.S. Army Troop Transport Maui, and departed Honolulu. After a week at sea, the Hawaiian Provisional Infantry Battalion sailed under the Golden Gate Bridge, docking at Oakland, California, on June 12, 1942. The unit was given a new name – the 100th Infantry Battalion (Separate). The unit traveled to their new duty station by three trains, each taking a different route, to Camp McCoy, Wisconsin.
After six months of training at Camp McCoy, the unit was transferred to Camp Shelby, Mississippi, where combat training continued, along with unit maneuvers at Camp Claiborne, Louisiana.  The battalion departed Camp Shelby on August 11, 1943, by train and reached Camp Kilmer, New Jersey, two days later.  On August 21, the unit moved by train to Brooklyn, ferried over to Staten Island, and boarded the S.S. James Parker, a troopship recently converted from a banana and tourist ship.  They sailed in a convoy the next day at dusk.  On September 2, the battalion landed at Oran in North Africa and was assigned to the 34th ("Red Bull") Division.
On September 19, 1943, the 100th boarded the landing craft Frederick Funston and arrived offshore of Salerno, Italy, at 8:00 a.m. on September 22. The unit entered combat on September 29, near Salerno.
The 100th fought well as they advanced 15 miles in 24 hours for a week against strong enemy resistance and taking on casualties, allowing them to gain their first major victory by taking Benevento, an important rail center and road intersection. The 100th had to cross the twisting, muddy Volturno River three times under heavy German machine gun fire and rocket launchers before driving the enemy further north. The 100th encountered its most intense fight yet, as they fought from mountain to mountain to Monte Cassino – the key objective to free Rome from the grip of the Nazis.
To take the Gustav Line, the Allies had to descend into the Rapido River valley, traverse two miles of open fields filled with landmines, mud, and knee-deep cold water, cross a swift-moving river, then climb past more mines and barbed wire and up the steep, rocky slopes, to the 1,500-foot peak of Monte Cassino. From there they had to ascend still higher to a four-story fortress, with 10-foot-thick stone walls – the St. Benedictine monastery. The battle commenced in January and a long struggle for the 100th began. It was here that they earned their nickname, the "Purple Heart Battalion."
It was reported in the Honolulu Advertiser that Tad received a battlefield commission in January 1944, while fighting in Italy.
In Italy, Hamasaki was severely injured by a bomb blast that threw him across a room. He was sent back to the US and was in a body cast for six months.
For his military service, Second Lieutenant Tadayoshi Hamasaki was awarded the Bronze Star Medal, Purple Heart Medal, Good Conduct Medal, American Defense Medal, American Campaign Medal, Asiatic-Pacific Campaign Medal, European-African-Middle Eastern Campaign Medal with one bronze star, World War II Victory Medal, and Combat Infantryman Badge. He was awarded the Congressional Gold Medal on October 5, 2010, along with the other veterans of the 100th/442nd Regimental Combat Team. This is the highest Congressional Civilian Medal.
While recuperating in the veterans' hospital in Battle Creek, Michigan, Tad met his future wife, Mary Kobayashi, through a friend. Mary had been interned with her family on October 15, 1942, at the Central Utah WRA Relocation Camp, known as Topaz. She had been released from Topaz on April 20, 1943, to work in Chicago as a secretary.
On February 21, 1945, they were married in a nondenominational service – as Ted was Buddhist – at the Chicago Theological Seminary. Ted returned to Hawaii in May 1945, and Mary followed shortly thereafter. The couple made their home in Wailuku, Maui, where they raised four children – one boy and three girls.
He had a freight hauling business and, although the venture was not doing well, he kept it going because he was concerned about the welfare of the employees. Tad was also the custodian for the U. S. Post Office in Wailuku.
Hamasaki was the recipient of a Presidential Citation of Merit for his work. He was active in the Disabled American Veterans (DAV) and Senior Vice President of the Maui Chapter. He was a member of Club 100 (the 100th Battalion veterans club) – and served as a Director of the Maui Chapter. He was active with the Veterans of Foreign Wars (VFW) Post 3850. He also enrolled at Maui Community College to study issues dealing with the elderly and he became heavily involved in this area. He returned to softball, joining the "old man's league." He also enjoyed fishing, especially for ulua, was considered a "jack of all trades," and had a green thumb.
The last seven years of his life, Mary nursed Ted – as she called him – as he endured severe medical problems.
Tadayoshi Hamasaki died on June 10, 1986, in Honolulu. A memorial service was held at Hosoi Garden Mortuary; and he was buried at the National Memorial Cemetery of the Pacific (Punchbowl), Section T, Site 538. He was survived by his wife, four children, three grandchildren and six siblings. Mary died on November 4, 2016, and was buried with her husband at Punchbowl.
Researched and written by the Sons & Daughters of the 442nd Regimental Combat Team in 2022.