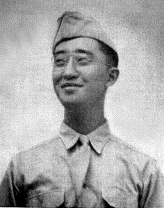 Theodore Hiroshi Watanabe
Private
442nd Regimental Combat Team
3rd Battalion, I Company
Theodore Hiroshi Watanabe was born on February 24, 1924, in Whelen, Whitman County, Washington, to Takashi and Miyoye (Tsujimura) Watanabe. He was the only son and second of five siblings: Thelma Chiye, Theodore Hiroshi, Amy, Marion and Kathleen.
Takashi emigrated from the metropolitan area of Tokyo, Japan, on the S.S. Dakota, arriving at Seattle on February 2, 1907. He worked his way up to the position of foreman on the Northern Pacific Railroad. Miyoye emigrated from Yehara, Aichi Prefecture, Japan, on the Mexico Maru; arriving on September 14, 1916 at Seattle. They were married on January 22, 1922, in Coeur d'Alene, Idaho.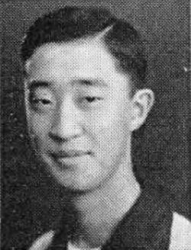 Ted, as Theodore was known, attended elementary school and two years of high school in Colton, Washington, where the family lived at 29 Fountain Street. By 1940, his father was a section foreman and they lived at 69 Gregor Street. He graduated from high school in Moscow, Idaho, and then attended the University of Idaho for two years. He played basketball and baseball in high school and was in the Reserve Officers Training Corps (ROTC) in college. He had considered becoming a pharmacist.
Right: Ted's freshman photo from the University of Idaho yearbook
Ted registered for the draft on June 30, 1942, at the Latah County Local Board in Moscow. At the time, he was a student at the University living at 816 West C Street. His point of contact was his father who lived at 141 Spruce Street in Coeur d'Alene. He worked at Forest Nursery on University Avenue, where his supervisor was C. L. Crites. He was 5'8" tall and weighed 125 pounds.
It was reported in the Spokane Chronicle that Ted reported on April 21, 1944, for his pre-induction physical and was accepted. He enlisted in the Army on May 25, 1944, in Spokane. After training at Camp Shelby, he was sent to Fort Meade, Maryland, and then to Italy as a replacement for the 3rd Battalion, I Company, 442nd Regimental Combat Team.
His exact date of arrival in the European Theater is unknown. Replacements arrived at the end of the Rhineland-Vosges Campaign in November 1944, during and after the Rhineland-Maritime Alps Campaign the winter of 1944-1945, and just prior to the beginning of the Po Valley Campaign in Italy in March 1945.
The objective of the 442nd in the Po Valley Campaign was to participate in a surprise diversionary attack on the western anchor of the German Gothic Line in Italy. The center of this elaborate system of fortifications had been pierced in the fall of 1944, but no one had yet been able to pry the Germans loose from the western end. The Gothic Line in this area was hewn out of solid rock, reinforced with concrete, and constructed as to give all-around protection and observation. They were dug into mountain peaks rising almost sheer from the coastal plain, bare of vegetation save for scanty scrub growth.
The Combat Team left their staging area and moved to a bivouac at San Martino, near the walled city of Lucca. New replacements who had seen little or no combat practiced small-unit problems with their squads and platoons far into the night. Starting on April 3, the 442nd's 3rd Battalion pushed the Germans north from Mount Folgorito, and on to Montignoso, Massa, across the Frigido River, Carrara, and Mount Pizzacuto.
On April 18, the 3rd Battalion was probing from all angles the hub of the enemy defenses at Mount Nebbione, which was being bitterly defended. All of these thrusts were beaten back by the Germans. Most of the 442nd soldiers had been climbing up and down 3,000-foot peaks for two weeks without much rest.
It was during these battles on April 18 that Private Theodore Hiroshi Watanabe was killed in action near Castelpoggio during direct combat. The field hospital record states that he died on the battlefield from a head wound. He was buried at the U.S. Military Cemetery in Granaglione, Italy, in Section C, Row 8, Site 380.
On November 11, 1945, Watanabe was among the fourteen local Nisei soldiers who had died on foreign soil to be honored at a candlelight Memorial Service held at 8:00 p.m. at the Grant Street Community Methodist Church in Spokane. The Reverend Taro Goto officiated. His family were present to light candles in his memory.
For his military service, Private Theodore Hiroshi Watanabe was awarded the Bronze Star Medal, Purple Heart Medal, Good Conduct Medal, European-African-Middle Eastern Campaign Medal with one bronze star, World War II Victory Medal, Distinguished Unit Badge, and Combat Infantryman Badge.  Ted was also awarded the Congressional Gold Medal on October 5, 2010, along with the other veterans of the 100th/442nd Regimental Combat Team.  This is the highest Congressional Civilian Medal.
In 1948, the Army began the process of closing the smaller military cemeteries in Italy and offering the family the choice of reburial at the large U.S. Military Cemetery in Florence or returning home. Ted's family chose to have his remains returned.
Private Theodore Hiroshi Watanabe was reinterred in Greenwood Memorial Cemetery, Terrace 2, Spokane, Washington. His funeral was held jointly with that of Private First Class Tom S. Haji, on December 4, 1948. The Reverend Taro Goto officiated at the service. Braving sub-freezing weather, a long caravan followed the bodies to Greenwood Cemetery where an impressive and touching full military service was held. In a final tribute to the deceased, three volleys were fired by a firing squad. After the playing of Taps, the two U.S. flags draping the coffins were removed and folded simultaneously by Bob Sommerson for Pfc. Tom Haji and by Harry Nakata for Pvt. Watanabe. They were then passed on to the respective Nisei military escorts, who in turn presented the flags on behalf of the U.S. Army to the respective families.
Researched and written by the Sons & Daughters of the 442nd Regimental Combat Team in 2021.