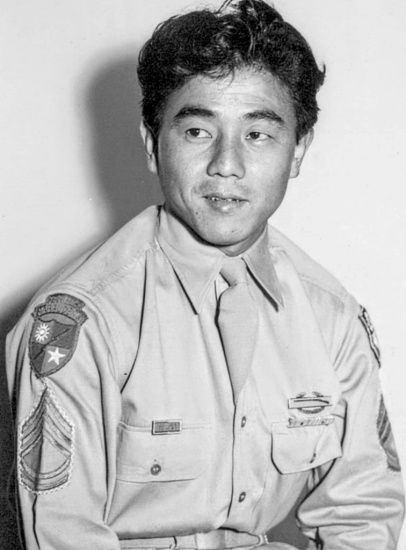 Thomas Kiyoshi Tsubota
Technical Sergeant
100th Infantry Battalion (Separate), B Company
Thomas Kiyoshi Tsubota was born on January 14, 1915, in Honolulu, Territory of Hawaii. He was one of three sons (a daughter died in infancy) of Itaro and Chika Tsubota. His brothers were: James Hajime and Masaru. His parents arrived from Hiroshima Prefecture in 1908. His father Itaro was a cook in the home of Lewis C. King at Piikoi and Lunalilo Streets. Itaro died when Kiyoshi was 13 years old.
As a young man, he attended Japanese Language School and was later sent by his family to further his education in Japan. He studied in Hiroshima and then attended and graduated from Waseda University and Meiji University in Tokyo with a degree in Economics. From available records, it appears that he made numerous trips to and from Japan and Hawaii over the course of his education. He arrived back in Hawaii from Yokohama the final time at the age of 26 on Friday, February 28, 1941, on the ship Asama Maru.
Just three days later, on Monday, March 3, 1941, Tsubota signed his draft registration card, Local Board No. 4, at 1083 South Beretania Street. He was living with his family at 1215 South Beretania; his older brother James Tsubota was his point of contact; and he was 5'5" tall and weighed 135 pounds. As he had just returned from university in Japan, he was not employed. He may have held a job shortly afterwards with Bishop National Bank, as his name appears on their Honor Roll of employees granted a leave of absence while serving in the U.S. Armed Forces during the War. Brother James was employed by Bishop Trust Company.
Tsubota was among 104 Japanese American men to be honored at a farewell ceremony given by the United Japanese Society at the Kokusai Theater on Sunday morning, June 22. They were scheduled for induction into the U.S. Army eight days later. Each man was introduced and given a lei. Mayor Lester Petrie was among the guest speakers. Afterwards, the Nippon Orchestra entertained and movies were shown. The event was open to the public and each attendee was given an American flag.
He was one of the 290 men inducted into the U.S. Army on June 30, 1941. After basic training at Schofield, Private Tsubota was assigned to G Company, 298th Infantry Regiment, Hawaii National Guard, stationed at Schofield Barracks.
Tsubota was a Corporal detailed to guard duty at Bellows Field in Waimanalo on the windward side of Oahu. On December 7, 1941, "Kewpie," as he was known to his fellow soldiers, saw smoke from the Japanese attack on Kaneohe Air Base. He and his fellow guard captured the lone survivor of the two-man Japanese midget submarine that wrecked on the beach. He, therefore, earned the honor of being the first U.S. soldier to capture and interrogate a Japanese soldier.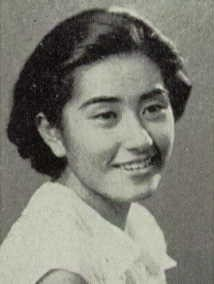 Soon afterwards, he and his fellow guardsmen were recalled to Schofield Barracks and assigned to the Provisional Infantry Battalion of Nisei soldiers.
On April 3, 1942, he married Miyako Ishibashi in Honolulu. She was a 1936 graduate of McKinley High School in Honolulu.
Right: Miyako Ishibashi's senior class photo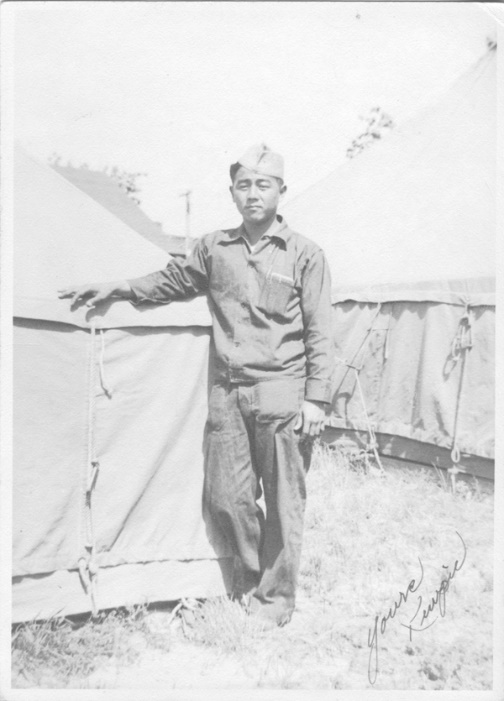 On June 5, 1942, the soldiers were sent to the mainland on the USAT Maui, arriving at Oakland, California, on June 12. Their unit was given the name 100th Infantry Battalion (Separate), and sent on by train to Camp McCoy, Wisconsin, for combat training.
Left: Kewpie Tsubota at Camp McCoy
While at Camp McCoy, Tsubota was chosen for the Military Intelligence Service (MIS). At the end of November 1942, he was sent first to Camp Savage, Minnesota, and then in December to Camp Snelling, Minnesota, for military language training at the U.S. Army Military Intelligence Service Language School (MISLS). He wanted to remain in the 100th, but was transferred with 67 others to the MIS nonetheless.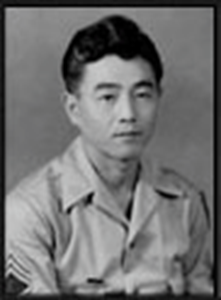 In August 1943, Tsubota was in the MIS and was asked to volunteer, which he did, for a secret and dangerous mission. He was assigned to the 5307th Composite Unit (Provisional) that became known as Merrill's Marauders. Their exploits in the China-Burma-India Theater are legendary. Thomas was one of 14 Nisei soldiers in the unit who served as Japanese language interpreters, as well as combat soldiers.
Right: in Merrill's Marauders 1944
Tsubota arrived in India in September 1943, and was assigned to 3rd Battalion, Orange Combat Team. He was awarded the Bronze Star Medal for action in Burma in 1944. He remained with the unit until it was disbanded in August 1944. He was then sent to hospitals in India and later Palm Springs, California, to be treated for chronic malaria contracted while in Burma.
For his military service during World War II, Thomas Kiyoshi Tsubota was awarded the Bronze Star with one oak leaf cluster, Good Conduct Medal, Asiatic-Pacific Campaign Medal, World War II Victory Medal, Combat Infantryman Badge, and Distinguished Unit Badge. Thomas was awarded the Congressional Gold Medal on October 5, 2010, along with the other veterans of the 100th/442nd Regimental Combat Team. This is the highest Congressional Civilian Medal. On October 17, 2020, he was awarded a second Congressional Gold Medal, along with the other soldiers of the 5307th Composite Unit (Provisional), commonly known as Merrill's Marauders, in recognition of their bravery and outstanding service in the jungles of Burma.
After returning home from the war, Tsubota was employed by USARPAC (U.S. Army Pacific) and later worked in the Contract and Disposal Unit for USNS (U.S. Navy Ships). He and his wife lived in the Moiliili and, later, in the Kaimuki neighborhoods of Honolulu and raised a family of three children.
Kewpie was an active member of the 100th Infantry Battalion's veterans club, called Club 100. For Baker Company's 1981 publication, The Boys of Company B, he was on the Steering Committee and his wife had furnished them with her detailed scrapbook of wartime newspaper clippings. At the Baker Chapter Christmas Party in 2010, 96-year-old Kewpie entertained everyone with his ukulele and singing.
Thomas Kiyoshi Tsubota died in Honolulu on February 14, 2017, at the age of 102. He was inurned with his wife (who died on February 6, 2012) in the Columbarium at the National Memorial Cemetery of the Pacific at Punchbowl, Section C12-T, Row 300, Site 341.
Researched and written by the Sons & Daughters of the 442nd Regimental Combat Team in 2021.
To read his story, visit:
https://www.100thbattalion.org/archives/memoirs-and-journals/thomas-tsubota/
To watch his oral history interviews, visit:
https://digitallibrary.usc.edu/Archive/Go-for-Broke-National-Education-Center-Collection-2A3BF1WK72
and
https://www.ww2online.org/vocabulary/internment-camps
To read about Merrill's Marauders, visit: