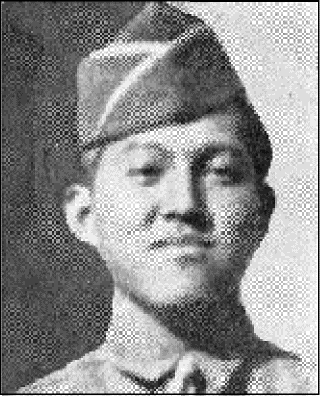 Thomas Tamotsu Tamashiro
Sergeant
442nd Regimental Combat Team
3rd Battalion, I Company
Thomas Tamotsu Tamashiro was born on August 19, 1924, in Koloa, Kauai, Territory of Hawaii. He was one of eight children of Kanshiro and Kamado (Shinsato) Tamashiro. His brothers were: Seifuku, Kenjiro Richard, and Nobuto; and his sisters were: Tsuruku Betty, Yasuko, Atsuko, and Nariko. Tamotsu's parents emigrated from Goga, Haneji-son, Kogo Kunigami District, Okinawa Prefecture, Japan, in 1906 and 1914, respectively. Kanshiro arrived on December 19, 1906 on the Kusuho Maru, and worked for the Hawaiian Sugar Company.
In the 1920 Federal Census, before Tamotsu was born, the family was living in Camp 4, Hawaiian Sugar Company, at Makaweli, in the Waimea District of Kauai. By the time of the 1930 Federal Census, they had moved to the town of Koloa. In the 1940 Federal Census, he was living with his widowed mother, who owned her own farm, and four of his siblings on Kanaele Road.
Thomas was educated at Kapaa Elementary and High Schools on Kauai. By 1942, he had moved to Honolulu and was living at 948-A Winant Street with his brother Nobuto ("Willie") Tamashiro, who was his point of contact. He was employed as a baker for the U.S. Army Post Exchange at Schofield Barracks. He registered for the draft on December 12, 1942, at Local Board No. 7 in Honolulu. He was 5'5" tall and weighed 132 pounds.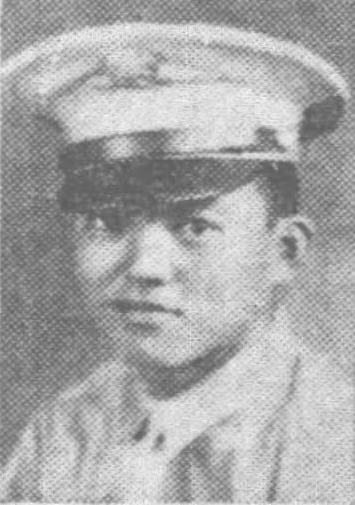 Tamashiro enlisted in the Army on March 25, 1943. His civilian occupation was listed as "Cook." He was sent to the tent city known as "Boom Town" at Schofield Barracks with the other recruits. They were given a farewell aloha ceremony by the community on March 28 at Iolani Palace. On April 4, the new soldiers left on the S.S. Lurline for San Francisco enroute to Camp Shelby, Mississippi. After basic training, Thomas was assigned to 3rd Battalion, I Company, 4th Platoon (Photo – right).
After over a year at Camp Shelby, the 442nd left Camp Shelby for Camp Patrick Henry, Virginia, on April 22, 1944. They shipped out from Hampton Roads to the Mediterranean Theater of Operations on May 2 in a large convoy of troop ships and arrived in Naples, Italy, on May 28.
They then went by LST to the beachhead at Anzio. From Anzio, the 442nd transferred to a bivouac area near Civitavecchia, just north of Rome. They went into combat near Suvereto, farther north, on June 26, in the Rome-Arno Campaign. The 442nd moved north from Suvereto, taking the towns of Belvedere, Sassetta, and Castagnetto. On July 1, they marched from Bibbona to an assembly area just south of the Cecina River. At that time of year it was hardly more than a trickle of water and very fordable in most places. Enemy artillery first became increasingly heavy, indicating they would make some sort of a stand on the high ground north of the river.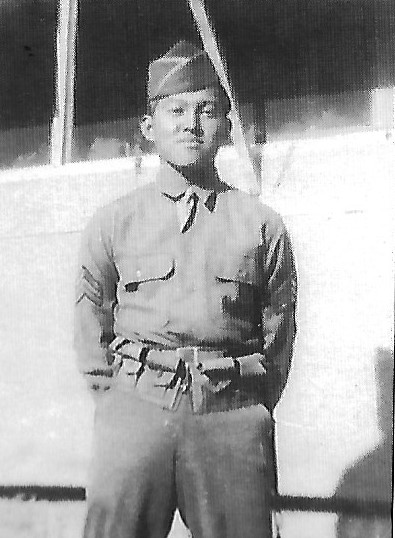 The regiment encountered fierce resistance from the Germans as they engaged near Castellina Marittima just north of the Cecina River on July 5, 1944. The 3rd Battalion came under an intense artillery barrage. From July 5 to 7, major action was the assault on Hill 140, a German strongpoint. The hill was finally taken on July 7, with heavy casualties by the Regiment. On July 9, the Regimental objective was a road that ran west from the town of Pomaja toward the sea. Seizure of this road would restrict the Germans' movements, and the Germans fiercely resisted its capture. By day's end, the mission was accomplished. Sergeant Tamashiro was killed during this battle by an artillery round three weeks before his 20th birthday. He was a machine gun squad leader. The hospital admission record for July 1944, states that he was hit in his back and died in the line of duty as a battle casualty.
Sgt. Tamashiro was survived by his mother, three brothers, and four sisters. His memorial service was held on August 13, 1944, at 2:30 p.m. at the All Saints' Church in Kapaa.
Tommy's friend from Camp Shelby, Tec/5 Edward Masaru Yamasaki, was the assistant to 442nd Chaplain Masao Yamada, and his most demanding duty was driving cross-country for retrieval of the bodies of men killed on the front lines and for their transfer to designated sites for pickup by Grave Registration personnel. Yamasaki later recalled, …within a couple weeks of I Company's entering combat, a machine-gun section leader was killed near Pomaja, Italy. Tommy Tamashiro was the first KIA whom I personally knew, our having trained together at Camp Shelby for nearly a year. I will never forget picking up his body and spending a sleepless night beside him as he lay uncovered on a stretcher. I suppose it was a gesture of deep sorrow and of kinship: I remember reaching out with my hand in the soft moonlight to touch his bare lower leg. Why did I find it so very cold?
For his military service, Sergeant Thomas Tamotsu Tamashiro was awarded the Bronze Star Medal, Purple Heart Medal, Good Conduct Medal, American Campaign Medal, European-African-Middle Eastern Campaign Medal with one bronze star, World War II Victory Medal, and Combat Infantryman Badge. He was awarded the Congressional Gold Medal on October 5, 2010, along with the other veterans of the 100th/442nd Regimental Combat Team. This is the highest Congressional Civilian Medal.
Sergeant Thomas Tamotsu Tamashiro was interred in the U.S. Military Cemetery at Follonica, Italy, in Plot C, Row 31, No. 361. When the Army was closing many of the wartime cemeteries in Europe in 1948, the Tamashiro family was given the choice to have his remains shipped home or remain in Italy. They chose to have Thomas's body brought home.
As a result, Tamashiro's remains were shipped to Honolulu, arriving on July 11, 1949, on the military transport ship Captain Arlo L. Olsen with 34 other war dead. This was the sixth such ship to arrive, and it was greeted by a large crowd. Acting Governor Oren E. Long delivered a eulogy, saying, "We are proud to have such sons." U.S. Army Pacific Chaplain Edwin L. Kirtley conducted a memorial service following the 9:00 a.m. berthing. Prayers were said by Catholic Chaplain E.L.A. Fisher and Protestant Chaplain K.D. Perkins. The flag-draped caskets were stored in the Army mausoleum at Schofield Barracks pending funeral arrangements.
On August 19, 1949, Tamashiro's remains along with those of five other Kauai war dead, arrived at Port Allen aboard the government vessel USALT 648. The following day, August 20, the final rites were held for Sgt. Tamashiro and five other soldiers at the Kauai Veterans Cemetery in Hanapepe. The services were under the auspices of the Kauai Veterans Club and Kauai Post No. 2 of the American Legion. Tamashiro was buried with full military honors in Section C, Row 7, Grave 11.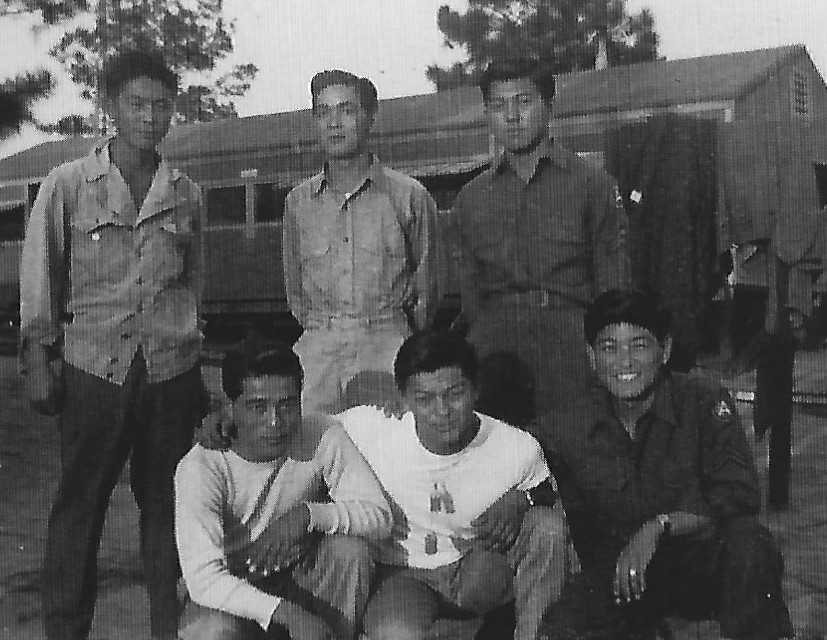 Photo of 4th Platoon men at Camp Shelby in summer 1943: Back row from left – Yoshitaka Uchimura; Takeo Sato; Tommy Tamashiro. Front row from left – Allen Tanaka; Larry Tanimoto; Edward Yamaguchi
Researched and written by the Sons & Daughters of the 442nd Regimental Combat Team in 2021.