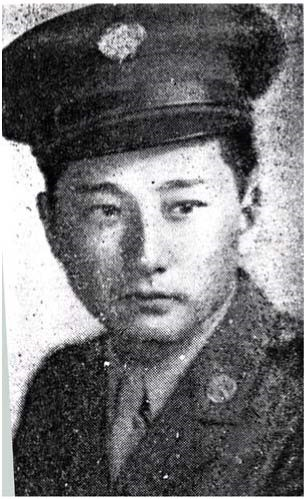 Tom Tami Takemoto
First Sergeant
442nd Regimental Combat Team
3rd Battalion, K Company
Tami Takemoto was born on July 9, 1917, in Sherwood, Oregon, to Takichi and Hayano (Terada) Takemoto. He was the oldest of two boys and one girl. His siblings were brother Minoru and sister Himeko. Father Takichi was from the village of Yasumura, Asagun District, Hiroshima Prefecture, Japan, and emigrated in 1898 at the age of 15. Mother Hayano was from the same village and arrived on September 8, 1916, on the S.S. Shizuoko Maru.
In 1918, the family lived on Route 2 in Hillsdale, Oregon, and Takichi was a farmer. By 1920, the family was living in North Tigard Precinct, Washington County, where Takichi was a market gardener. In 1930, the family was living on Midland Island in the Marshland Precinct of Columbia County. Takichi was the manager of a farm.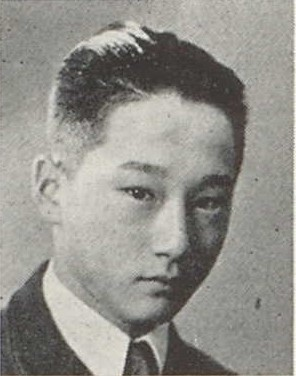 Tami was a 1935 graduate of Clatskanie High School, where he served on the Carnival Committee when he was a junior. After graduation, he moved an hour away to Portland, where he worked at a grocery store.
Right: Senior class photo
Tami registered for the draft on October 16, 1940, at the Multnomah County Local Board No. 3 in the Mead Building, Portland, Oregon. He was 5'7" tall and weighed 152 pounds. He lived at 3364 S.E. 20th Street and worked for the S.P. Grocery Company at 2040 S.E. Powell Boulevard. His point of contact was his father, Takichi, who lived in Clatskanie. A little over a month later, his mother, Hayano, died on November 28.
Tom T. Takemoto enlisted in the U.S. Army on February 28, 1942, at Fort Lewis, Washington. He had completed high school and his civilian occupation was "Clerk, general office."
In May 1942, the Takemoto family (widowed father and two children) was evacuated to the Portland Assembly Center in May. They were then incarcerated at the Minidoka Relocation Center in Hunt, Jerome County, Idaho, arriving on September 11, 1942. As Tom was already in the Army, he was not incarcerated. Note: They were released on three different dates in 1945 (May, June, and October) to go to either Twin Falls or Boise, Idaho.
Tami, also known as Tom, was transferred to the 442nd Regimental Combat Team when it was formed in 1943 at Camp Shelby, Mississippi. He was assigned to 3rd Battalion, K Company. After a year of training, the 442nd left Camp Shelby for Camp Patrick Henry, Virginia, on April 22, 1944. They shipped out to the Theater of Operations in a large convoy of troop ships on May 2 and arrived at Naples, Italy, on May28.
After a few days at a staging area in nearby Bagnoli, they left on June 6 on LSTs for the overnight trip to Anzio, where they marched about five miles to a bivouac outside the city. On June 9, they moved out to convoy through the recently liberated city of Rome to a large bivouac area in Civitavecchia, finally arriving two days later. The next task was to physically prepare the men for their first combat mission. From June 11 to 12, the Combat Team brushed up on marksmanship and tactics, and underwent strenuous conditioning – which included long marches over mountainous terrain.
They moved to a staging area near Grossetto before dawn on June 22, where some last-minute advice was given to the men before battle. On June 24, the Combat Team moved to another bivouac area near Gravasanno, stayed overnight, and on June 25, marched thirteen miles to their final assembly area behind the lines.
They entered combat on June 26, near Suvereto. The 3rd Battalion moved into the lines before dawn, relieving the 517th Parachute Infantry Regiment. They encountered fierce fighting from the Germans, but Suvereto and Belvedere were taken by the end of the day. On June 27, the 100th and 3rd Battalions were tasked to take Sassetta, about six miles north of Belvedere. While the 100th made a frontal assault on the town, the 3rd Battalion made a wide flanking movement around the west side of town and seized the high ground north of Sassetta. It was during this battle on June 27, 1944, that Takemoto was killed.
For his military service, First Sergeant Tom Tami Takemoto was awarded the Bronze Star Medal, Purple Heart Medal, Good Conduct Medal, American Campaign Medal, European-African-Middle Eastern Campaign Medal with one bronze star, World War II Victory Medal, and Combat Infantryman Badge. He was awarded the Congressional Gold Medal on October 5, 2010, along with the other veterans of the 100th/442nd Regimental Combat Team. This is the highest Congressional Civilian Medal.
First Sergeant Tom Tami Takemoto was interred at the U.S. Military Cemetery at Tarquinia, Italy, Plot D, Row 13, No. 438.
His death was announced in the August 28, 1944, Post-Register newspaper, Idaho Falls, as one of eleven Idaho men killed in the war. At the time, his family was living at Minidoka in Hunt County.
After the war, the families of U.S. war dead were given the option of having their loved one reburied in one of the major overseas military cemeteries or returned home. Takemoto's family decided to have his remains brought home. On March 15, 1949, Takemoto was the first Portland Nisei war hero to be returned to the city for burial. Governor Douglas McKay headed a group of Oregon's highest public officials, distinguished citizens, and military representative who paid tribute to Takemoto, who had left a grocery store job in Portland in 1942 to enter the Army. The Buddhist rites were held at the Masonic Temple in Portland. Four priests conducted the Buddhist services.
Governor McKay said that the Nisei soldier's sacrifice of his life for America was a symbol … to serve our people well. Major General Albert E. Brown, commanding general of the Northern Military District, said that Sergeant Takemoto stepped forward to defend his country, despite the fact the Japanese Americans were being held in relocation centers at the time. E.B. McNaughton, president of Reed College, declared that Takemoto grew up in a home inspired by high Buddhist ethical ideals and surrounded by American democracy. He said that his sense of duty, developed in such a home, gave him the courage of his convictions.
Takemoto's father, Takichi Takemoto, returned to Portland for the services, his first visit since he was sent to a relocation center two months after his son went into the Army.
Burial was in Lincoln Memorial Park, Veterans Plot, Portland, where a squad of riflemen from the American Legion, led by the Vice Commander, fired a salute. Nisei war veterans formed a guard of honor at the ceremony. Takemoto was survived by his father Takeichi Takemoto, his brother Minoru, and sister Mrs. Himeko Tsugawa.
Researched and written by the Sons & Daughters of the 442nd Regimental Combat Team in 2022.