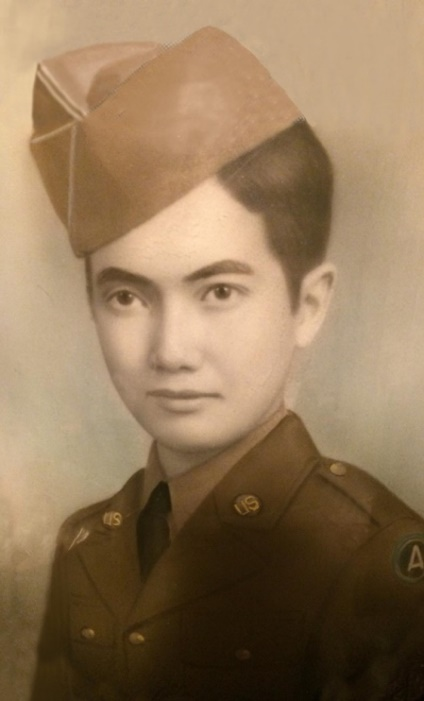 Toraichi Yoshihara
Private First Class
442nd Regimental Combat Team
2nd Battalion, E Company
Toraichi Yoshihara was born in Kapaa, Kauai, Territory of Hawaii, on October 4, 1921. His parents were Gengoro and Tayo (Sueda) Yoshihara, who had emigrated from Japan in 1901 from the village of Saka, Aki District, Hiroshima Prefecture. Toraichi was the youngest of eight children: daughters Isano, Kimiyo, Harumi, Shizuko, Shigeno, and Masayo (died at age 6), and sons Masaichi and Toraichi.
In 1910, the family lived in Waipouli; Goro was a cane loader for Lihue Plantation and Tayo was a gardener for a truck farm. By 1930, the family was living in Kapaa and Goro was employed as a yard man for a private family. Toraichi attended Kapaa Elementary School and Kauai High School, graduating in 1940. At the time, he was living on Government Main Belt Road in Kapaa with his parents who were retired. After graduation, he moved to Oahu and worked at the Pacific Naval Air Base on Ala Moana for a defense contractor on a government job. He signed his draft registration card in Honolulu at Local Board No. 6 on February 14, 1942. His address was 87 South Kukui Street and his point of contact was his roommate, Shoichi Yoshida. He was 5'4" tall and weighed 108 pounds.
Toraichi Yoshihara enlisted into the U.S. Army on March 25, 1943. His occupation was listed as "Carpenter apprentice." He was sent to Boom Town, the "tent city" at Schofield Barracks, with the other volunteers. On March 28, they were given a farewell aloha ceremony at Iolani Palace by the community.
On April 4, the new soldiers left on the S.S. Lurline for San Francisco, followed by a train trip across country to Camp Shelby, Mississippi, for training. Toraichi was assigned to 2nd Battalion, E Company. After nearly a year of basic and specialized training and field maneuvers, the 442nd left for Camp Patrick Henry, Virginia, on April 22, 1944. On May 2, the 442nd left from nearby Hampton Roads in a convoy of over 100 ships enroute to the Theater of Operations. On May 28, they arrived at Naples, Italy, where they marched to the train station and were taken to Staging Area No. 4 at nearby Bagnoli.
On June 6, the 442nd left on LSTs for Anzio. E Company was left behind in Bagnoli to await the arrival of the rest of 2nd Battalion, which had been diverted to Oran in North Africa to offload cargo. After they arrived on June 17, the 2nd Battalion went through the same processing as the 442nd – aboard LSTs by sea to Anzio, a 30-mile convoy around Rome, and on to the bivouac area 50 miles northwest near Civitavecchia.
The 442nd entered combat at Suvereto on June 26 in the Rome-Arno Campaign. After the liberation of Suvereto and Belvedere that day, and Sassetta the next, the Combat Team moved a bit farther north to the Cecina River, which they crossed on July 2. Resistance from the Germans was stiffening, indicating that they would make some sort of a stand on the high ground north of the river.
On July 3, the 2nd Battalion took Molino a Ventoabbto and the two hills just to the north. They then ran into the enemy's main line of resistance, a key observation post located on Hill 140. On July 4, E Company led with G Company up the forward slope and immediately came under heavy small-arms and artillery fire from a force estimated to be an entire battalion. E Company gained the base of Hill 140 and dug in around it. The 3rd Battalion, on the left of 2nd, underwent a five-hour enemy artillery barrage and gained little ground.
On July 5, furious firefights raged all day as the Germans fought more doggedly than they had in months. Prisoners captured by the 442nd said they had been "ordered to hold until the defenses at Pisa were completed." The Combat Team suffered heavy casualties.
On this day, Private First Class Toraichi Yoshihara was killed in action. The hospital admission card stated that he was hit in the neck/chest area and leg by an artillery shell.
Pfc. Yoshihara was buried in the U.S. Military Cemetery at Follonica, Italy, Section C, Row 27, Grave 320.
The notice of Yoshihara's death was printed in the Honolulu Advertiser on July 29. It stated that his brother Masaichi had enlisted in the Army and was training on Oahu. The family had also received the letter Toraichi had written to them the day before his death. On August 6, 1944, a memorial service for Toraichi was held at 2:30 p.m. at the All Saints' Church in Kapaa. Other soldiers memorialized at the service were Pfc. Antone Hideo Akiyama of Eleele, and Sgt. Thomas Tamotsu Tamashiro of Koloa. Members of the American Legion living in Kapaa, Kealia, Waipouli, and Wailua were requested by the Yoshihara family to attend the memorial service.
On December 9, 1945, Toraichi was among the 226 fallen soldiers of the 442nd who were memorialized in a service held at 2:30 p.m. at McKinley High School in Honolulu. His next of kin was listed as Goro Yoshihara of 1821 Bingham Street. The service was conducted under the auspices of the 100th Veterans Club, 442nd Veterans Club, Women's War Service Committee, and Emergency Service Committee. The main address was given by Lieutenant General Robert C. Richardson.
For his military service, Private First Class Toraichi Yoshihara was awarded the following: Bronze Star Medal, Purple Heart Medal, Good Conduct Medal, American Campaign Medal, European-African-Middle Eastern Campaign Medal with one bronze service star, World War II Victory Medal, and Combat Infantryman Badge. He was awarded the Congressional Gold Medal on October 5, 2010, along with the other veterans of the 100th/442nd Regimental Combat Team, which is the highest Congressional Civilian Medal.
In 1947, the families of war dead who were buried in overseas cemeteries were given the choice of having their son returned home or reburied in one of the few large military cemeteries in Italy or France. The Yoshihara family requested that Toraichi be returned to Kauai.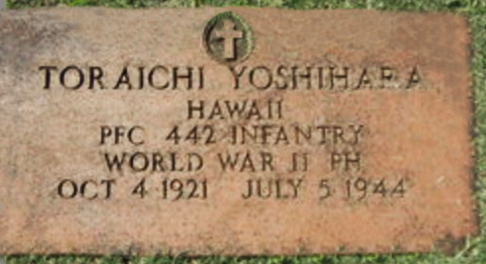 On July 11, 1949, Pfc. Toraichi Yoshihara was among the 34 war dead returned to Hawaii aboard the USAT Arlo L. Olsen.  The ship arrived at 9:00 a.m. in Honolulu Harbor's Kapalama Basin and was welcomed by a large throng of family and friends.  Army Chaplain E.L. Kirtley conducted the dockside memorial service.  Governor Oren E. Long gave the eulogy, stating, Hawaii is proud to have such sons.  Prayers were given by Army Chaplain K.D.A. Fisher and Navy Chaplain K.D. Perkins.  His father, Goro Yoshihara of Kapaa, was listed as the next of kin.  His casket was held at the Army Mausoleum at Schofield Barracks pending shipment to Kauai.  Toraichi Yoshihara was buried at the Kauai Veterans Cemetery in Hanapepe.
Researched and written by the Sons & Daughters of the 442nd Regimental Combat Team in 2022.